" Hangin' With The Kid – Six Degrees of Separation with Kid Koala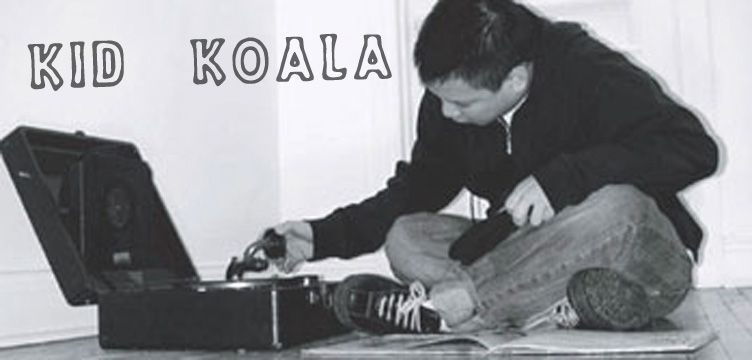 In a weird twist on the idea of six degrees of separation, it turns out that I have a friend who has a friend who used to live in the same dorm as Kid Koala at McGill University in Montreal. She has one lone memory of him, and sadly for the music lovers in the crowd, it's this: She remembers Kid Koala, or Eric San, as he was known back then, asking her about her period.
On the other hand, if I thought this story would pave my way to a friendly and informative interview, I was to be disappointed. Not only does he not remember this story, he has no clear memory of this person. When I explain that he was apparently collecting this information to find out whether the menstrual cycles of the women in the dorm were synching up, he ponders, then responds. "It sounds like something I'd be interested in, though," he says. "That definitely sounds like me. I've had thorough discussions about menstrual cycles."
Kid Koala in person is exactly how you'd expect him to be. He's pretty laid-back, quiet, smiles a lot, and has a tendency towards going off on tangents in the conversation rather than talking about himself. The story above lead to a discussion about hormonal cycles in both women and men, which basically turned into a discussion about completely different things.
At some point, we got around to talking about his latest CD release, "Some of My Best Friends are DJs," his book "Nufonia must fall," his non-stop touring, and the obscure origins of his name. I don't remember any of that stuff, but it's here in my notes so it must have come up at some point.
A short history of Kid Koala:
Sometime in the early 90s, Eric San was studying early childhood education at McGill University. "I always thought I'd do something like the Muppet Show. Or Sesame Street. They were a big influence on me at the time."
While pursuing his educational goals, San was making a name for himself as a DJ around town. He gained the nickname when people started noticing how much Koala Drink he was putting away on a nightly basis. Someone used it on a flyer one day, and Kid Koala was born.
"I actually have no special affinity for koalas," he says, slightly sheepishly. "People tell me things about them all the time, though. Like that koalas sleep 23 hours in a day. and then spend the one hour they're awake just trying to get it on."
Huh?
"No seriously. Apparently, they're having a real problem with koalas catching syphilis. The koala population is being decimated by syphilis. They need sex ed for koalas or something."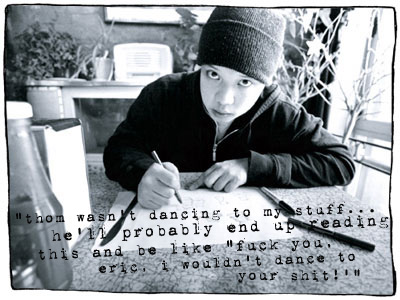 One day, Koala's mix tape, "Scratchcratchratchatch," found its way into the car of Jon More from Ninja Tune, and soon thereafter, Kid Koala became Ninja Tune's first North American signing. Not long after that, the classic Carpal Tunnel Syndrome was released, and Koala went on tour, basically permanently. Not only does he tour by himself, but he also tours as a member of such bands as Bullfrog, Deltron 3030, and Lovage, as well as opening for other bands, most famously Radiohead. When I mention that I caught the show in Toronto, he laughs.
"I remember that show. That was me, Prince Paul and Dan [the Automator]." He pauses, thinking back. "I don't know if the crowd got it really. But Thom [Yorke] was dancing his ass off backstage. They're huge hip-hop fans. Basically, when you're a really huge band like Radiohead, then your label starts giving you advance copies of everything that's coming out. When I was on tour with them, they were playing me stuff that wasn't out yet, like the new Outkast. I learned all my hip-hop from the bass player from this band from Oxford."
Upon reflection, he adds, "Not to my set. Thom wasn't dancing to my stuff. It was Prince Paul. He'll probably end up reading this and be like, 'Fuck you, Eric, I wouldn't dance to your shit.'"
Looking at Koala's tour schedule since 1995, it seems as if he really hasn't spent a lot of time at home in the past few years.
"Yeah… I tour a lot." He says, looking slightly tired. "But I love it. The only thing that sucks is that there's a lot of waiting around, in airports, for interviews, that kind of thing."
On the other hand, this need to kill time in airports lead him to his new graphic novel, "Nufonia Must Fall," a tragi-comic tale of a love affair between an unemployed robot and an office worker who can't find the time to take a vacation. "Nufonia Must Fall" was published in 2003 by ECW Press, more or less concurrently with "Some of my Best Friends are DJs". We talked about it in between me flipping through the book for the first time and him somewhat self-consciously admiring my pen (FYI: Koala uses a Micron pen to draw with, but "I'm not a pen nerd or anything.")
"Nufonia is kind of an anagram of 'no fun,'" he explains.
With an 'ia' at the end?
"Exactly."
The book has no dialogue, but contains a CD soundtrack of piano music, made to match certain pages of the book where the robot listens to records with such unlikely titles as "Music for Delis," "Music for After Work," and "Music to Console Yourself". "The CD has a bunch of piano etudes on it," he explains.
Almost as an aside to the main action, "Nufonia Must Fall" is peppered with instantly recognizable everyday scenes which are almost in-jokes. In one, a character is unable to get their candy out of the machine; in another, the robot is forced to go through the security check several times, and eventually ends up going through the x-ray machine with the luggage. In the best example, a group of people get stuck in an elevator and go mad before the heroine comes to the rescue. The oddly spontaneous art only adds to the humour.
"Some of my Best Friends are DJs" is the flipside of "Nufonia Must Fall," a CD accompanied by a short comic. The aesthetics are the same, with two stories which match different sections of the album. In one, a lovestruck guy runs around the city looking for a light for his girl's cigarette, and in the other a ninja granny knits a hat for a four-eyed monster.
The music on "Some of my Best Friends are DJs" ranges from the jazzy to the theatrical, where samples, beats and scratches turn into dialogue, to ska to dirgelike, always retaining the same playful joy in experimentation. It may not be your first choice on a dance floor, but it's definitely fun to listen to.
If you've missed him live, Koala's tour schedule will probably bring him round your way again. In the meantime, check out his website for info.
Check out the video for 'Basin Street Blues' by clicking Here
Share your thoughts on Kid Koala and/or this feature: Click Here