"There are some very, very clever people at work here; I command you to read the sleeve notes on both releases, especially Ted Sands' witty missive on the latest LP Free Gold!"

"There are some very, very clever people at work here; I command you to read the sleeve notes on both releases, especially Ted Sands' witty missive on the latest LP Free Gold!"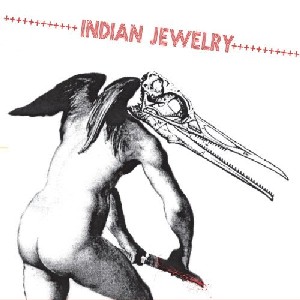 Indian Jewelry – We Are the Wild Beast/Free Gold
http://www.nowearefree.com/ http://www.swarmofangels.com/ http://www.konkurrent.nl/
How I love Indian Jewelry (formerly NTX). There are some very, very clever people at work here; I command you to read the sleeve notes on both releases, especially Ted Sands' witty missive on the latest LP Free Gold!
We Are the Wild Beast dates back almost 5 years, its growly beat, fuzzy slabs of electric noise and tremendous tom-tom rhythms should sound dated to fickle sorts, but it has a certain otherworldliness to it that allows the record to stick around in the mind for far longer. Maybe that's because underneath all the squeals, growls and squeaks there are some good old fashioned rock and roll work outs, almost Eddie Cochrane-style. Now and again, listening to Poison the Choir, I'm reminded of Johnny Cash. Weird. Still, the infectiousness of their muse will be apparent to all who hear this CD Cash comparisons or not. How anyone can stay still through like noisy splurges like Walk Through Fire, Horrendous Habits (my personal favourite) or Cutthroat is beyond me. Or fail to be charmed by Neanderthal slabs of cussed, left-field reflections like We Are the Wild Beast or Amateur Video. It's not all short splurges of noise: the 13 minute S-O-S-O-S shows another side to their nature, sounding at times like the "scary" sections on Autobahn before settling down to a Suicide style grumble.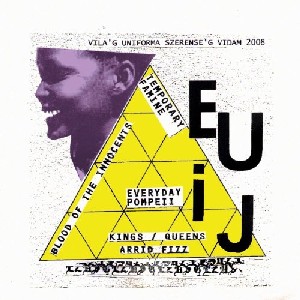 Free Gold! is another matter. More confident (if that were possible), and certainly clearer in direction, it also boasts some tremendous slacker pop. Swans is as good and as bombastic an opener as has been heard since La Dusseldorf's Viva. There's a restless intelligence on here that's allied to a supreme laid-back confidence; quite why tracks like Pompeii remind me of AD2's Wolf City and Isn't Anything era MBV is anyone's guess. A more slothful record than its predecessor, Free Gold! somehow retains its edge; you always get the feeling that something will happen at any moment . Too Much Honkytonking is a sublime slab of lazy noise that deserves to be a national anthem in some place like Luxembourg whereas Nonetheless (incredibly) manages to kick the aforesaid track's dick in the dirt by virtue of the most tremendous guitar screech and lazy vocal line. The MBV/sub Robin Guthrie vibe carries on throughout this release; magnificent drones like Everyday haven't been heard for an achingly long time and make this old git very happy.
Skewed, cheeky and wholly irreverent forward/backward-thinking motherfuckers. More, please.
Words: Richard Foster