"We come from very far north of here…" explains one of the cooler-than-anyone-else-here elderly chaps onstage "and in the winter the sun goes away for months… and when the sun comes back we have a party, for 40 years we play this song about it…" – it's a brilliant piece of proto-Spacemen 3 drone psychedelia, and during its ebbs and flows the sun does come out again. Sublime. And then they do one that sounds like Galaxie 500 which is absolutely fucking incredible. Who'd have thought that a bunch of 60-year old Swedes could set the bar so high for the rest of the day?


Springtime in Barca – Primavera Festival 2008
Cath Aubergine, legendary writer from www.manchestermusic.co.uk teamed up with Incendiary to send her thoughts of Barcelona's legendary Primavera festival. Hold onto your hats, it's a long and eventful ride…
Coming home after Summercase last July, I was certain we'd be back in 2008. Set in the Forum Park on the seafront a couple of miles out of Barcelona, its series of amphitheatres and arenas, interconnected by walkways and arranged in such a way that sound carriage from one to another is minimal, make for the perfect music festival site. And best of all? It's made entirely of concrete and there's no camping facilities. Ooh, cue the chorus of dissenters with their "proper festival spirit"; well I'm sorry everyone but concrete and a hotel room will always beat mud, tents, pissing into a trench and the threat of amoebic dysentery for me any day of the week. So, yeah, the weekend in question was duly set aside… and then we saw the line-up.
Last year's Summercase saw blinding sets from Arcade Fire, OMD, LCD Soundsystem, The Chemical Brothers and The Jesus And Mary Chain; the less said about the likes of Lily Allen, James and The Kaiser Chiefs the better. It's conservative; Costa Del V Festival, the aforementioned highlights coming courtesy of bands who somehow manage to sell a reasonably large number of records despite being interesting. This year there's… Interpol. At a push, Ian Brown (subject to how well tuned or not he is that day), Glasvegas, The Verve (well, the half their set that's not the sludgey Urban Hymns stuff), Mogwai, Grinderman; but largely you're talking Blondie, Kaiser Chiefs (again), Mystery "You used to be good!" Jets, the bloody Sex Pistols. And then the gods of post-rock, krautrock, electronica, garage rock'n'roll, experimentalism and proper leftfield indie begat Primavera Sound. Run in conjunction with All Tomorrow's Parties it's the same venue, same deal (the music runs from 5pm til 5am, roughly, which is so much more civilised than British festivals – who wants to watch a band at 11am or stop at midnight?), only with three days of the greatest festival line-up anywhere this summer.
Other reasons why Primavera is the best festival ever: instead of charging you £10 for an uninformative glossy programme stuffed with advertising, they give you a festival pack on arrival, containing a 275-page book with a full page of information about every single act on the bill in three languages – the English translations being bizarrely poetic (we've included a few, for your general amusement). And the real genius move? A pocket-sized plain printed schedule card… complete with highlighter pen. Then there's the food. Following some deeply unpleasant culinary experiences last summer I got into various debates regarding festival food and whether it should matter when you're there for the music – but I maintain if I'm going to spend 12 hours somewhere, never mind three days, it's useful to have choices that extend beyond chips. Primavera offers falafel stalls, Mexican, pizza and a creperie alongside the more traditional fried dead animal stands – and the world's most indie sandwich shop…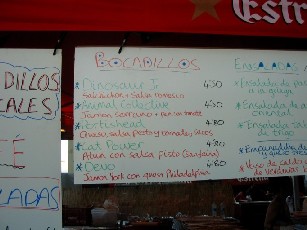 The bars run a token system, but one that actually works – this being achieved by the simple method of having enough token kiosks and bars to cater for the size of crowd – and with sponsor Jägermeister offering shots for one token (1€), you never end up wasting any (although you might well end up wasted)… And what goes in… well, the Portaloos are clean and there's loads of them plus porta-urinals for the boys, all in small groups all over to avoid that Day Three latrine experience you get when they stick them in clusters of 50; main stage stars The Cribs should note both men's needs and women's needs are well served here.
DAY ONE
We've been up for 12 hours already when we arrive on site, having had to catch the bus to Liverpool at 4.40am – right then, let's go watch some bands… we'll start off with someone we've never heard of – The Marzipan Man (whom, for some reason, I keep wanting to call The Marshmallow Man. I've had to look it up again just now.). We're surprised to find out when we turn the corner that the singer is not a girl but a very cute boy. And the drummer looks like the offspring of Hugh Cornwell. They play nice mad indie with a harp that's a bit Scandinavian sounding (although it seems mainman Jordi Herrera is a London-based Mallorcan), a bit Belle & Sebastian and very cute.
Down into the amphitheatre stage next, AKA the Rockdeluxe stage (it's a magazine, apparently) for "the penultimate sensation of the moment" (err, pardon?) and some "galloping electro in a very psychedelic and acid context". Have you guessed who it is yet? Yep, it's that man in a dress again, and it's looking decidedly ragged compared to last time I saw them all of, ooh, nine days ago. Hello again MGMT. "We've had brownies!" mumbles a decidedly trashed looking Andrew Vanwyngarden, after the band have been introduced by a small child in a bandana. Oh, you don't say! The sun's shining, the deep blue Mediterranean stretches out behind the stage, and there couldn't possibly be a better environment in which to watch a band who sound like The Eagles (specifically Hotel California), Spacemen 3 (specifically Revolution), Roxy Music (Love Is the Drug) and The Bee Gees (pretty much anything) across four consecutive songs. They are utterly brilliant. It's not just the atmosphere; it's possibly the fact that propelled to the sort of venues (such as last week's Academy 2) where ticket prices are higher and therefore a longer set is expected, there's too much filler stuffed in between the good bits; no room for that in a festival set, and they know as well as anyone what the good bits are.
The crowd, of course, goes mental for the "hit", and it's sublime. The thing about Time To Pretend is that it's such a glorious, brilliant, uplifting but sad, perfect pop song is that it doesn't fucking matter if they never make another great record; it's one of the greatest songs ever. From the squidgy synth intro to the cynical words, the Meatloaf riff crunch in the middle to the sudden ending, we're talking one of the singles of 2008 here. And the fact that it's come courtesy of such a bunch of stoned chancers who look like they have precisely no idea where they are or what they're doing there is delightful. They end the set with another last of feverish electro-rock with just the main duo (Vanwynfarden and synth space-head Ben Goldwasser) and the small child onstage, before the rest of them re-emerge looking like they've knocked in another spliff in the two minutes they've been backstage…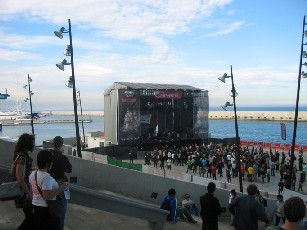 By the time we've stocked up our beer token supply it's time for The Notwist, one of those bands I've always intended to check out but never got round to – and isn't that the point of festivals? Not that I actually need any more bands in my life right now. The book says "synthesis examples of electronic architecture and pop feeling" – we say Pavement crossed with 65daysofstatic only Bavarian. Is that a good thing? Do you even have to ask?
Down, next, into the Vice Stage area. Experience of British festivals tells us it's a good idea to get in early if there's a band you really must see, although things seem rather less frenzied here. In truth we could have walked straight to the front at the start of British Sea Power's set, but getting here early introduces us to another previously unknown but absolutely fantastic band who go by the quite dire name of Health. What possesses anyone to call a band something like that I have no idea, and these Californians don't even have the excuse of being from a non-English speaking country. What they do have is a blistering mess of electro post-hardcore insanity (possible spiritual siblings – Crystal Castles) featuring a lot of thrashing of a big floor drum which for some reason is one of those things that always appeals to me in a band.
Since Incendiary last caught up with British Sea Power in Amsterdam in February they've been on a mammoth three month stint around America – another of those tour schedules that should be stuffed in the face of anyone who thinks the life of a rock'n'roll band is an easy one. They look remarkably well for it though, and as the middle section of the opening Atom builds up into that great big swirl it's "ah, yes, this is what it's like…" – Lights Out For Darker Skies is even better, the major-chord climax after the quiet section is nothing short of exhilarating. Or as our essential guide tells us, "being more transparent and accessible the quartet plays perfectly its last chorus card".
Of course they long since ceased to be a quartet; these days it wouldn't be British Sea Power without Abi Fry and Phil Sumner -in fact if there's any sign of tiredness it's that there's not a great deal in the way of onstage antics from the latter. Or perhaps he's just read a popular UK music monthly, as we have, in which a doctor gives his opinion on ten great onstage injuries and notes that Phil's legendary speaker dive could have snapped his neck and killed him… Yan's pretty energetic though, and sets off into a sequence of bizarre ad-libs during Spirit Of St Louis (one of their oldest and most played live songs he can't have actually forgotten the words… can he?) before they sear into a Rock In… some-key-or-other ending that's somewhat shorter than we're used to due the time restrictions on a festival set; Noble still finds time to clamber about on a bunch of platforms in front of the stage that seem to have been put there for him to do just that. It's only as they depart that we realise they've played absolutely nothing from their first two albums, just Spirit plus half of Do You Like Rock Music. One fan we talk to who hasn't seen them for about three years would have liked a couple of oldies, but for those of us who've seen them far too many times and equally for the general festival crowd who know little about them, it's been a blinding set.
Oh dear, we are already down to single drinks tokens, which can only mean one thing – Jägermeister… thus it's with a bit of a stumble that we make our way to the ATP stage at the opposite side of the site. We have been up for about 20 hours by this point as well. But I've lost count of how many times I've missed Boris when various experimentalist promoters have put them on back home in Manchester and I'm buggered if I'm going to miss them now. Comprising three impossibly attractive dishevelled Japanese people of indeterminate gender they make massive, beautiful noise blended from edgy post hardcore with molten metal and psychedelic atmospherics. No, that's not from the book; that came out of my head. Oh Christ, it's catching! A little the worse for wear I don't remember much more in the way of details except for the fact that one of them is playing a headless double-necked guitar – which is just showing off really – and that liberal use of a smoke machine and coloured lights makes it a decidedly enjoyable visual experience as well as a sonic one.
We'd have loved to stay for Explosions In The Sky, but we're barely awake and decide to make the short-ish stagger back to the hotel while we still can. It is indeed testament to the quality of this festival bill that the bands we didn't get to see would have been probably as good as those we did – a direct clash with British Sea Power meaning we had to miss Public Enemy doing a full live playback of It Takes A Nation Of Millions… – when I think of some of the rubbish I've ended up watching by default at British festivals to fill the six hour gap between the two good bands on some day's bill I just wish I could have cloned myself for this weekend…
DAY TWO
Friday we decide to go straight down to the festival early doors and cram in as much music as we can in a day – and this we most certainly do. Opening the ATP stage today are Träd, Gräs och Stenar. No, me neither. It seems we have been missing out for a great many years… at the forefront of the Swedish prog scene in the 70s – or as their own website delightfully puts it, "with a dubious key role in Swedish underground the years 1967 – 1972" their name translates as "Trees, Grass and Stones" and the slow drone fade in to their opening piece sounds like the blueprint for every post-rock band that ever played at Wotgodforgot. Yep, my favourite Manchester club night is never far from my thoughts during this exceptional set – not least because one of the band looks quite a lot like WGF promoter Ciaran's dad… and of course their music, which is amazing proggy psych-out spaced post-rock in all its glory. "We come from very far north of here…" explains one of the cooler-than-anyone-else-here elderly chaps onstage "and in the winter the sun goes away for months… and when the sun comes back we have a party, for 40 years we play this song about it…" – it's a brilliant piece of proto-Spacemen 3 drone psychedelia, and during its ebbs and flows the sun does come out again. Sublime. And then they do one that sounds like Galaxie 500 which is absolutely fucking incredible. Who'd have thought that a bunch of 60-year old Swedes could set the bar so high for the rest of the day?
It's Not Not must have the daftest name of the day. Apparently some of the members of this hardcore punk band "also play in bands like Standstill or Tokyo Sex Destruction" – now that's a proper band name! – and they're Barca locals so it seems rude not to go and have a look at them. Pretty good as hardcore goes, actually – both metal and indie influences showing, even a bit of industrial goth darkness. Their second to last track's a blinder, with the singer howling "I am the hole in the solid wall!" (or possibly sonic wall, it's hard to tell) like he's undead. I have sunburnt knees. I blame Mark E. Smith, whose exceptional autobiography I got a little too absorbed in whilst sunbathing earlier. Not much jumps out from the early evening schedule, so we go and get a pizza and sit on the grass at the back of the big stage area, where The Cribs are just starting. "We're from Wakefield… The beach there's better than here, but…" yes yes.
They will mention Wakefield another five times throughout the set. Now The Cribs, you'll remember, spent much of 2007 railing loudly against the apathetic identikit NME "indie" scene whilst sounding, to these ears anyway, not that dissimilar to it. As an accompaniment to beer and pizza they'll do. And yes, it's a bit like shooting ducks in a barrel to take the piss out of a band singing Hey Scenesters! when one of them's going out with Kate Nash. Turns out they're loads better than I thought anyway, their punky indie as reminiscent of classic Wedding Present as anything more recent, and you forget just how many 6Music hits they've had until you hear them, but then the sun's still blazing at 8pm, and most things sound OK under these conditions.
The same could be said of Bishop Allen – "the perfect antidote to fight the experimental excesses of a scene that continues paying more attention to the form than to the content". (Bloody hell – ed) So probably one of the more "pop" acts on the bill then; but with a bit of nice Americana thrown in. Crap name though. Back in the central covered area that is the CD-Drome, The Strange Death Of Liberal England are just starting. A favourite of a few of my mates back home, I saw them once and thought they were OK but had the misfortune to go on after a particularly storming Air Cav support set – oh, and there's those horrible studenty placards too. Thankfully they've left them at home; perhaps they didn't have time to get them translated. Of all the post-Arcade Fire bands I'd rate them as pretty good but not as good as Glasvegas. Here on the big stage they do sound pretty massive; all powerful crashing build-ups, although Adam Woolway's high-pitched if rather monotone Win Butlerisms get a little wearing after a while. And is it just me or are glockenspiels currently about as ubiquitous as melodicas were two years ago? It'll be recorders next, just you wait…
More men of pensionable age, next; these, though, have a salvo of tunes everyone knows. Songs so ingrained in rock'n'roll history it's like watching the Alternative Hall Of Fame right in front of you. I can't even believe I'm stood watching them. This is The Sonics and what follows could be a contender for best hour of garage proto-punk ever. Formed nearly half a century ago as teenagers, they still play with the energy of men half (or even a third) their age, the saxophone screams, the garage organ rushes, and the roots of pretty much every rock'n'roll band I've ever loved are played out before my eyes as the sun sets from the now cloudless sky behind the massive space-station of a main stage. Live music quite simply doesn't get much better than this. How many times have you punched the air to the glorious Have Love Will Travel? The central arena is packed from front to back, and even such legends as these men seem almost humbled by the rapturous reception. And of course when they play Psycho everything goes up yet another gear. Wrapping up with a frenzied Louie Louie ("the national anthem of rock'n'roll" as Gerry Roslie announces it) and their other "hit" The Witch you could probably hear the applause from five miles away – and you get the feeling they could have easily played on all night were there not a strict schedule to get to.
After which Sebadoh look and sound rather… weedy. Their gear is set up in a small area in the middle third of the stage; underachievers and proud of it. I know they're very cool and "important" and that but god, they're boring. Nigel from Half Man Half Biscuit once wrote "I could have been like Lou Barlow, but I'm more like Ken Barlow" actually, on this evidence, there's not a lot in it. Escaping back to the ATP stage we run into Rich Cheetham from Night & Day / High Voltage coming the other way (busman's holiday for you too then Rich? We just can't help it, can we…) but we're heading in the right direction, Autolux are a bit better. The book says "A stylistic hotchpotch in which the passion for being indie translates into winks at Sonic Youth and My Bloody Valentine" and indeed they do – your stereotypical ATP band then, really. Yet somehow they never really exceed being a list of cool influences. I don't care, I've just seen The Sonics do Psycho live, it's still warm at half eleven at night, the spirit measures are monstrous… and we're about to go and see Devo…
Read more about the proposition that is Devo here.