"The LP hits a purple patch half way through; Fuzzy Nipple is a Hagen-esque joy whereas Virtual Leisure is a fantastic jack-booted march that somehow takes the spirit of Queen's One Vision and makes it into a dreadful Euro sex anthem. "

"The LP hits a purple patch half way through; Fuzzy Nipple is a Hagen-esque joy whereas Virtual Leisure is a fantastic jack-booted march that somehow takes the spirit of Queen's One Vision and makes it into a dreadful Euro sex anthem. "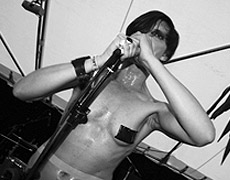 Anat Ben David – Virtual Leisure
www.yippieyeah.co.uk/anat http://www.chicksonspeed-records.com/ http://www.konkurrent.nl/
Okay I make no apology; I initially played this LP because it's got a brazenly exhibited pair of tits on the cover. And the music is great too, if strident stuff. The only thing I have against it is its length; it would have been a truly great LP if ten minutes or so had been lopped off. Still, there are ideas a plenty and bucket loads of intelligence and humour.
As I said, it's a strident LP; the electro stomp of Russia sets the tone for a lot of the content. Ben David does her best Nina Hagen impersonation on a weird hybrid of the Back in the USSR and (These Are) The Things That Dreams Are Made Of. If you were in any doubt as to where this LP was going, the (continuing) electro stomp of Poor R Fat – a great put down on the food-obsessive middle classes – should leave you in no doubt. Ben David even finishes the track with the shout; "Ranting ranting ranting". Exactly.
The stridency is balanced at times by the warped "cuteness'" of tracks like Ikea and Moon Boom, which have a touch of the Julie Cruise about them. Sometimes there's full on electro dissonance as on El No, sometimes there are faux-upbeat dance tracks such as Boom Boom. It's remarkably like the stuff Ceramic Hobs or Chumbawumba do.
The LP hits a purple patch half way through; Fuzzy Nipple is a Hagen-esque joy whereas Virtual Leisure is a fantastic jack-booted march that somehow takes the spirit of Queen's One Vision and makes it into a dreadful Euro sex anthem. And Dyke Rider is hilariously slobby and sleazy take on CSS's squeaky vibe.
It's a shame that Wise Man aside, the LP drags a bit near the end, it's not that songs like Nimm Doch in Acht Vor Blonden Frauen are bad at all; it's rather that she's said it all in the first 11 tracks. Still, check it out. Despite the bloody pretentious booklet it's a stimulating piece of work.
Words: Richard Foster