"As you would expect with a German independent label compilation, the selected tracks are uncompromising in their eclecticism."

"As you would expect with a German independent label compilation, the selected tracks are uncompromising in their eclecticism."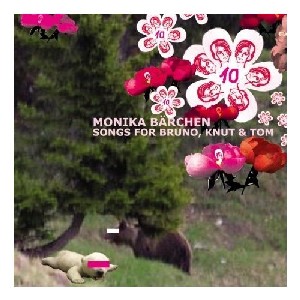 Monika Barchen – Songs For Bruno, Knut & Tom
http://www.monika-enterprise.de/ www.myspace.com/monikaenterprise
Well, compilations don't come better than this.
Ranging from plinky plonky synth work-outs (care of the likes of Robert Lippock's The Heart of Nuut picked by the Crows of Neu Koeln) to the ridiculously cute (Eglantine Glouzy's and Landini's L.A.) it's a label compilation LP that sets out a peculiarly skewed definition of pop. Actually it's really enjoyable and very German; definitely straying into a playful Holger Czuckay mode at times.
The LP also boasts the eccentric Chica and the Folder with the stomp-tastic Kleines Hoppia. As you would expect with a German independent label compilation, the selected tracks are uncompromising in their eclecticism. For instance, Rosario Blefari's sub-new wave meanderings give way to Max Punktezahl's beautiful Dashes with nary an excuse or explanation. In fact Dorrit Crysler's Sweden has to be amongst the most barmy pop instrumentals I've heard and seems all the more so when compared to the following track; Quark's lovely, melancholy Wilkommen.
A definite must-have.
Words: Richard Foster