"Gustav's muse can best be described as quirky Austrian pop, albeit with an impressive range of ideas that negate any movements towards twee girly candy-floss pop, (which, to be frank, normally does my head in)."

"Gustav's muse can best be described as quirky Austrian pop, albeit with an impressive range of ideas that negate any movements towards twee girly candy-floss pop, (which, to be frank, normally does my head in)."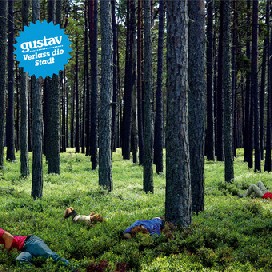 Gustav – Verlass die Stadt
http://www.konkurrent.nl/ http://www.chicksonspeed-records.com/
Chicks on Speed's record label has thrown up one or two cracking releases recently, (Anat Ben David and DAT Politics spring to mind). Gustav's second LP, Verlass die Stadt is one of them. Gustav's muse can best be described as quirky Austrian pop, albeit with an impressive range of ideas that negate any movements towards twee girly candy-floss pop, (which, to be frank, normally does my head in).
In fact on reflection it's a very weird release; switching between English and German lyrics, tempos, sound effects and sinister atmospheres. Check out the title track or Neulich Im Kanal out for proof; they're as mad as toast. Even the most poppy moments are tempered by a restlessness and desire to overthrow whatever sonic template has been created. And for some indefinable reason I kept thinking of Kurt Weil whilst listening to Alles Renkt Sich Wieder Ein, which is always a good thing.
I'd like to tell you more but I won't, as I think it's better that such universally attractive pop music as this deserves a bit of effort on your behalf. If I were you, I'd check this out sharpish.
Words: Richard Foster