Sadly the quote by Robert Walser that adorns the back-page of the lyric booklet is peculiarly adroit: 'There's something missing when I don't hear music, and when I do, then there's really something missing.'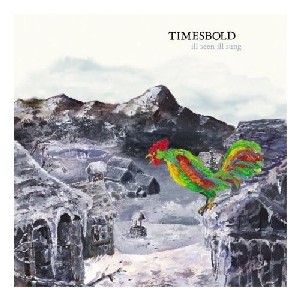 Timesbold – Ill Seen Ill Sung
http://www.timesbold.net/ www.myspace.com/timesbold
The new album from Timesbold is a slice of alt.country Americana. Utilising a range of instruments included such things as bow-saws, banjos, mandolin, vibraphones and harps – they seek to talk that genre beyond its usual confines. They only partially succeed.
It starts very promisingly – opener Old Hannah and, more particularly Any Lethal Storm have a crackling intensity to them that pulls you the listener in. The second of that pair builds to a sparkling crescendo with finely picked banjo and drums escalating, before they subside into a haunting organ wash. From there it starts to go a little wrong. Many of the songs are atmospheric, but for all the layers of instrumentation, feel more like mood pieces, sketches of songs.
Lyrically it becomes somewhat pseudy. We learn in Recover Ring for example that 'daylight's a banquet', whilst the closer Far To Strange opens with the lines 'bor of fire, nursed by rain.' (I am aware that me having a go at someone for being psuedy is like the legendary pot levelling racially dubious epithets at the proverbial kettle, but I maintain that this kind of thing is hard to get away with in a straight-faced pop lyric).
The use of a myriad of unusual instruments, the employment of lyrical phrases like 'Mama my Mother Earth is flat', as well as Jason Merrit's intense but warbly vocal delivery will probably see many lazy reviewers comparing them to The Arcade Fire. Sadly it looks like you, dear reader, are reading the work of just such a bone-idle hack as this record reminds me somewhat of Neon Bible. Like that album, for all it's good points, some very fine playing and no small amount of passionate intensity cannot live up to the promise of it's opening gambits.
Sadly the quote by Robert Walser that adorns the back-page of the lyric booklet is peculiarly adroit: 'There's something missing when I don't hear music, and when I do, then there's really something missing.'
Words: Stuart Crosse