Julie Mittens continue to tear places apart to this day, and frankly they remain possibly the greatest free-rock band in Holland, if not Europe.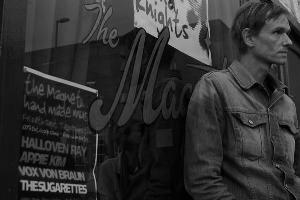 Dutchpopsampler
A brief and incorrect history of Dutch underground pop 2004-8.Part the first…
Where to start? I can't really start at the beginning, because that'll be disputed for sure, and mention must be made of de Kift, The Ex, the Outsiders, Sugar Coated Mindbombs, The Gluemen… not to mention the Garage scene in the wilds of Groningen and Drenthe (No Goods etc). I'm just not the man who can effectively do these bands justice in chronicling their histories. And I'm not going to write about every Dutch band I've seen, however memorable their performance (or, as in Gem's case, infamous; with their incredibly, hysterically, monumentally terrible Libertines support slot).
In fact if you do want to find out, stop reading this and go and send Subbacultcha or Wham! Wham! or WotNxt or Kuriosa or Subroutine or 3voor12 or Willie Anderson Records an email. Ask them.
No, I'll start where I come in as a semi-active supporter, around mid-summer 2004, watching a couple of unassuming Leideners tear apart an exhibition/"gathering" I'd put together in Leiden's Haagweg 4 complex. The event was built round a daft, pretty hackneyed idea of making bands play to a film they'd never seen. All very frou frou and chin-stroking, and yes, I'm sorry I thought it would be a good idea.
Now you'd expect the bands playing to think about interpreting the films on show in a thoughtful and essentially providing a musical accompaniment. Not so Aart-Jan Schakenbos and Michel. The best thing about the whole evening was seeing their utter contempt for the idea; at one point they seemed to be physically pushing people out of the door with their combination of completely free rock and No Wave glam racket.
This after all, was two thirds of the Julie Mittens. Their idea of a good time was seeing the audience leave.
Julie Mittens continue to tear places apart to this day, and frankly they remain possibly the greatest free-rock band in Holland, if not Europe. The Mittens' open air 'interpretation' of a poem at an otherwise sedate and incredibly poncey open-air literary festival on Leiden's Nieuwe Rijn could literally be heard a mile away.
Their LPs have been raved here many times (click here and here if you want further LP details) and their co-projects are normally nothing short of fabulous. You can read about drummer Leon's Machine Fabriek project here.
We did a couple of interviews with them, and spent a lot of time hanging out with them in some form or another. Aart-Jan must be the only rock guitar hero who has been praised by Thurston Moore who still gets by selling CDs in a Leiden shop.
Anyway… back to 2004.
Somehow the idea (called Soundtrack) mutated into something more akin to showbiz; ending up in the Melkweg with a set of other bands. Although a good event, only Amsterdam's Electric Fans made the idea work, their rhythmic, pounding tom-tom led muse really shaking the audience up. So inspired were we by that gig that an early edition of Incendiary asked the thoughtful 'Fans leader, Anthony to give the game away by obsessing on his love for Fela Kuti. It's a shame the Fans never captured in any recordings I've heard what they were about live. But still, they are an exciting proposition at a gig.
So far so good, heroic noise rock and tribal rhythms are always welcome in the House that is Incendiary. But in a scene obsessed with US and European bands like the Strokes and Franz Ferdinand, it was obvious that this stuff was seen as too worthy, too underground for people who just wanted to cut some rug and cop off. The timid Dutch music scene as ever tried to promote carbon copies, or safe options but the likes of Gem, Di-rect and Kane were (and indeed are, in my estimation) just too boring. And the state-subsidised festivals (a brilliant idea otherwise), always shot themselves in the foot by putting on local teen bands who did covers, or scene-jean bands whose yawn-athon sets got as far as replicating Unknown Pleasures, or far, far worse emo. Talk about being patronised by The Man….
Luckily there wee bright lights, one of which was the Subbacultcha compilation release: Not Everybody's Compilation back in 2004, showcasing the bands on the fringes. At last, bands like the Ik Jan Cremers, Hospital Bombers Alamo Race Track and Tenuzu No Chiizu had some flag to rally round. And at last, good, confident, interesting accessible sounds. Frankly, anything Leon from Subbacultcha does is worth your attention. But his splendid organisation's history can't really be charted by me here.
Subroutine's tremendous compilation Next Little Big Things was another light back in 2005. We'd met Subroutine at Haldern festival, and hell, they'd enjoyed getting drunk in the mud. Plus they liked BSP and Postcard. So we decided in an arbitrary manner to give the CD a review on the magazine. Which you can read here. Little did we know that once of the bands on it, De Nieuwe Vrolijkheid would lead us to a burning revelation in 2006.
Part Two to follow…
Words: Richard Foster