Before we take a trip it would be utterly remiss of me not to mention the pioneering work from the early '80s of Echo & the Bunnymen's guitarist, Will Sergeant.
Before we take a trip it would be utterly remiss of me not to mention the pioneering work from the early '80s of Echo & the Bunnymen's guitarist, Will Sergeant.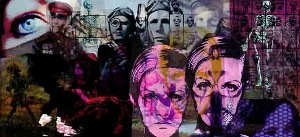 (image courtesy of Will Sergeant)
Shoegaze – a quick trip abroad.
The term Shoegaze for me has always been associated with the UK scene, especially around the Home Counties/Oxford valley, with guitar bands such as Ride, Slowdive, Chapterhouse and Lush, not to mention Spacemen 3. With MBV as the honourable exceptions, all were perceived as arty, upper middle class and ever so slightly passive (obviously with the exception of Spacemen 3). Not that I care in the slightest, as most of those bands were great in their time, some (Spacemen, MBV and early Lush and Ride EPs) were truly brilliant and forward thinking. Rather, I think that's one of the reasons NME/MM journalists with class hang-ups were so happy to sound the death knell on the Scene that Celebrates Itself back in 1991-2.
Still, who needs UK–based musical snobbery posing as class war when there's a whole Spectrum (no pun intended) of interesting sounds round the globe?
Before we pack our bags
Before we take a trip it would be utterly remiss of me not to mention the pioneering work from the early '80s of Echo & the Bunnymen's guitarist, Will Sergeant. His LPs Grind (1982) and his bedroom cassette demos from 1978 and film music from 1981 & 1982 (now packaged as the Weird as Fish/Via Luonge LP) are aeons ahead of their time, looking forward to the sort of trippy sonic experiments Spacemen 3 knocked out almost a decade later. More recently his Glide LPs Space Age Freak Out Live at the Bubblebath (1996-7) and Curvature of the Earth (2004) carry on with the drawn-out trippy guitars and effects clash with the sort of Toytown melodies that shoegaze was always so fond of.
And don't forget the mighty Cocteau Twins, whose stellar career overlapped with the first coming of the movement and whose LP, Bluebell Knoll (1988) is about as perfect a template for dreamy ethereal popscapes that you coulld wish for. http://www.cocteautwins.com/
It's all about the ambience, innit?
Despite the perceived death of shoegaze in '92, a lot of its influence could be consistently felt in the rise of ambient electronica throughout the 'nineties, something that has certainly informed the latest revival of interest in those original bands; the best example being heard in the recent work of Germany's Mr Ulrich Schnauss. Schnauss has done more than most to bring on the shoegaze revival, with his work drawing from stuff that was going on back in the late eighties and early nineties, as well as his interest in post clubbing chill-out music and alternative club grooves that emanated from the likes of Hamburg's 90s dance magicians Blech or Norway's brilliant Xploding PLastiX.
Ambient electronica has a long and honourable history in Germany, dating back to pioneers such as Cluster, Klaus Schultze, Harmonia and Conny Plank, (check out proto ambient stuff like Schultze's Black Dance, Cluster's Zuckerzeit and Plank & Moebius's Rastakrautpasta, all of which had a big influence on people like Brian Eno & Robert Fripp) so it's not really surprising that the likes of Schnauss should draw on this to kick things up a notch for us Moderns. Indeed, Harmonia's 1975 LP Deluxe could be seen as the template for a lot of what Schnauss does.
And it's still a very strong influence today as a quick flip through the catalogues of German labels such as Staubgold and Monika and Morr will show. Certainly Schnauss's harnessing of these admittedly disparate elements has brought a much-needed breadth into a scene that was originally drawing on the Velvets and standard Anglo-American art school classics.
Time for some experimentation methinks… if you want to tread a little further out to the very edge of what could be called ambient shoegaze (or, in effect just experimental), please look out for the work of Holland's Ghiu who throw in space-rock stylings to aid their dronathons, and OM Source, the alter-ego of ambient noise heroine Christelle Gualdi, who draw on the work of the mighty Popol Vuh and the white noise of Evol era Sonic Youth to create some truly beautiful sounds. It might be an idea to check out the softeness of Adrian Klumpes too, his last LP, Be Still, is on the Leaf label.
Other ambient-style introspection can be found with Kaspaar van der Hoek, whose T-Dream bleeps and noises are more in keeping with Spectrum's more outré moments, or the early wibblings of Terry Riley (albeit without the Bebop affectations). Kaspaar and Cristelle also have splendid home-made CDs too. And take a moment to check out the pleasing New Age drones of Joseph Ragliani whose latest LP is on the Kranky label.
www.myspace.com/ulrichschnauss http://www.kaspaarvanhoek.net/
http://www.adrianklumpes.com/ http://www.kranky.net/
www.myspace.com/omsource www.myspace.com/ghiumusic
http://www.morrmusic.com/ http://www.staubgold.de/
www.myspace.com/monikaenterprise
Sigur Ross, the Missing Link?
Before I leave the ambient side of things, special mention must be given to Iceland's Sigur Ross, who in many respects created a forum for shoegaze to renegotiate its journey back into people's affections. Sigur Ross's music draws very heavily on the wistful devotional feel that was also so important to bands like Ride & Slowdive. And of course, winsome vocals backed up by loads of dreamy, soft focus guitar effects. Guess what? Them Nordic countries & Northern US states are full of acts like the Mighty Ross. (I mean, how many times do we need to mention Olafur Arnalds? And if you are in need winsome and ethereal sounds in extremis; just check out virtually all of Norway's Runegrammofon's or Denmark's Rumraket's releases).
A good scene is coming out of the state of Oregon at the moment; with Helios, whose latest LP Caesura (on Morr Music) is a dreamy gem, and one that proudly upholds the tradition. Helios also seemingly operates as Goldmund, a more piano based act, who take minimalism (aided by a piano) to new extremes. They also seemingly work as the far rockier Mint Julep, who seems a veritable marvel. Germany's Pluramon plough this furrow pretty well over the last few years, check these reviews out. Dreams Top Rock and the Monstrous Surplus
www.myspace.com/thomasandevelyn (Mint Julep)
www.myspace.com/thesadepicurean (Helios)
www.myspace.com/goldmundmusic (Goldmund)
www.rumraket.com www.runegrammofon.com
But I demand something harder, darker…
If you want rockier forms of the genre, then look no further than Finland's marvellous Joensuu 1685, who have frankly taken the Spaceman 3 template and make it Finnish. Their LP is a tremendous one and should be a staple. Ireland's Low Sea do the drugged-out rock stance thing pretty well too, their woozy AR Kane/Julie Cruise-isms have definite charm and grace though I'd like to see how they pull things off live before giving any sort of definite judgement.
Right out there with (important original shoegaze reference point) Sonic Youth in the art noise stakes are the brilliant Dutch free rockers, Julie Mittens. Yep, there's atonal noise aplenty, but don't overlook their beautifully introspective pieces, such as the April/June LP. Other stuff to check if you want to go down this path are the discs Denmark's Family Underground knock out… but maybe I'm straying into another territory altogether here. I probably am. I'll stop now.
Darker still (and definitely shoegazey, I promise) are Michigan husband and wife act Windy and Carl who have been around since, well, the original Shoegaze scene; and whose latest LP Songs For The Broken Hearted on the Kranky label is a dirge par excellence albeit with some utterly sublime moments, especially when Windy Weber's vocals kick in. You know, Songs For The Broken Hearted doesn't half remind me of Dronefolk…
http://www.myspace.comjoensuu1685/ www.myspace.com/lowseamusic
www.brainwashed.com/wc/ (windy & carl) www.myspace.com/juliemittens
www.myspace.com/familyunderground
Belgian Dronefolk – That'll finish you off
Kiss the Anus of a Black Cat, need I say more? Check out their new three track monster of an LP, The Nebulous Dreams on Conspiracy Records. They are a folksy, protest act rather than an out and out shoegaze band but there's enough droning and delay pedal action there to interest the shoegaze aficionado looking to push boundaries. At times the music is very much leaning to the Gothick Arcana of some of Coil's side projects. They are also a highly charismatic proposition live, so check them out.
Conspiracy is also the label that houses one-man-pedal-wizard Fear Falls Burning, aka vidnaObmana. Again this is music on the extreme edges of shoegaze, magnifying that scene's fascination with pure sound. If you're in the mood to be utterly zonked out of your box by sonic repetition, then vidnaObmana is yer man. I can certainly recommend that you catch him live.
http://www.conspiracyrecords.com/ http://www.fearfallsburning.be/
www.myspace.com/kisstheanusofablackcat
Next stop, out and out unlistenable noise!
Words: Richard Foster