…it must be said that Crossing Border must take great credit for highlighting left-field Dutch talent. It's important, and well, I find it unbelievable that outside of say Noorderslag no other major 'national' festival really does it, especially when there is a real renaissance in Dutch underground music…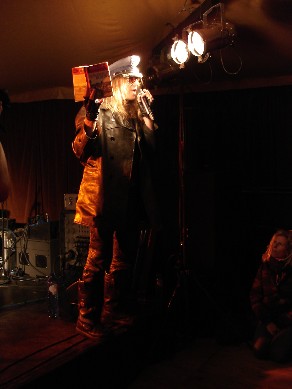 Crossing Border Festival, Den Haag – 21 & 22/11/08
Friday 21/11/08: An evening with the Archdrude
Now it's not often that you go to a music festival and spend a very enjoyable evening not hearing one set played by a band. But hey, Incendiary managed to do this on the Friday night at Crossing Border, though to be honest we'd have loved to have seen the awesome Julie Mittens tear down the Subbacultcha podium. Still you can't have everything.
We had decided to evade the throng and check out the squat where Leon had set up his Subbacultcha night. (A quick aside; it must be said that Crossing Border must take great credit for highlighting left-field Dutch talent. It's important, and well, I find it unbelievable that outside of say Noorderslag no other major 'national' festival really does it, especially when there is a real renaissance in Dutch underground music). First up was a talk by whizz-guitar designer Yuri Landeman (who has designed specialised guitars utilising a discordant tremolo sound for arty types such as Sonic Youth, the Bad Seeds and new sensations Blood Red Shoes) Now, yes you'd think this was incredibly geeky and in a way it was, however, you can't help but be impressed by the thoroughness of his skill and the depth of his interest. After all, this is a man who created a guitar/drum machine out of a set of folding tables.
Once Mr L had finished his lecture, it was time to hotfoot it to one of the temporary tents (which seem to be the vogue recently) to see Julian Cope give a reading of his seminal tome, Japrocksampler. True to form JC was in full regalia and ready to indulge in his shamanistic-joker spiel. Not much of Japrock.. got read to be honest, (only the foolish or anally retentive would have expected it): instead we got a rant about Western Liberalism, why drunkenness at weekends is good, a lot of intonation (as a vocal example of his 70 minute drone-athon Odin) and the odd incantation to Odin himself; (at one point the wind really started to whip up, whistling through the awnings of the tent; and indeed, it then looked as if JC would have his Skandic way with us all).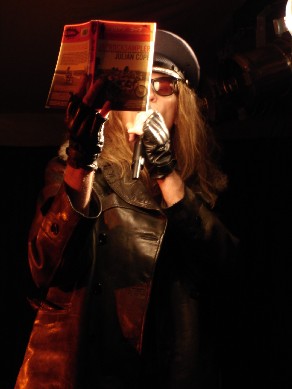 Following Copey, DBC Pierre stalked onto the podium for his reading. No contrast could between performances could be more marked. Pierre, soberly dressed and sotto in demeanour emanated a sense of quiet menace. His delivery (of a story about an aged drop out) was very measured, almost stentorian in manner. Whisper it, but he seems slightly unhinged. Never mind, it was off to the Schouwburg to see Cope again, this time in the guise of manic interviewee. This time things were slightly more controlled; subjects included his new LP, the 'hawt' Black Sheep, the inevitable "hip archaeology" questions and a lot of discussions about his new books (a first novel, no less) 60s pop stars, guns on ebay and the differences between Manchester and Liverpool. All knock about stuff, enlivened by the odd gem: "Julian, why do you hate Christianity? Well, if you live like a Christian, you end up looking like Cliff Richard". Nuff said.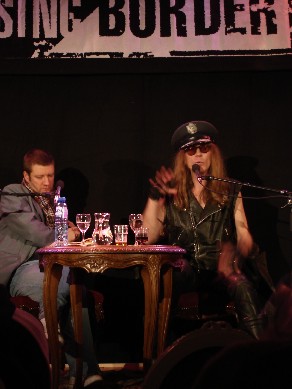 We finally put our head round the door some Tindersticks gloom (believe it or not they were yapping in-between tracks) and headed off to Bedfordshire.
Saturday 22/11/08: Parties galore
Saturday's festivities started very early in the Eenhoorn tent with the Excelsior label show. Basically this entailed drinking from 3pm and three bands. Fine. I fact, this was so fine that we decided to stay the entire evening in the tent. First up were De Staat, who, despite their obvious musicianship didn't really pack an emotional punch; to be honest it was all a bit too clever and polished: weddings and funerals music. Oh well. Roosbeef were a lot better, I've seen them support Jarvis Cocker at the Paradiso about a year ago, and I thought they were good then. In a small tent their torch songs really shone, despite the fact that being Dutch language band, they're really only going to appeal to a Dutch/Flemish audience. And the girl on lead vox has a hell of a voice. Check them out if you're feeling multilingual. Ye Venerable Hallo Venray followed, blasting out a set from their excellent latest LP Leather on My Soul. Henk Koorn's guitar playing really is a wondrous thing and the band don't half specialise in alt-rock pyrotechnics. More drinks and chat followed before Appie Kim kicked off the evening proper. Now, regular readers of Incendiary magazine over the last 2 years or so will be in no doubt of the veneration in which we hold Appie Kim. Is there a Dutch band around more interesting, more singular, more talented? I doubt it. As usual, Appie blasted out their Nuggets-style pop, including a storming version of Everybody is Your Friend, the b-side of their latest single, and some old Vrolijkheid numbers. Great stuff, and surely we're not far off seeing them crash through into some collective musical consciousness very soon.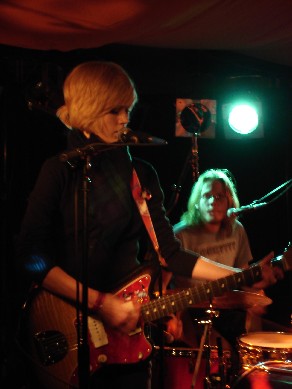 Natasha from Appie Kim was joined by Henk Koorn and a young drummer whose name escapes me to form the Hippos, named after the Burroughs/Kerouac novella that has recently been translated into Dutch; And the Hippos were Boiled in Their Tanks. I'm not sure mind; you'll have to ask Miss Van Waardenburg herself on this… For this their first gig, The Hippos knocked out an enjoyable though slightly shambolic set which sometimes careered into a jam. Still the idea's great and it just needs time. We also got to hear a bit of the book, read by Ton Heuvelmans and Henk van Straaten, which was entertaining enough, though to be honest why actually translate this work into Dutch? Is there a pressing demand from non-English reading Kerouac fans in Holland? I doubt it.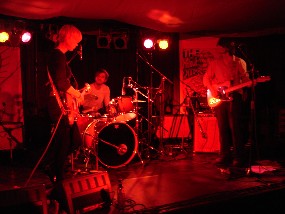 Pete Molinari was to follow in the Eenhoorn. Mr Molinari's two LPs to date are fantastic variations on the late 50's / early 60's folk-pop sound, and Incendiary was eager to see if his gig would give the same goose bumps as his records do. One man and a guitar meant we wouldn't get the pyrotechnics of his band, but the set was beautifully paced, allowing Mr M's considerable melancholy to shine through. And his 'hit', Sweet Louise was brilliant. Top marks for the gig, and we earnestly suggest you catch him live.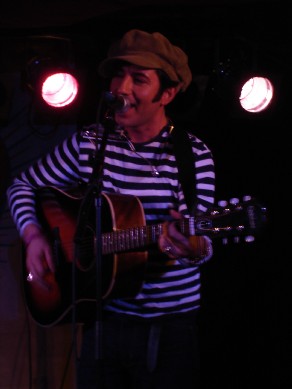 More drinks and chat were needed in preparation for the arrival in the tent of one of the greatest living Dutchmen, (now sadly no more since 2009- ed) the poet Simon Vinkenoog. It's still apparent from his talk that he is a remarkable man, one blessed with reserves of energy and wit. Indeed, the contrast between this determined Hippy Laird (just short of his 80th birthday) and his lacksadaisical interviewer Arjan Peters could not be more pronounced. Talk about a graphic representation of the way that Holland's leftfield culture has stagnated and gentrified… There was chat of his 'role' in the 60s counterculture, trepanning, drugs, Hendrix, the lot. And, of course, poems, during the reading of which Vinkenoog exercised his considerable magnetic qualities on the audience. A magical moment.
After all this culture we felt it only right and proper to indulge in some entertainment back at the café with all the other wannabe Bohos, Hobos, non-painters, non-writers and Middle Class Patrons… Rampant enjoyment was to be had with the after party's deejays; (a MASSIVE improvement on the annoying, smug and very crap deejay from last year) namely Scotland's The Phantom Band, who induced momentary psychosis upon one unfortunate and nameless editor. Still, playing the Monks, Can and Beefheart at a disco dance with a beer bar isn't a treat to be ignored, I'm sure you will agree.