I don't know where Skeletons are from but if it's not New York I would be very, very surprised.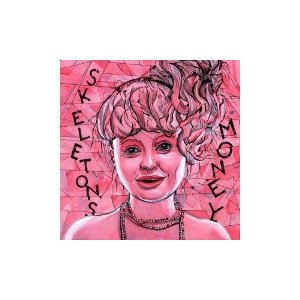 Skeletons – Money
(Tomlab) http://www.konkurrent.nl/
Money opens with piano and the sound of the street – car horns peeping and parping. First track proper, The Things, features funky guitar, woozy brass and a jazzy beat. As with much of the album the disparate parts fail (intentionally) to gel, everything seeming to be ever so slightly out of time. When the vocals come in the brass and the funky guitar exit. This is a shame as the spoken vocals don't really take the song anywhere. Eventually everything comes back together before morphing into Ripper a.k.a. The Pillows. This track, whilst also featuring clanking guitars, has something of a North African vibe to it. There's no doubt that Skeletons have plenty of ideas and aren't afraid to play with musical styles (whilst also managing to sabotage each song so that it will never be radio friendly) but the vocals do tend to bring everything crashing down to earth.
Stepper a.k.a. Work opens with a languid beat and electronic squiggles. The vibe is that of a drunken walk back from a bar on a summer's evening. It's a bit jazzy, but not excessively so. Booom! (Money) starts off with funky drumming before a very ragged and feedback-laden guitar stumbles all over the beat. All of a sudden, like a butterfly emerging from a chrysalis, a different, lighter and friskier song emerges out of the gloom. The song, gaining pace as it goes on, threatens to break down and eventually does – into an improv jazz guitar noodle. Never good. Then there's some brass kronking to add to the confusion.
After 11 and a half minutes it stops. Which makes the opening of Unrelentinglessness seem all the more strange – it kicks off like a mournful Hovis advert. Discord soon joins the brass and through the freeform gloom a choir of voices wail. The Masks takes what could be a slushy soul ballad and gives it a bit of edge. Final track, Eleven (It'll rain!) follows the usual template before it turns into a feel good calypso number. It's simple and joyous in an animal collective / akron/family way.
I don't know where Skeletons are from but if it's not New York I would be very, very surprised. The album is clever and sophisticated and it wilfully fails to coalesce into a suite of songs that the casual listener can nod along to. There's definitely something here but the overall feeling is that of a band trying too hard to serve up something different. A concession to the mainstream here and there and they could produce something really exciting.