Looking back on all this fun, it's amazing to think I managed to watch any bands. Yet, somehow, between making stoned jokes about Nazis, bellowing along to Pulp at 3 in the morning and receiving FIVE panettones on my chalet doorstep from persons unknown, I saw some pretty awesome stuff.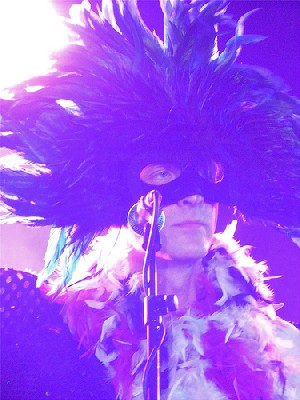 ATP vs. The Fans Part II: The Fans Strike Back Butlins, Minehead, Somerset, UK.
8-10/05/09
All Tomorrow's Parties is like heaven on earth, yeah? Not just content to be a festival of consistently mind-blowing line-ups, it is also a festival with little chalets that you live and do bad things in. For one weekend of the year, you can immerse yourself in unbridled musical geekery. Taking place at a faded English holiday camp in the picturesque West Country, you flit between gigs and crazy golf, indie discos and the beach. You watch the Manchester derby or hair metal documentaries on the special ATP TV channel; observe barmaids wince at Frankie Teardrop in an Irish theme pub; frolic on waterslides with skinny cute hipsters in American Apparel bikinis. It's an indie rock meat market and a haven for metal heads, students and middle-aged Krautrock fans alike. It's like, my favourite thing EVER!
Looking back on all this fun, it's amazing to think I managed to watch any bands. Yet, somehow, between making stoned jokes about Nazis, bellowing along to Pulp at 3 in the morning and receiving FIVE panettones on my chalet doorstep from persons unknown, I saw some pretty awesome stuff. Here's a flavour of it:
Friday
Getting to Minehead is epically difficult: a two and a half hour train journey, followed by a meandering, sixty quid taxi ride through sunken Somerset lanes. It's totally worth it though; Minehead is obscenely beautiful for a second-rate tourist town. Verdant hills rise into headland, the beach is endless sand and romantic grey sea, some sort of stately home is nestled in the woods behind the town, and to top it all off, there's a steam railway.
I miss Grouper to visit the beach. This was a mistake. See, Grouper's biography in the festival programme reads, "Grouper is from Portland OR. Made of flesh, blood and electricity, four full length albums". SRSLY, how could they not be good? What's more, I end up in the middle of a gale, drinking a can of sand with warm Stella at the bottom. I'm still finding little dunes in the bottom of my bag two weeks later.
Having escaped from these extreme weather conditions, I go and watch Casiotone For The Painfully Alone. I really like this guy on record, but he's just so damn wet. I end up bored out of my mind. Going to a festival is supposed to be fun, sweaty, maybe a bit mind-expanding. Some earnest, bearded bed-wetter doing record-perfect renditions of his songs is the last thing I wanna see when I'm all over excited at 6 on a Friday night. I wander off. Casiotone for the Painfully Bored more like.
Things improve for Jeffrey Lewis & the Junkyard. Jeff's like a middle-ground between God, Jonathan Richman and a hip university lecturer who is actually genuinely hip. He and his band rattle through a whole set of their awesome, sloppy garage rock classics, only pausing for heart-breaking ruminations on friendship and city living with genuinely affecting cracked vocals and wheezy harmonium. The highlight for me though, was the nine minute lecture, "The Complete History of the Development of Punk on the Lower East Side". Get this, it's written in limericks! And it's punctuated by little snippets of the Fugs, New York Dolls and the most spot-on Patti Smith impression you'll ever hear from a cute Brooklyn scenester.
From now on, things just go swimmingly. Last time I saw HEALTH they were a seizure and perspiration inducing, but slightly derivative noise-band. The kinda thing you go see and have shit-loads of fun, but aren't too bothered about the songs as much as the experience. Anyway, they were just too sub-Boredoms on record. This is a world away though. HEALTH always worked better on the remixes than the original cuts, and they've obviously learnt from this. They've become a different band. Throbbing and pulsating with driving beats, scratchy guitar, otherworldly harmonies, but having lost none of that original noise rock derangement, at this particular moment they're like THE BEST INDIE DISCO EVER (and I'm sorry, but ATP calls for ridiculously effusive hyperbole. I was having fun, and I won't let anyone with a moderate view ruin that).
M83 sounded like the music from a teen drama when someone loses their virginity at some drunken sweaty party and gets pregnant for their sins. Or maybe they're driving and giggling in their car with a spliff. Then crash. Whatever, it's boring, formulaic and waaaay MOR.
Instead, I wander off with my new friend Rosie, who has been left on her own and is a recovering hXc purist. We discover a very, very creepy chapel, with a visitors' book full of prayers for dead mothers, and make our heads a little messy with fun. This is the perfect way to prepare for the might of DEVO.
Devo, Devo, Devo. How happy am I? Yellow jumpsuits, the hats (retailing for £25 if you want your own), and a run in the middle of the gig that goes: Satisfaction, Whip It, Jock-O-Homo, Mongoloid and Uncontrollable Urge. It's note perfect, and boasting an energy that some of the younger bands here could only dream of. It's more subversive and punk rock than any punk band could ever be, purely because it's both intelligent and enjoyable. Devo have something real to say, and put on an awesome stage show to explain it. Uncontrollable Urge sees the jumpsuits being ripped to shreds with each repetition of the title (My friend acquired one. It's very poorly made). And by the end, they're playing in boxer shorts. I spend the next few days frequently asking people "Are we not men"?
And so, we hit the late night acts. Antipop Consortium put me in a party mood, with their throbbing alternative hip-hop. It's ridiculously bassy, and sharply intelligent. The best way I can describe it is like being at a particularly packed house party on drugs that make everything seem slightly threatening, but somehow more fun.
This serves as a fine precursor to Fuck Buttons, who are rounding off the evening. This was likely to be their only gig in a fair while, and they really couldn't have ended such a fantastic day in a more effective fashion. All the favourites from their debut were there, in Technicolor-drenched, tribal glory. It was the new stuff that really fascinated though, beat heavy and significantly more pop, yet still washed in strange reverb and escalating keyboards. I've heard people write the Buttons off as "noise for people who don't like noise", but it's kind of missing the point. This is something else entirely, a strange and fascinating fusion music, a beautiful, beautiful product of the Internet generation.
Saturday
Friday night's excesses leave me feeling very delicate on Saturday. I had worthy plans to do some exercise, or at least go for a walk. Instead, I get up way late and console myself with cider and the Leeds v. Millwall play-off.
First up in the afternoon is Nico Muhly. He provides a fine demonstration of one of the loveliest parts of the ATP experience. There's nothing better than watching mellow acts in the afternoon, having your pounding head soothed. I still go all misty-eyed about seeing The Dirty Three on a sunny April Sunday a couple of years back, and this had a similar vibe. All I knew of Nico Muhly was that he sometimes turns the pages for Philip Glass and has done some arrangements for the new Grizzly Bear LP. However, he's a formidable musician in his own right. Over forty-five minutes, Muhly charms with strange minimalist/classical versions of old folk songs, full of eerie, empty space, manipulated electronics and frenzied piano; lyrics are sung in old English and weird old American by echoing, haunting vocalists. This is serious and difficult to listen to music, deeply sad (one traditional rearrangement tells the story of a drowned girl whose body is turned into a violin) but playful. One of the most effective, distinctive, sounds Muhly makes is derived from a live loop of him scratching a fellow musician's head.
David Yowl's other band, Qui, are nothing like Nico Muhly. Anarchic, funny, loud, and basic, they should excite emotions at opposing end of the spectrum. Unfortunately, the strongest contrast with Nico Muhly is just how boring they are. On paper, it's great; …Trail of Dead go garage rock with America's answer to Mark E. Smith howling over the top, but it goes on and on and on and on and on.
And on. And it all sounds the same.
The Young Marble Giants, on the other hand, still sound like one of the most innovative, unusual bands ever to exist. They are those rare originals that truly sound like nothing else. They haven't played some of these songs for 25 years, and yet they still sound fresh, melancholy and otherworldly. The strange keyboards of The Taxi hold me utterly spellbound, and the sparse guitar shuffle almost makes me wanna dance. What really strikes me, though, is the sheer intelligence of it: the biting, subtly caustic lyrics sung in the voice of an angel, the complexity of the arrangements, the use of space rather than sound. Afterwards, I tell anyone who will listen that Colossal Youth is my favourite album ever.
I forgo Harvey Milk to watch Grizzly Bear. If you're interested, my generally reliable friends said Harvey Milk were a bit boring, but I haz my doubts. I saw them last year, and they are maximum rock n roll. In some sort of weird parallel, Grizzly Bear were more rock than I ever could have imagined them. Gone were the pretty strings and fluttering flutes of their lush records, replaced by three guitars. The music still had the intimate expansiveness of their recorded output, but the Spector-ish wall of sound they created was a surprisingly visceral counterpoint to their sweet vocal harmonies; Knife became a 60s pop smash covered by My Bloody Valentine. At times it could be a little overwhelming; with walls of vanilla feedback winding around strange rhythms and frenzied arpeggios provided by Nico Muhly, but it was never anything less than blissful.
Beirut has always tried to plug that same brand of melancholic, soaring indie rock as Grizzly Bear. Seeing one after the other couldn't be more telling, and it all comes down to musicianship. Whilst Grizzly Bear are full of unexpected surprises, inventive arrangements, Beirut plays the same song again and again. Some Balkan-sounding brass plays whilst singer Zach Condon wails nothing-words sadly over the top. Sure, it sounded fresh 3 years ago; now it just seems like formulaic fodder for slightly leftfield, over-emotional teenagers.
In marked contrast, Errors have improved no end. Gone are the uninspiring nu-rave upstarts, replaced with a cacophony of sugary, rainbow sounds. Everyone is dancing and sweating and dancing some more to the skittery drumming and squelchy synths. It's still totally day-glo, but good day-glo. Like, if only 'post-rock' had discovered fun and short songs 15 years ago, and maybe the NME would still be readable. That Godspeed! cover would have sold 2 billion copies and the charts would be dominated by bands like Errors.
Everyone is pretty excited then, for the wunderkind who is Marnie Stern. She strikes rock star poses, she has the biggest grin you've ever seen, she shreds them strings like no one's business. She's just SO.FUCKING.COOL. Her cute bassist tells embarrassing stories. They shred up some more. "I'm not looking to find a pot of gold," she tells us, making a fairytale with her flaming axe, "the picture in my head IS my reward". It's like being showered in glittery confetti made from shredded back-issues of Metal Hammer.
I'm so overwhelmed, I'm collapsed in bed by 2 a.m.
Sunday
Before the bands start for the day, I check out Lydia Lunch's spoken word stage. There's some ranty, washed up New York types, a story about a gay NF supporter, and the supremely annoying novelist Jake Arnott. I somehow manage to miss most of Ms Lunch herself, but what I see is straight-up how you'd expect it to be and very awesome thank you very much. I didn't pay much attention though, I just couldn't stop thinking about watching her suck off Henry Rollins as a lithe young thing in an old Richard Kern 'Cinema of Transgression' flick.
The rest of Sunday passed in a glorious blur of new friends, euphoria, instamatic cameras, hugs, sweat and stupid dancing. As such, the details may be sketchy:
!!! laid down some stomping glam-rock grooves. This is disco-punk and rollicking at that. I moved my hands in wild squares to the incessant rise of stabbing synths and angular guitars. The voices are as high-pitched as helium, and they exude bright colour. Yes guys, this is a band with a song called Take Ecstasy with Me playing at 5 o' clock on a Sunday afternoon, and everything is meet and fitting.
Killing Joke fill the room: five, huge punks, bashing guitars, beating synthesisers to pieces. For once, it feels like music can actually say something useful about culture and politics. There's almost something of Devo about their twisted pop-culture references, the terrifying shouts of "I AM BATMAN!" And like Devo, music with something to say works so much better if you can dance to it. This is a different sort of dance though, primitive and dirty rather than spacky and ironic. It's weird; with Killing Joke, they're so rooted in the past; you wanna be seeing them in some disgusting squat, and yet their deconstruction of politics, their relentlessly avant-garde musical outlook is so, so 00s.
The Mae Shi confounds my expectations by actually being good. They smother the audience with a big candy-cane parachute, shout a lot, and play noisy guitars. I don't pay too much attention though, I'm just too damn excited about the Jesus Lizard.
David Yowl is shirtless. He is howling. He is telling punchlineless jokes about hard-ons and camping. He's absolutely feral. There is a mosh pit. A proper one, but full of skinny indie boys slamming with tough-as-fuck tattooed metal heads. This whole experience seems to be smothered in sweat (a recurring theme, you may have noticed), ratcheted to fever pitch by over-stimulated American geek boys, full of good-natured aggression. The guitars are painfully sharp, the drumming is deep and relentless and these songs exist outside any sort of time and place. They're products of a nasty, bad humoured, bleakly funny imagination. The Jesus Lizard infects this room with the sharp stink of surrendered bodies. It's scary and funny and heavier than a death in the family (spot the in-the-know reference! – ed).
So after that, what else to do? Go to an indie disco, scream along to Born to Run and One-Armed Scissor. Watch Twin Peaks on telly. Find out my friend has been hospitalised after trying to jump and roll over 8 people. Watch the sun rise over a beautiful beach, with kites flapping in the breeze. Stagger back to the station with endless cups of tea and Monday's fresh newspaper. Perfect. Perfect. Perfect.
Words: Tristan Burke.
Pics: Dan Maier