It's a shame for such a talented band as this one to show so little regard for stage-craft.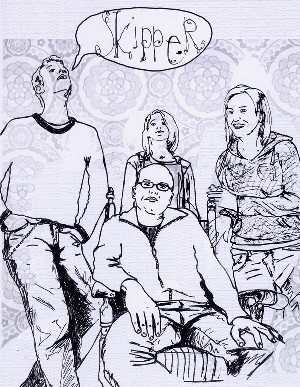 Skipper – Q-Bus, Leiden 22/04/09
Q-Bus! Up and running again, fantastic! It had been ages since Incendiary had been there, but it seemed that we'd picked an auspicious evening to return, with the pop-tastic Skipper promoting his new long-player, Architecture and Design.
Going on previous experience of watching gigs here, the venue seemed a lot fuller than normal. The reason, apparently, was that this was some kind of homecoming/special show/family-and-friends-only affair for Skipper, especially for main dude and singer and ex Mashed Potato, Mike Schepers.
To be honest it was the main reason why the gig didn't really take off like gigs should. Songs were intertwined with one anecdote after another. Songs were presented in a way that maybe belied a feeling in the band that they didn't really need to prove themselves to the converted/blood relatives. And to say that the beginning of the gig (a speech of the sort normally undertaken when one retires from one's factory after 50 years of service), was underwhelming, would be quite an understatement, squire. As if this wasn't enough to have any person of gentle feeling haring off to the bar, the preposterous claim from a crony that a conversation between Incendiary and a chum made too much noise for the soundman to concentrate on mixing nearly had us walking out.
Which is a shame, because Skipper is a very talented artist, worthy of your attention, and the band were shit hot. Backed by a set of multi-instrumentalists (and driven by Ineke Duivenvoorde, the best female drummer I have ever seen), the tracks off Architecture and Design were beautifully reproduced, almost to the second. I suppose the real disappointment of the night was the repeated sense of let-down when the music stopped bang on cue, instead of blasting off to another level. This was especially true of the excellent Wrong Man, Wrong Place, which essentially sounded just like the recorded version, and believe you me; it's a track crying out to be knocked out of shape live. Only the last track went mental, and suddenly a whole host of possibilities presented itself to the audience.
It's a shame for such a talented band as this one to show so little regard for stage-craft.
Words: Richard Foster