Further important human innovation is spotted down by the Vice Stage (which has moved to behind the ATP stage and as such is practically in the sea)… Pizza Cones. Yes, that's pizza toppings, in a bread cone like a savoury ice-cream. How did humanity make it this far without that?!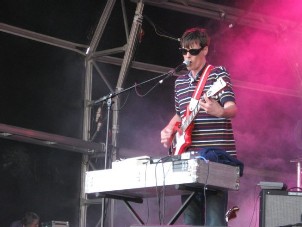 Incendiary go to Primavera – again!
PROLOGUE – DAY MINUS ONE
"Right, it has to be down here somewhere…"It's late afternoon on Wednesday 27th May 2009, and the Placa Catalunya is filling up with red, blue and gold. In three hours' time Barcelona will take on Manchester United in the Champions' League final and it seems pretty much every Barca fan who couldn't actually be in Rome is cramming around a not very big screen in the city centre, but down a narrow side street there's another gathering of people clutching tins of beer, and whilst there are a good few Barca shirts, amongst them there's also a good few 80s and 90s indie bands. Must be the place then.
Because whatever happens later tonight, there's a second group of people converging on the city, coming in from the suburbs and from Madrid and across Europe and even a handful from North America, for the renowned Primavera Festival.
The organisers have got wind of the fact that this is every indie kid's dream holiday and many will be coming out early, and have laid on a few warm-up gigs. This is still a pretty weird experience though. Rift Shop does a nice line in indie-kid-friendly casualwear, and tonight the back room has been transformed into a makeshift venue hosting a rare solo set by David Gedge. "I don't really do this sort of thing very often…" he says, strums a chord and we're back in 1987, A Million Miles, a reminder that the "one side of a Northern accented conversation" style of indie rock that's been taken chart-wards in recent years by the likes of the Arctic Monkeys and Courteeners was born before most of them were. He even fluffs the words in true C86 survivor style. It's a brilliantly chosen set from across his career, with Cinerama's Estrella probably chosen largely because it shares the name of the popular local beer and festival sponsor, and 1992 single Silver Shorts possibly as some sort of personal challenge – can he still hit the opening high notes? Indeed he can.
From his more recent work we get the beautifully heart-wrenched and apparently autobiographical (most of his 25 years' worth of doomed relationship songs being based on other people or fiction) Ringway To Seatac before going right back to Everyone Thinks He Looks Daft. Sweating in the late afternoon heat and in a more intimate live situation than he's used to he never quite looks comfortable, but the crowd's mostly of a generation for whom indie wasn't cocky and arena-filling, and we probably wouldn't want him any other way. There are more gigs later on, but I don't make any of them. I am a Manchester City supporter watching a piss-poor United getting absolutely minced by the sort of football that gets broadsheet sports writers making slightly embarrassing comparisons with poetry and art, and thus have, temporarily at least, "gone native"…
DAY ONE (PROPER)
4pm Thursday at the café opposite the Forum Park, people-watching. Seems this year's must-have fashion item is… a Dinosaur Jnr T-shirt. Last year's was of course the classic Goo-era Sonic Youth cartoon, but they're actually playing this year – and you know your Indie Rulebook, right? Thou shalt not be seen wearing T-shirt of band you're going to watch. Although quite a lot do, anyway. We're pleased to see the themed butties are still present – choices include a Neil Young ham and cheese (basic, but stood the test of time) or a My Bloody Valentine sausage with tomato and almond sauce (a fucked-up mess that might just work). No handy guide-book this year? OK, looks like we're flying blind. As is traditional there's a local band to kick things off and Veracruz draw a crowd by virtue of being first on on the Pitchfork stage, and tick all the usual alt-rock boxes, and add a very growly singer and the world's longest saxophone. And a Che Guevara lookalike on maracas. The sound is a bit dodgy – no, actually it's a lot dodgy. Early days yet though. We eschew the long bar queue to investigate the festival's newest evolution – automatic beer token sales machines! Oh my god, it's like a cut-out-the-middleman ATM for booze. Dangerously, they even take Switch cards.
Further important human innovation is spotted down by the Vice Stage (which has moved to behind the ATP stage and as such is practically in the sea)… Pizza Cones. Yes, that's pizza toppings, in a bread cone like a savoury ice-cream. How did humanity make it this far without that?! Onstage, meanwhile, fellow Barcelona natives Cuzo get in an early bid for Weekend's Hairiest Drummer. They play heavy, fluid, wigged-out Krauty instrumental space-prog like Wooden Shjips on really bad drugs and are thus completely inappropriate for a 6pm slot, in the best possible way.The ATP Stage is like a T-shirt convention. Full marks to girl advertising Leeds Brudenell Social Club; credit to Mr. "Fuck The Olympics" for sheer randomness. We watch a bit of Magik Markers' delicate art-pop and would like to see more, but Spectrum are about to open the main stage…
Let me say that again. Spectrum are about to open the main stage. About time the world woke up to who was the greater talent in Spacemen 3. Although for easy comparison, Spiritualized are playing tomorrow. Sonic Boom (oh christ, you know you're an ageing indie kid when afternoon typing the word "Sonic" into Gadgetphone it gives you a choice of "Boom", "Youth" or "Cathedral"!) walks onstage still looking cool as fuck and far less ravaged than by rights he should and swigs hard from a bottle of wine, followed by the rest of the band. All wearing shades, Spectrum 2009 are the best band he's has since Spacemen's messy divorce and it's a brilliant, career-spanning set. Transparent Radiation is beautiful, How You Satisfy Me is sublime pop, new single War Sucks a classic one-chord wonder; Revolution as great as it's ever been with the drummer going all-out hair-thrashing mental at the end. And the final Suicide is a delight with Sonic coolly wandering off for a fag halfway through before returning to massive applause. Follow that, Jason!
We follow that with cheese crepes, beer and The Vaselines, pleased we stocked up at the beer ATM earlier, as the queue is now massive. And we're sat in the evening warmth listening to Molly's Lips. Oh yes. We stay a fair way back; I don't need to see The Vaselines being old when they still sound exactly like 1987. "I wish my hair had stuck around for the comeback" muses Eugene, "it's doing a tour of East Asia right now on its own…" Probably covering Jesus Don't Want Me For A Sunbeam, as many have, but the original sounds lovely and bittersweet as ever. OK, time for the Legendary Bands That Kind Of Passed You By bit. On the main stage Yo La Tengo start well, with a decent 15 minute instrumental post-prog thing, but the introduction of vocals and a borderline jazz "new song" leaves me unmoved. Down on ATP, The Jesus Lizard are more exciting, although if there's an age and weight beyond which shirtless crowd incursion – maybe shirtlessness in general – should be avoided then I'm afraid David Yow is long past it. I don't have any photos as I couldn't be bothered going to the front, but believe me, it was better that way – although tomorrow evening will bring a sight that rather puts Yow's efforts into perspective. Their abrasive, angular yet passionate noisecore is the foundation on which ATP was built, but without being too obtuse for a novice to enjoy.
The main stage area is filling up, albeit a bit haphazardly, as people try and judge how close to the now legendary My Bloody Valentine noise assault they can stand to be. We're about half way back. About right. At first it sounds like it's not going to work; MBV was always a delicate balance between the pretty melodies and the squalling noise, and some of the feedback coming from the speakers doesn't sound like it's actually meant to be there, but then they click in and the crowd go wild with people clambering up anything they can for a better view. Bilinda's vocals are perfect, especially on the crystalline Cigarette In Your Bed, and then as the drums crash into You Made Me Realise a handful of people make a hasty retreat from the front. The hype around the so-called "Holocaust" (having visited Auschwitz I'm personally quite uncomfortable using the popularised name for the band's legendary noise break) is pretty ridiculous really, it's just a bit of rather loud distortion, but festival goers were this year presented with earplugs on arrival. I don't bother with mine, I like to feel every level and shape in the sonic melee. A friend a little further forward than us later reports that someone near him collapsed during the onslaught, but I suspect other influences might have been involved. You wonder what anyone out on the streets outside or in the AC hotel (there are quite a lot of "normal" businessy type people staying there) makes of it. But if the noise is beautiful, even more sublime is the way it folds back into the song for a few seconds before they depart.
Stumbling around afterwards is almost hallucinogenic – which is the perfect state in which to watch Wooden Shjips at 2am under the stars. Wooden Shjips are basically Hawkwind. I once saw Hawkwind whilst on some very strong acid and this is similar. Widely criticised for being, well, a bit on the unoriginal side the fact is these hairy Californians do the whole liquidy space-groove thing rather well and with a complete lack of the faffing around that makes many of the 21st century American stoner-droners a rather tedious experience live. By the end of their set I feel absolutely wasted.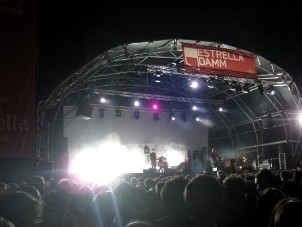 Day 2's account of psychedelia and vodka smuggling can be found here
Day 3's sunshine hangover experience is here