Outside I succumb to the pizza cone. It's very wrong, sort of like savoury wallpaper paste stuffed down a dried-out baguette…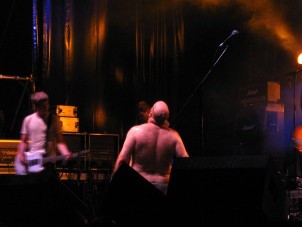 DAY TWO
Friday, and… bloody hell it's hot! I know it's the end of May on the Costa Brava, but it was nowhere near this hot last year…This century's seen some great reunions of last century's musical heroes; amongst the cash cows and cabaret turns I've had brilliant trips down memory lane with Magazine, Gang Of Four, The Jesus And Mary Chain and – right here this time last year – Dinosaur Jnr. But that's all they were; one-off visits to my own past or one I'm not old enough to remember. But not since The Chameleons, nearly a decade ago now, has there been one I'd want to revisit again and again. I usually have a three-gig rule for such things.
Thus My Bloody Valentine go against everything I usually believe in – no new material (even the 2000 Chameleons had one new song from the start), no surprises, but they're just so fucking good… which is why I'm risking sunstroke in the blistering heat outside the Forum Park at quarter to four in the afternoon. They're playing again tonight, you see, in the indoor Auditori, with the 2000 tickets available for a 2€ reservation fee on a first come first served basis from the beer ATMs, as they're now universally known. Tickets secured, we feel like a bit of sit down indoors so we head straight for the Auditori for Damien Jurado, who seems to be quite popular – unless everyone else is just using the same logic as us. Nope, seems he is actually very popular. You can always tell this about a solo acoustic act when the crowd claps a lot at the end of the first lime of each song. "I am the complete opposite of My Bloody Valentine" he jokes. In some ways yeah – his gentle acoustic Americana full of lovely delicate finger-picking doesn't immediately have a lot in common with the noise which'll shake these walls in just a few hours' time – but he does share with them a feel for a pretty melody. Even when he's actually singing in the first person about the Green River Murderer, a notorious serial killer from his Washington State homeland. There's a certain darkness pervading his whole set in fact, and it's oddly addictive.
Outside I succumb to the pizza cone. It's very wrong, sort of like savoury wallpaper paste stuffed down a dried-out baguette.
Magnolia Electric Company are not as good as their name, but Bat For Lashes are a pleasant surprise, much more powerful than on record both musically – the assimilation of Charlotte Hatherley has given them a bit of bite – and in the strength of Natasha Khan's voice. She's a pretty compelling performer too, grooving round the stage in a fringed stripey catsuit; the Spiritual Daughter Of Kate Bush claims don't seem too far-fetched after all, at least if you ignore that recent single that sounds a bit too much like that Corrs covering Fleetwood Mac horror of a few years back.
Spiritualized are, like Spectrum, all wearing shades. Apart from the two rather bored looking black female backing singers, who mercifully for those of us who lost interest when Jason Pierce tried to turn a great live band into an orchestra some years back, are the only additional players tonight. And aside from the introductory Amazing Grace, it's a pretty rock'n'roll version of Spiritualized that's turned up tonight. It's basically like having two versions of Spacemen 3 doing the rounds, and I'm briefly reminded of all those 60s bands who spent the 70s and 80s touring in any number of different ex-members' versions; Walking With Jesus is now stripped back fairly close to its original sound, and a blissful Shine A Light and thunderous Think I'm In Love are other highlights. Whether the set descends into overblown nonsense later on I have no idea; the need to secure 10 good seats together for My Bloody Valentine means an early break for the Auditori queue. It works though, we're a few rows back right in the middle.
By twenty past ten – 35 minutes after the band's supposed stage time – people are getting restless. You're not allowed booze or fags in here; earlier we saw someone having a bag of bananas confiscated, although one of our crew has used her slim ankles, baggy trousers and stretchy socks to advantageous vodka-smuggling result. I think it's a fairly similar set to last night, although sitting down with the sound enveloping us it's almost like some kind of trance and I'm quite surprised when You Made Me Realise starts up as it doesn't feel like they've been there that long; and tonight something's changed. It could just be me, although others who are far greater fans of the band than me are whispering it too – somehow, that 20 minutes of multi-faceted noise is starting to get boring. Last night, and at the two summer 2008 Manchester gigs, I never found my mind wandering – tonight it does. It strikes me that if the band are to continue then they can't just keep doing this every night; like British Sea Power's bear-dancing freak-out finales there comes a point when a feature becomes a gimmick becomes a millstone.
Maybe my three-gig rule was right after all.
There seems to be quite a lot of slightly garagey bluesy stoner rock'n'roll going on this year; Australia's The Drones (as opposed to any of the other Drones there have been over the years) make a fine and more upbeat fist of it than most with some proper big thrash-out endings, and as night falls we wander down to the Vice Stage where there's a powerful punk racket going on' we can hear vocals but we can't see anyone onstage singing… and then a massive pink whale emerges from the crowd… hang on, no, it's just Fucked Up, the most literally-named band since, um, The Band (maybe). On paper possibly the least likely exponents of the experimental hardcore punk scene to achieve some sort of mainstream success, but when you watch them you get it. Experimental and hardcore they might be, but they have also remembered to write some tunes. And as for Pink Eyes AKA Damian the frontman, well you're not going to forget him in a hurry. Luckily for you my dear readers I did not have my camera at the ready when the shorts were briefly pulled down. Shellac sound fantastic. So many times you hear Steve Albini referenced in relation to some noisecore band, but nobody quite has that precision. Or indeed that stage manner. "Anyone got any questions? NO? Didn't think so!" – actually Steve, if we'd not been so back we were actually wondering where you stood on the issue of Marmite, but never mind. But the thing is I'm from Manchester and there comes a certain time of night when I need something with more of a clubbier vibe… and this year we've sent them one of our own.
"Anyone here from Manchester?" asks A Certain Ratio's Jeremy Kerr "…we never turned up, did we?" I'm presuming he's referring to his football team, as ACR have very much turned up for a set of relatively downbeat but danceable space-funk which is the perfect soundtrack to half two in the Catalan summer morning where everyone's still in t-shirts and there's none of that late night dampness of British festivals. A new track from their forthcoming album has got that sun-baked slightly stoned groove reminiscent of Ian Brown a couple of albums back; it's pretty amazing to see a couple of thousand people dancing to Shack Up, and the whole thing ends in a sort of Brazilian carnival rave with people waving massive great chunks of the local foliage in the air.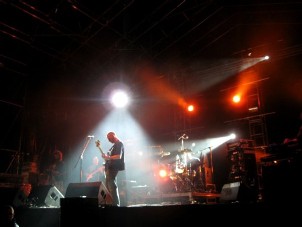 Day 1 is here.
Day 3's come down is documented here.