Deerhunter specialise in reverb-drenched fuzzed-up guitar bliss with all the stage-lights set to deep red, and sound vaguely reminiscent of Swervedriver, if you're old enough to remember Swervedriver. I am. Nice. Where am I again? …um, where I am, is… causing severe damage to my indie credentials.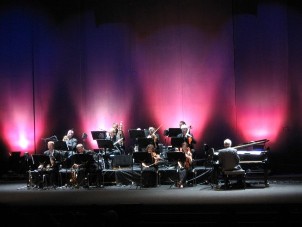 DAY THREE
Saturday, and… bloody hell, it's hotter! And rather fuller, with a massive influx of Neil Young fans joining the party. The local paper's rather excited about this; we're less so, as it seems the other stages will stop during his set. Whether this is Primavera's decision or a contractual demand is unclear, but it has effect of turning me from quite wanting to catch a bit of his set because I've never seen him before and probably never will again, to mild annoyance. Yes.
Festivals are a great chance to play catch-up with some major-league acts you'd never normally consider, and for the acts themselves to attract new fans, but it should be something you decide to do rather than being forced to.
Anyway, time for another Hairy Drummer – Shearwater's excellently named Thor. To look at him alone you'd think maybe metal or southern-fried blues, what you actually get is beautiful psychedelic-tinged Americana with Jonathan Meiburg's stunningly evocative voice soaring poignantly over warm keyboards, chiming guitars and a peculiar stringed thing that looks like a particularly skinny double-bass. Down at ATP we catch the end of Jesu, who comprise two men, one hell of a smoke machine and some very black-hearted industrial-edged slow grindcore. With 90s post-rock and psychedelia-gone-bad influences also fighting it out in their multi-layered sound, someone points out that they sound quite a lot like Godflesh, and it transpires that they are in fact the post-Godflesh project of Justin Broadrick – dark as fuck, and no mean feat to pull off under the cloudless sky of a sun-blazed Barcelona evening.
Must admit I have little idea what to expect from tonight's Auditori headliner Michael Nyman, except a very welcome comfortable seat out of the sun for a bit. What we get is a 10-piece mini-orchestra with the white-haired maestro and his grand piano over to one side, playing four or five minute pieces which – well, look, I have precisely no reference points for "classical" music, having been turned off the concept as a child by (in common with so many others) piano lessons. But this – it's not a million miles at times from the instrumental post-rock that forms a major part of my musical diet; Flowers Of Hell, 65daysofstatic even. No, I'm serious. Different instruments but similar dynamics, and concept of building volume around little piano lines. There's bits and bobs that are vaguely familiar, probably from Nyman's long history of film scores, and his unaccompanied piano pieces towards the end are truly beautiful. You don't get this at LeedsReading, do you? Not even Glastonbury. Classical purists may sniff about dumbing down, but fuck them. The chance for normal gig goers to enjoy something a little out of the ordinary but in a format stripped of its pompous and intimidating traditional rituals is a delight and could be what classical-styled music needs to open it up to a wider audience. For the second time in two nights I stumble blinking out of the Auditori on a very weird trip.
We find our mates at the ATP stage. There's nobody on it, they're just staging a small scale protest against Neil Young's annexing of the entire festival. Eventually we go and watch him from the sidelines, and he's enjoyable enough for a man whose face – projected on screens everywhere you look, just in case you hadn't noticed him – looks like a half melted waxwork. There are a couple of unnecessarily extensive guitar solos, and as he creaks into Heart Of Gold we make our escape in the direction of Oneida on the Vice Stage. This is more like it, I think, as their opening track hits the 30 minute mark without deviating from one chord. During that half hour however it's travelled coherently through the realms of Krautrock, neo-electronica, spacegroove and stoner jam, a bit like Manchester's own kings of the impro-freakout GNOD. It's mildly disappointing in fact that the whole set isn't just one track, but the second is more progressive and even has half a vocal on it somewhere.
Liars are one of those bands I have been intending to see for years on various trusted recommendations, but never got round to it. I think it was their pigeonholing with the generally rather tedious New York post-punk scene of the start of this decade that put me off, (agreed – Ed) but what I'm hearing tonight is great fucked-up Fall-ish drone-punk proper indie. I love frontman Angus Andrew's gangly, loose-limbed stage stalking. "I'd like to thank Neil Young for opening up for us, it was awesome…" in reality though your average Primavera punter is going to find a lot more connection to this gloomy art pop than some fat old hippy however much of a living legend he is.
Midnight. We decide to get some vodka red-bulls in and go and watch Deerhunter. The barman is pissed himself and gives us vodka lemonades. Then realises his mistake, gives us vodka red-bulls and lets us keep the vodka lemonades anyway on top. Given that the 7€ (six quid) mixed drink contains anything between four measures and half a pint of spirit by UK standards, this might well get very messy indeed. Deerhunter specialise in reverb-drenched fuzzed-up guitar bliss with all the stage-lights set to deep red, and sound vaguely reminiscent of Swervedriver, if you're old enough to remember Swervedriver. I am. Nice. Where am I again? …um, where I am, is… causing severe damage to my indie credentials. Sonic Youth are on the main stage, and I've slipped off to watch Ghostface Killah. It's a feature of Primavera that after midnight the undercover stage (Pitchfork's, this year) metamorphoses into a dance arena that's almost like a little self-contained sub-festival. And it is a truth universally acknowledged that the more "indie/alternative" the festival, the more likely there is to be some member of Wu-Tang Clan somewhere on the bill. You read the listings and go "er, why?" but the truth is that the arena's packed and throbbing with energy. It's those deep, deep basslines…The vodka has kicked in. I'm watching Sonic Youth through a bit of a haze, aware that I am watching one of the most legendary bands ever and therefore should be impressed, but… they're OK. The sound's crap where we are. Don't ask me what they played, I can't remember. Before long we're back in the dance arena, where one DJ Rupture is mashing up every genre of music ever over thundering drum'n'bass beats, we've acquired a ridiculous pair of over-large sunglasses from somewhere, some thoroughly unnecessary shots of Jagermeister are consumed even though its 2 euro price tag is a full 100 per cent increase on last year, and god only knows where the next two hours disappear to…..
It's 4.15am and Zombie Zombie are playing on the Vice stage. Two Parisians, one drumkit and a big pile of vintage electronics with wires hanging out like the fusebox of a 1970s factory, their trademark hybrid of Suicide, Daft Punk and Holy Fuck is falling a bit flat here. You just can't help but compare them to Holy Fuck – not least because of the Canadians' similarly timed set here last year, a massive headrush culminating in a sunrise stage invasion, and I suppose we'd been hoping for something similar but they just don't have the power. People are dancing, but it feels more like a DJ onstage than a band where Holy Fuck hit that perfect balance between dance and rock'n'roll. Still, can't really complain after three days like that can we? And it's not quite over yet.
DAY THREE PLUS ONE
It is very much Sunday by the time we crash out, and the alarm to tell us we have to check out of the hotel comes far too soon. Followed almost immediately by a blistering if not entirely undeserved hangover. And we have eight hours to kill before the flight home, and rather wonderfully Primavera has taken this into account. The Juan Miro Park near the station will be hosting an afternoon of live music across two stages; managed by Primavera it serves as a gentle comedown for festival goers or a little free gift for the residents of the host city. Kicking things off, if that's even a phrase that can be applied to something as lovely as this, are Sedaiós who play summery C86 indie pop with sweet boy-girl vocals – and a somewhat unexpected trumpet and saxophone. It works though. At this point I'd generally ask if anyone remembered The Would Be's, Irish Peel favourites circa 1990, but you probably don't. On the off chance you do, this is who Sedaiós remind me of. Slightly twee but not enough to make your teeth hurt, they earn extra indie points when they lift up a copy of their album to show us – on twelve inch vinyl.
Over on stage two, Angelo Spencer is a self-described one man band in the Bob Log mould – by which I mean he sings and plays a guitar whilst operating a couple of drums via foot pedals, not that he's a scary pervert in a helmet, which he isn't. He's upbeat and a bit gravelly, and soon attracts the park nutter on random heckling and clapping duties.
Klaus & Kinski might boast the sort of name that makes you hope for some icy Germanic electro, but in actual fact they dish up polished indie-ish synth-backed pop which is a bit average and a bit, well, nice. It sounds OK from under the palm trees where we've retreated to avoid burning to a crisp, but then they go on and on and on until any goodwill I may have had towards them has withered away. Karl Blau meanwhile looks like someone taking the piss on the police photofit machine, being possibly the only man ever to sport a beard, quiff and bunches at once. He probably gets described – maybe even describes himself – as "experimental" (actually he doesn't, preferring the tags "Folk / Other / Garage", but anyway) – the experiment in question involving playing not particularly good and frighteningly boomy bass phrases into a loop box and sort of freeforming folk-jazz over it. Nowhere near as interesting as that all implies, though. To be fair some of his later songs do have tunes, but he spends far too long mumbling vaguely about what they're about in a way that's barely comprehensible to us native English speakers, never mind the locals. I feel I must at this point quote from his own Myspace: "As of late, I am finding my voice in imitating sounds of men of African descent" – just in case I hadn't managed to convey sufficiently what a colossal twat he comes across as.
Then finally, for us, Plants And Animals. The park's quite full and we find ourselves in the slightly bizarre position of watching the band from behind, trying to guess what genre they'll incorporate next as an Afrobeat-flavoured opener mutates into MGMT retro-futurism with a bit of post-rock thrown in, a slice of swelling pomp half-inched from Montreal neighbours Arcade Fire and a bit of Beck-ish slacker pop. It's actually pretty good, but they are the last straw for my music-stuffed brain, that wafer-thin mint that says "enough".The plane is two hours late. It doesn't really matter. For years I have shrugged at those who jump to invest in festival tickets the day they go on sale without any idea who's on the bill, but towards the end of 2008 I did just that for the first time in my life. I'm guessing it will be much the same this year.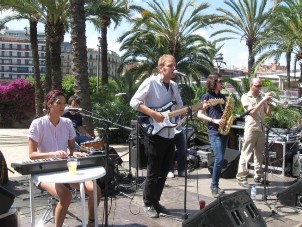 Words & Pics: Cath Aubergine
Day One is here. Day Two can be found here.
LINKS
http://www.myspace.com/losveracruz
http://www.myspace.com/cuzoband
http://www.myspace.com/spectrumofficialpage
http://www.myspace.com/thevaselinesband
http://www.myspace.com/yolatengo
http://www.myspace.com/thejesuslizardpage
http://www.myspace.com/mybloodyvalentine
http://www.myspace.com/woodenshjips
http://www.myspace.com/damienjurado
http://www.myspace.com/batforlashes
http://www.myspace.com/spiritualized
http://www.myspace.com/thedronesthedrones
Fucked Up famously do not have a Myspace, (would it be fitting for them to have one? I think not – Ed) but there's a fan-run page at http://www.myspace.com/epicsinminutes
http://www.myspace.com/shellacofnorthamerica http://www.myspace.com/acertainratio
http://www.myspace.com/shearwater
http://www.myspace.com/officialjesu
http://www.myspace.com/neilyoung
http://www.myspace.com/liarsliarsliars
http://www.myspace.com/deerhunter
http://www.myspace.com/ghostface
http://www.myspace.com/sonicyouth
http://www.myspace.com/deejayrupture
http://www.myspace.com/therealzombiezombie
http://www.myspace.com/sedaios
http://www.myspace.com/angelospencer
http://www.myspace.com/klausandkinski
http://www.myspace.com/karlblau