Even when covering Ohio the lads still somehow manage to musically surpass Young by miles..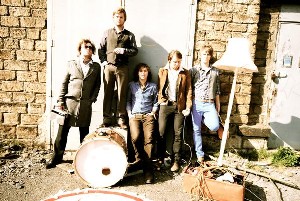 Incendiary introduce Rook and the Ravens
Listen to the final track of Glossop quintet, Rook and the Ravens' self titled EP and you will hear a single fragment of utterance as the music dies away: "Is that the end of it all?" Whether lead singer, James Fay (who at the time was only eighteen) intended this as a genuine query or was simply demonstrating an element of the communal randomness the band signify is irrelevant…the point is that now, two years later, this gifted five piece act can safely answer: "No"'. Indisputably, this is only the beginning.
Ear burning guitar solos, gut wrenching harmonica sound (and pretty much any other quality capable of producing an involuntary bodily function) are all to be found on RATR's eagerly anticipated album. Due for release in September this twelve track CD is proving to be, so far, a delicious cacophony of both old and new material. With packaging and artwork completed the act are raring to give the world a sneak preview of what's to come. While the Rooks' MySpace is ideal simply to listen, nothing compares to the full live experience these lads have to offer. The group's set is infested with both new and old material, all to be featured in their debut release. In today's industry of vocoders and digital effects, it's hard to decipher valid, non artificial flair. Well, look no further because the Rooks are without a doubt a dependable example of authenticity. While recordings alone demonstrate all three vocalists' impeccable range, their live performance only proves this further.
The constant argument unfortunately lies with the genre. The group seemed to have been labelled as "Neil Young-esque" fused with a "dash of Kings of Leon" However; Caleb Followill's (arguably) whiny voice is considerably absent and while echoing the trademark harmonies of Crosby, Stills, Nash and Young, the Rooks' song structures are far more mature whilst containing the added appeal of a 21st century approach. Even when covering Ohio the lads still somehow manage to musically surpass Young by miles… (oofph – Ed)
The implausible effect the lads create is on no circumstances due to a sense of over compensating showmanship. In fact, RATR's performance can often be misconstrued as insecure or subdued to the untrained eye. Conversely, what is misinterpreted as shyness is in fact an unfaltering connection between the music and its performers, thus emphasizing the group's true devotion to their work. In short, not only have Rook and the Ravens managed to create a completely unique genre, they have succeeded in reaching their audience through music as opposed to overtly arrogant projection.
Since the recording of their EP back in 2007 the group have only gone from strength to strength; branching out from Manchester across the country (and even straying as far as Georgia every now and then…) while simultaneously submerging Britain in their music. If big things are not destined for this group, there really is no justice in this world…then again, we are looking at the society that allowed "blazing squad" to exist…
A must see this summer, get to a festival or down to a nearby gig…it'll be your last chance before the Ravens go sky high.
Words: Kate Ashton-Butler