the soundtrack to an American holiday I haven't had yet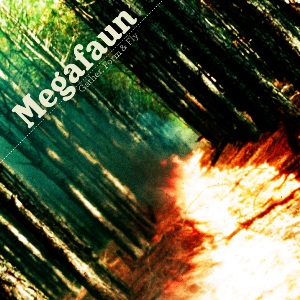 Anyone who reads Incendiary regularly will know that I've got a soft spot for Americana. Good old fashioned, traditional American folk stuff really floats my boat, or perhaps I should say it paddles my steamer? No, ok then, never mind. Megafaun's Gather, Form & Fly is a stunning album and the soundtrack to an American holiday I haven't had yet. Here's the diary of that fantastic trip.
—————————————————————————-
Day 1. (Bella Marie)
Jesus it's hot here. And humid. Still, I'm going to spend most of the day staring out the windows of a Greyhound bus, so at least it'll be air conditioned for a while. The guy next to me looks like he just stepped out of a Mark Twain lookalike contest. You've gotta love hair like that. I think this is gonna be a good trip.
The mountains look great at sunset. Going to sleep somewhere way up high tonight.
Day 2. (Kaufman's Ballad)
Woke up early in the motel. Pancakes for breakfast. Maple Syrup. They just taste better here than they do anywhere else. It's hot again, but who gives a shit? I'm going to plunge myself into the lake and not come out until I've got scales.
Spent the afternoon swapping stories with a couple of mad Austrian backpackers. One of which wore a rather fetching beret and a well worn pair of leder hosen. Nice guy, if a bit bizarre.
The stars look better when you're up high. I love being in the mountains.
Day 3. (The Fade)
Skyscrapers. They never cease to amaze me. I like anything that makes me feel small. I look like a lobster and stick out like a sore thumb. Makes it easier to strike up conversation though. Met some nice folks in a bar near the bus station. One woman kept saying "You Irish, you're so funny." I told her I wan't Irish, I was English. "See what I mean, you're all so funny!" Don't reckon much to this light beer nonsense though.
Day 4. (Impressions of the Past)
The longest bus journey I'll have to take on this trip – 8 and a half hours! – and by Jupiter did I feel it. My body's aching all over, just from sitting down so long. It wasn't entirely a waste of time though as the bus was filled with weird and wonderful people. One guy looked like Morgan Freeman, except younger and there was this blond hippy chick who'd been following Pearl Jam around in a van with three other people – one of which she knew only as 'That guy". Pretty girl, but with dirty feet. Picked up some more people in Indianapolis. Had some old dear come sit next to me. Off to visit her son in Detroit. He's a bad boy, but he means well apparently. Got himself a wife and two kids. She showed me the pictures, cute as buttons the two of them. Three and Five. She gives me her whole life story in about two hours. I get as far as telling her my name. She tells me I should stop by and visit in Detroit. Shame I'm not headed that way, they seem like nice people, apart from that assault charge she mentioned of course.
Day 5. (Worried Mind)
Arrived at Ted's house early afternoon. Dropped my bag and immediately headed off into the woods to a place called 'The Forties". Basically it's just a bend in the river where people go to hang out and swim. Good cliffs for jumping off too. Met up with a group of old friends today, including Trailer Bob (that's what I call him anyway), who still works at the bowling alley apparently. I forgot how funny that guy was. Fantastic day, glad I made the effort to come back here. I'm a lobster boy again though.
Day 6 (The Process)
What a storm. Not much else to do today but play poker and watch the lightning. The river almost burst its banks. Ted's wife Annie was getting worried but thankfully it didn't. They've had some bad floods round here in the past few years. Part of the road washed away completely last year. Annie showed me the pictures. Looked mental. Still, nice to take it easy for a while.
Day 7 (Solid Ground)
My last day with Ted and Annie. Spent the day just shopping with Annie and the kids. They're little shits, all four of them, it has to be said but that may just be because of the haircuts. Thankfully they got a babysitter for the night and we headed off down to Charly's bar for the night. It's still as rough a place as it ever was and yes, I still love it. One guy and his missus invited me to a pig roast tomorrow. "We're all gonna get together, drink a shit load of beer, cook us up a pig and then all have a fight."
I declined.
Day 8. (Darkest Hour)
Ugh. Hangover from hell (Ted's a bastard). Bus without airco. Made it to the coast. Fucking raining like a bastard. Nothing else to do but go to the local diner and eat a bunch of Buffalo Wings. Fuck all on tv too. Change of plan, I'm getting out of here tomorrow, although the bar across from the hotel looks quite welcoming. I may well pop in for a couple.
Day 9 (Gather, Form & Fly)
Took the train today. Much more civilized. Didn't speak to a soul. Just me, my click wheel and hours and hours of jaw dropping scenery. This part of the world is just amazing. Everything looks so peaceful out of the window of a train, though. Beautiful day.
Day 10 (Columns)
Back in the mountains. A day earlier than I'd intended but glad of it. Took the opportunity to take a kayak trip. Man they don't make rivers like this one back home. Some hairy whitewater rapids at times. Only capsized once though, and that was right near the end of the trip. It truly is gorgeous up here.
Day 11 (The Longest Day)
The heat. I can't stand it. Mosquitoes. I can't stand them either but the bastards love me! Why am I in the fucking mountains in the middle of the summer again? Who's bright idea was that? Oh.
Me and some of the crew I went kayaking with the other day decided to go for a walk today. Ended up climbing a mountain. Took us about four and a half hours but so glad we did it. The views were amazing, like something out of Northern Exposure. I love the mountains again and beer has never tasted so good. My feet hurt. I'm ridiculously happy.
Day 12 (Guns)
Too exhausted to do much today. Yesterday wore me out. Going to head to the bar I think.
"Feet that don't stink are charged with the electric power of love". Nutter! Christ I'm drunk. What a night.
Day 13 (Tides)
My last day. I fly home tonight. Some last minute present shopping I think. Still got some traveller's cheques to spend. Feel sad but I know it won't be too long before I'm back here in this big country. There's still too much left to see. May just have a walk over to the lake for one last time.
Jesus it's hot.
—————————————————————————-
Gather, Form & Fly is a fantastic album. But don't take my word for it, just take a trip yourself. You never know where you'll end up.
Words: Damian Leslie