If only all bands were this much fun.
If only all bands were this much fun.
www.supergrass.com www.childrenofthemonkeybasket.com www.strangeones.co.uk
As I write this, it's coming up to Christmas and everyone around me is worrying about what presents to buy for people. Well, my dear Incendiary heads, if you know of someone who needs to 'get out a bit more' or somebody who perhaps needs to dance around their living room a bit more than they do currently, then you could do a lot worse than popping a little dollop of Supergrass into their stockings this yuletide.
But where to begin? Which album to choose. Well the shortest answer I could give you is any of them but you're not here for the short answer are you? Well, are you?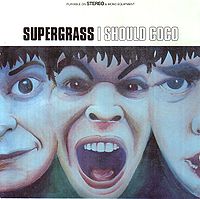 I Should Coco
The debut album that got Steven Spielberg in such a tizzle he wanted to make a Monkees style TV show around them. Thankfully, Supergrass themselves realized that not every idea Mr Spielberg has is a good one (Did anybody see The Terminal?) and thankfully steered themselves away from it before they did anything embarrassing. Still, I Should Coco is a belter of an album and, despite all the good work they've done in the wake of it, it's still probably the one album that you should point people in the direction of first.
It opens with I'd Like To Know, which is the blueprint for everything that makes Supergrass so great, namely crunchy guitars, bouncy keyboards, an infectious chourus and more time changes than an entire series of Doctor Who. It's a song that'll get your heart racing and from here on the album hardly ever lets up. I Should Coco is a frantic, frenetic album that moves a long at such a reckless pace you half expect the band to end up in a heap of twisted guitar strings and broken drum pads well before they get to the end and my word is it exciting.
It doesn't matter where you look, every track is a winner. Even the jokey We're Not Supposed To with it's Alvin and the Chipmunks style vocals is still wonderful and not least because it leads into the stunning Time. Caught By The Fuzz, their signature tune and the closing number of almost every Supergrass gig, always, ALWAYS, sounds fantastic. Sitting Up Straight gives you more boost than a handful of vodka red bulls, She's So Loose will get your pecker up and Sofa (Of My Lethargy) will just make your living room feel like the centre of the universe. Then, of course, there's Alright, which is the song that got everybody in a frenzy in the first place.
Ultimately, I Should Coco is possibly the best album about being a teenager never written by The Beach Boys and should be a proud addition to anybody's record collection.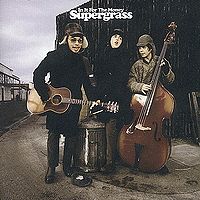 In It For The Money
Following up the well received and possibly over-hyped I Should Coco was always going to be a test for the band and the rumours of arguing within the ranks and with the label that plagued it's creation didn't seem to bold well for Supergrass but thankfully they managed to stick themselves in a room long enough to come up with…another near classic album. In It For The Money is wonderful. It continues where I Should Coco left off but sees the band experimenting a bit, mainly with a brass section and some less frantic rhythm changes. The title track builds up just enough tension before exploding into a bouncy chorus and a burst of horns. Lyrically the song has its tongue planted firmly in its cheek and instantly brings you back into Supergrass' world, just in time for Richard III to blow your bloody socks off.
Richard III is quite possibly the best song they've ever written. Pounding drums battle with a chunky guitar riff until Gaz lets out a "WHOO!" and then the song just takes off into a realm of pop rock wonder. If you could say a song was perfect, then this would be it. Elsewhere you get the wonderful Late In The Day, which came with a wonderful pogo-stick heavy video and proved that they could work at a slightly different tempo, the brass filled, infectious Tonight (which is the kind of song Dave Grohl's Foo Fighters pull out of the bag once in a blue moon) and the utterly wonderful Sun Hits The Sky. Now that's value for money.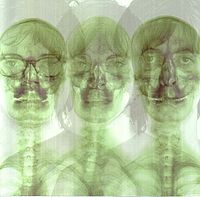 Supergrass
Often called the X-Ray album, due to its cover, is probably the Supergrass album I have the least affection for and yet it contains Moving, which is one of their best songs and Pumping On Your Stereo, which has a wonderfully puerile joke for a chorus line and a video in which the band became Muppets! I know, I know, I'm talking nonsense. Let's be honest Supergrass is great too.
This is a much more lavish album than their previous works, with its lush production values and more polished, wider-reaching sound (check out Shotover Hill, which sounds like a long lost George Harrison number). The energy levels aren't as high as they were previously, but that's not necessarily a bad thing. The band were into their mid-twenties when recording this and as the 90's drew to a close and the Britpop hangover was beginning, Supergrass were starting to grow up a little. The album was recorded somewhere in a field in France, I do believe, so it's not much of a surprise to find them in a more laid back mood.
Standout tracks include Moving, of course, Shotover Hill, the delightfully creepy Mary and the gorgeous Faraway.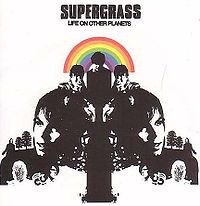 Life On Other Planets
L.O.O.P. found the band returning to a more urgent, punchy sound, dropping the psychedelic Beatles references of their eponymous album for some more glam/Bowie/T Rex ones instead. What we get is an album that's a lot more closer in scope to the traditional Supergrass blueprint but also one that sounds like it could well have been recorded in 1973. This is clear from the off with Za, which sounds like a long lost Marc Bolan number and then continues with Rush Hour Soul, which sounds like the by-product of listening to Bowie's Ziggy Stardust and Roxy Music's For Your Pleasure on repeat for a fortnight. Yes, they're both good.
Seen The Light harks back to the spirit of Alright, only with the piano replaced by handclaps, a sheep's baa and an Elvis impersonation. Trust me, you'll love it. Brecon Beacons is one of the few Supergrass songs that's utterly delightful to listen to but instantly forgettable although those are few and far between so you needn't worry too much.
Elsewhere there's the playful Evening Of The Day, the spiky Never Done Nothing and the superb Grace to sink your teeth into, amongst others. In fact, L.O.O.P. is a criminally overlooked album so I suggest you add it to your wishlist immediately if it's not currently residing on a shelf near you.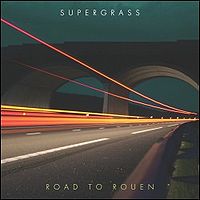 Road To Rouen
After L.O.O.P., Supergrass hit the headlines for all the wrong reasons, or at least drummer Danny Goffey did, so the band took some time out and retreated to a barn in France for a while to lie low again and sort some shit out. The resulting album, Road to Rouen – another clever play on words – is quite different from anything else they've ever done, although it's still unmistakeably Supergrass. This probably wouldn't be the first album people would think of directing you too, but I urge you not to overlook it.
Road To Rouen is a stunning piece of work and, even if its not the most exciting album they've ever done, it's easily their most heartfelt and beautiful. It's more laid back and subtle than most of their other stuff but this isn't meant to be an album you bounce around the living room too. This is an album to sit down, open a bottle of wine and just lose yourself in. It's gorgeous.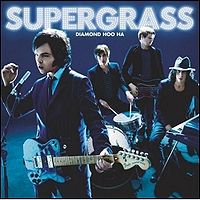 Diamond Hoo Ha
In 2007, bassist Mick Quinn broke two vertebrae and a heel in a freak accident while on holiday so, while he was recouperating, Gaz and Danny formed a little side project and went off around the UK and parts of Europe playing as the Diamond Hoo Ha Men, playing mostly cover songs and wearing spangly outfits. Once Mick had recovered, the band recorded this, their sixth studio, in Berlin, which is something all good bands seem to do at some point in their career. As is usually the case too, it worked wonders for the band. Diamond Hoo Ha sees the band finding the fun elements of their sound once again.
Diamond Hoo Ha is a ridiculously entertaining album that was completely shat upon by the band's then label EMI so it never really got the attention it deserved. Then again, you could say that about the band themselves. Take Rebel In You, which is the kind of foot stomping anthem they seem to be able to pull off with such ease. You'll be singing along well before the guitar solo comes in, at which point, you may well just start spinning round and round like a five year old. Why? Because it's FUN! And that's what Supergrass are.
So why don't you pop one, or all, of these albums into someone's stocking this Christmas and bring a smile to their face. In fact, just get them for yourself, I'm sure you could do with cheering up too. Still don't believe me? Then check out Supergrass is 10, their great hits collection and see if that doesn't make you feel like an idiot for ignoring them so long.
Supergrass are a treasure we should all cherish. If only all bands could be this much fun.