Is this the Moody Blues or what?
Is this the Moody Blues or what?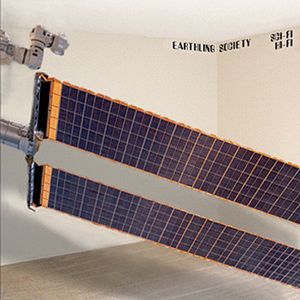 http://www.4zerorecords.co.uk http://www.myspace.com/earthlingsociety
Earthling Society make pretty stupendous prog rock and Incendiary like their LP's a lot. Their latest, Sci-Fi Hi-Fi, is a sprawling, ambitious work, which overcomes a bitty beginning to triumph.

The opener and title track promises much; an initially frothy, slightly abstract sound using floating synths and trebley guitar runs shouldn't long deceive the listener, as the music has a driving, steel-like quality that makes for an inspiring listen. There's also the feeling that the band are looking for a sound that encompasses everything, all at once, whilst still trying to play pop games. At times, Earthling Society's collective headspace seems to be really bloody huge.
The band's love of Kraut is expressed in subtle means, the appropriation of a lyric from Yoo Doo Right here, a synth noise from Faust IV there. And yes, we like this a lot. Things go a bit awry with Tempel ov Flaming Youth and EA1729, which need a bit more focus I feel, EA1729 especially seems a tad too jazzy and an idea spread too thin. The spacey Tempel.. is nice enough, though in some ways it plays with a good idea, and could be more spaced out, more uncompromising. As it is, when the fanfare comes near the end, it doesn't really convince. Still things pick up dramatically with The Lantern, a beautiful track that really nails the band's sound. Starting off like something off Fried, The Lantern blossoms out to become a –prog torch song par excellence, by keeping the pastoral Zeppelin-isms at arms-length. It's more like In Another Land than any sub mediaeval frippery that it so easily could become…
A Future Dream is a belter, taking up The Lantern's template and running with it in true multi-coloured gatefold style. Is this the Moody Blues or what? E.V.I.L.U.S.A. is a hell of an ending too, a veritable wall of feedback gives way to some over-confident Utopian synths and a one-chord, guitar-laden rant against all things US of A. It's angry, pulsating and completely overblown, mixing screaming, Gong-style synth runs and an almost guitar wash that's almost Goth before coming down and morphing into a sweet, cosmically stoned work-out with a number of surprising twists and turns. Of course the whole thing's around 20 minutes long and all the better for it. Top stuff.