a rousing finale to what has been a spectacular musical and social success this last three years

a rousing finale to what has been a spectacular musical and social success this last three years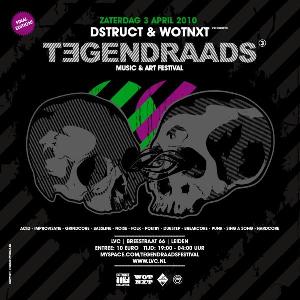 This was the last festival in the Tegendraads series; and a rousing finale to what has been a spectacular musical and social success this last three years. Incendiary arrived early in order not to miss any of the fun. We were instantly rewarded: firstly by the sight of two eccentrically dressed gentlemen (one dressed as a gnome, the other as an owl). The second reward was in the form of the opening act, Capisce?, who are a three piece powered by acoustic guitar, primitive percussions (packing case, tom) and the extraordinarily soulful voice of the girl singer who looked like she could do with a square meal. Songs about drinking, drugs, love, and telling The Man to get stuffed were beautifully arranged and brilliantly executed. The vibe was earnest, but never too gauche and most of the time managed to balance a pretty soulful message with some strident playing.
The small crowd of early birds in the Grote Zaal took the impressive performance in with some respectful, appreciative applause. I'd like to see this bunch again. After this, Incendiary hung around waiting for Bob Corn, who is a diminutive, hirsute Italian gentleman, whose name isn't really Bob Corn. Bob continued the acoustic vibe with a beautifully simple set, interspersed with some humorous anecdotes that for once added rather than diluted the performance. The atmosphere became warm, convivial and trusting, and you could hear the veritable pin drop. Bob's other great weapon lay in his feet, which were used to tap out the rhythm of his songs in a manner that was nothing if not endearing. A Husker Du cover and a small perambulation around the audience and Bob was off.
Upstairs we ran to see Oldseed, who was in a great mood, and backed by a full band. Sadly the audience was less into picking up the textural interplay of accordion, bass, guitar and violin, or checking out Oldseed's dramatic songs than yapping on to their neighbour. Still, Oldseed didn't seem to mind, admitting that he too, wanted to see some punk bands. At one point the background chatter threatened to overwhelm the band, and it wasn't until the last three songs when, by leading with an electric rather than an acoustic guitar, Oldseed thumped out an impassioned ending which saw screeching, chanting and yelling aplenty, which drowned out the chatterers to great effect. Top artist and a top gig. After the end of Oldseed, a change; a skinny boy with a laptop took over; this youth went by the name of J3RO3N. Now, this was another act that ever so slightly suffered from a restless crowd; it would have been a great gig in a quieter atmosphere as is seems J3RO3N's music is that kind of beautiful, soft reflective dance music to loll about to. One or two hefty blokes tried to do the conga to it, and in a way that was a very inappropriate gesture, but still they had fun and we don't begrudge them…
A long break and then Red The Planeeet!!!, a three-piece act that have charmed Incendiary before with a brilliant show in SUB071. Yet again a plethora of pedals, wires and weird bits of kit covered the stage, mostly propped up on an ironing board. Yet again setting up took an age: the wire twiddling pedal bashing and knob turning in the sound-check put Incendiary in mind of some demented scientist experimenting in his lab. Yet again, Red The Planeeet!!!'s stage gear made a welcome reappearance too; for the uninitiated this constitutes red capes and a lack of anything in the trouser department, though the lady on bass mercifully sported a pair of diminutive silver shorts. Still, Red The Planeeet!!! can't be dismissed as a gimmick band; the three of them make a tremendous noise, drawing on spazzcore, electro nerdery and the likes of Piper At the Gates of Dawn-Floyd for their sonic muse. Some guitar runs are distinctively Barrett-esque, one reminding this hoary old hack of De Nieuwe Vrolijkheid's tragically unrecorded Light Feet. The audience loved this mash-up of styles, and when the band threatened to betray their Rotterdam roots and go all hardcore on our assess, some rug was seen to be cut by more wanton members of the audience.
Having earlier missed the brilliant Sennen, Incendiary then ran downstairs (past a frenzied bongo-led sing-song in the stairwell), to catch the last few songs of The Sea, a two-piece from Southern England who made a fearsome racket. Due to the fact that the band weren't on the main stage (and consequently not viewable by anyone not in the first 3 rows) we assumed that said racket created could only be made by a full band. The Sea seem to draw on the driving, soulful, slightly psychedelic RnB of mid-60's acts like The Action or Stevie Winwood's Spencer Davis Group. Impassioned tracks about boredom and small-town attitudes were balanced against slashing guitar runs and lots (and I mean lots) of frenzied drumming. Following The Sea were Toner Low, who played the heaviest, most druggy stoner rock you could imagine. So heavy that it was difficult to tell precisely what noises constituted the end of one track and the beginning of another. Suffice to saw the music alternated between the sloth of Earth's more lethargic moments and the full grand masque of Hawkwind. Druggy graphics behind the band added to the slumberous mood and more than once, Incendiary felt themselves being caught up in a waking dream.
After this, certain members had to be carried home, leaving some of the magazine's night-owl element to continue this story. To be continued…