typewriters as percussion, ping pong balls, firecrackers fired from his fez, I kid you not here
typewriters as percussion, ping pong balls, firecrackers fired from his fez, I kid you not here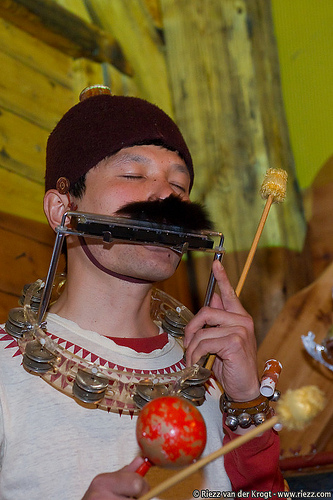 The circular email from the SUB071 crew said we were to be treated to a gig in a greenhouse. When the Incendiary contingent turned up on their bikes, however, it was clear that this pithy moniker was a vast understatement. The complex hosting the entertainment – situated just outside the farming/dorm village of Noordwijkerhout – boasted small stables, a shed for farm machinery and three houses; one in the shape of a wigwam, one in the process of being built and lastly a splendid renovated 18th century wooden farmhouse – the building where the gig was to take place. Perhaps I should also mention that (obligatory?) dogs and kids ran between the knotted clumps of shy and frankly bewildered guests, and the performers busy strummed guitars and sold hand-made artefacts; a slightly Bacchanalian scene that conjured up visions of the back of Gong's Camembert Electrique cover.
No matter, it looked a promising start to us – and to the ever-swelling crowd: an assortment of intelligent looking arts/crafty types bringing their siblings along, seemingly anyone with half a brain within a mile radius had turned up, some on spec. Nervous glances were exchanged. Would everyone fit in? How an audience with its allotment of septuagenarians and toddlers could be peacefully accommodated was anyone's guess…
First up was Andy Skellam, a burly, diffident, but obviously very gentle guy who played a set stocked with whimsical tunes (the one about being lazy was great) and boasted a very nice, mellifluous manner of playing guitar; something which brought Bert Jansch to mind once or twice. To add timbre and direction, there was intermittent vocal backing by The Hand. It was one of those shows where a lot of idle banter and tuning interludes add to the whole; Skellam even threatened to sneeze, pointing out that it was a violent sneeze (to much mild consternation in the audience). That he did so, and did so to dramatic effect at the end of his set was either comic timing of the highest order or a beautiful accident. We shall never know. Still, after a wary beginning, both audience and Skellam got on just fine.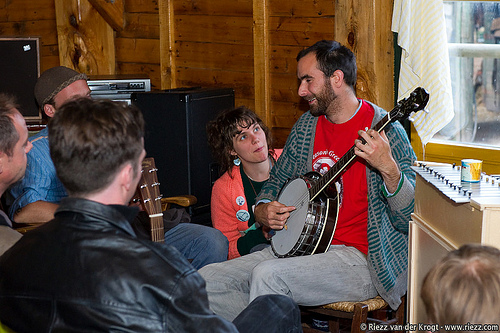 After a bit of genteel chair positioning and mild shuffling – and a further drinks interlude which saw the beginnings of a large camp-fire lit – The Hand popped on stage. The Hand is a duo comprising of Rachel Dadd and Wig Smith; both from the South West of England. The Hand's main strength (from what we could glean from this performance) lies in the energy created from the bouncy Dadd's quirky, heartfelt observations (wanting to be a mouse, elephants swimming, et al, you get the picture) and the studious Smith's obvious mastery of his instruments, most notably the Kora. Dadd can sing a bit too: she has a strange bell-like quality to her voice that can command an audience with its sheer honesty and clarity. As dusk enveloped the already dimly lit farmhouse, with an audience wrapped up in stories of moths, mice, elephants and ferries, it was not hard to imagine that the old building had seen evenings like this before, centuries earlier. The only modern note was the beam of light from a projector, a beam that illuminated on-the-spot, "reactive" doodling of an artist cohort of The Hand; the ceiling was filled with strange women, birds, animals…
All such reveries of past and present were (literally) shattered by team Incendiary dropping and smashing a beer bottle, luckily (incredibly luckily it seemed) on the last note of the performance. Ho hum.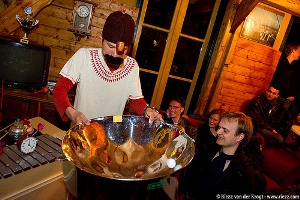 Outside to a roaring campfire and chats with Andy Skellam and Rachel Dadd only to be drawn back into the farmhouse by the bizarre sight of Ichi – now primed to perform – wandering round playing a flute (or recorder, we couldn't see in the gloaming) and walking on stilts. Sporting a fez, and a false moustache, and standing behind an assortment of steel pans, electronica and found objects, Ichi began to play possibly one of the most inspiring sets this magazine has seen in a long while. Japanese artists have a knack of distilling many elements into a very intense, pure idea which often takes the form of a ritual or sacred rite of passage, however fleeting. Moods were conveyed to the audience and delineated with incredible suss. Despite the plethora of sounds (typewriters as percussion, ping pong balls, firecrackers fired from his fez, I kid you not here), the music was incredibly focussed and delicately balanced. The marvel conveyed most powerfully was Ichi's sense of timing: nothing felt left to chance; on the contrary, his was a show that drew from the iron disciplines of slapstick and mime. The night finished as it began, Ichi, leading a startled crowd out into the area where the campfire raged.
An extraordinary night.
Images courtesy of Riezz vd Krogt, please visit http://www.riezz.com