But what interests those of us who have been around the krautblock are the tracks by the lesser-known bands.
But what interests those of us who have been around the krautblock are the tracks by the lesser-known bands.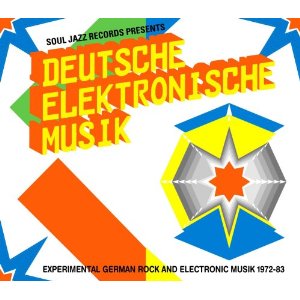 (Soul Jazz)
A worthy undertaking, many ardent Krautrockers will be thinking, but hardly necessary. A quick look at the bands on this double CD compilation would confirm their opinion – all the greats are here with the predictable exception of Kraftwerk. Can, Harmonia, La Dusseldorf, Faust, Neu!, Cluster, Amon Duul II, Ash Ra Tempel and Tangerine Dream all make an appearance (or two). Chuck in some solo material from Rodelius and Mobius and two thirds of the album is accounted for. There are one or two disappointments in the choices here – nothing from Harmonia's peerless De Luxe album, for instance, and the two Can tracks are strictly minor league – but a first timer to the wonderful world of Krautrock would still get a pretty good introduction.
But what interests those of us who have been around the krautblock are the tracks by the lesser-known bands. It is here that the ardent Krautrockers should take note. Between, Gila, Kollectiv, Michael Bundt, E.M.A.K, Ibliss and Deuter: I do not have Cope's Krautrocksampler to hand but none of these groups rang a bell with me. (none are in that particular polemic – ed). The suspicion, of course, is that this is for a perfectly good reason. They simply weren't as good as Can, Cluster and the rest. Happily, this suspicion is (in part at least) disproved.
Between's Devotion is a serviceable enough new age-ish track, opening with bongos and wistful singing. It's perfectly pleasant but isn't helped with the track listing that places it between Can and Harmonia. Gila's This Morning is also on the pastoral side of the Krautrock fence. Gila was originally a political commune formed out of the 1968 protests. By the time of this track the band of the same name was essentially a solo project of a pre-Popol Vuh Conny Veit. Again, it's perfectly OK, but it's a fairly standard rock song. Unlike the excellent Rambo Zambo by Kollectiv. If it sounds like early Kraftwerk there's a good reason for it. One of them played with Ralf Hutter in The Phantoms, flautist Klaus Dopper has a starring role and Conny Plank produced their only album. Rambo Zambo is basically a 12-minute jam with funky drumming, wah-wah guitars and crazy flute-work, the kind that Ron Burgundy would be proud of. It's ace. Kraftwerk supposedly inspired Michael Bundt's La Chasse Aux Microbes from 1977 but that seems unlikely to me. Not that this makes La Chasse a disappointing track. Far from it in fact: it's a brilliant piece of electronic minimalism that blossoms half way through its eight minutes. Beautiful synth washes take over and the track becomes something that many of today's electronic music purveyors (Marsen Jules for example) could only dream of creating. It really is bloody good. E.M.A.K. (Elektronische Musik Aus Köln) were formed in 1982 and their track Filmmuzik feels slightly out of place here. Perhaps it's because the obvious timescale for the album was 1968 – 1978. Whatever the reason, Filmmuzik is a beaty piece of electronic pop that's all right as far as it goes.
Ibliss' High Life is a more constrained Rambo Zambo – slightly longer, more controlled, but with even more jazz flute. No surprise that this one also sounds a bit like early Kraftwerk – the flautist Basil Hammoudi was a member of Organisation (playing on Tone Float) whilst drummer Andreas Hohmann was an early member of Kraftwerk and played on their first album. Oh yes, and Conny Plank was the engineer (no surprise there – ed). So we have another deep groove, drums, bongos and improv flute. Of course it's great. Finally we have Deuter's Soham, a track taken from his 1972 album Aum. A strain of mysticism ran through much of the 'pastoral' side of Krautrock but on Soham we get genuine Eastern mysticism. A raga with electronic embellishments it feels, somehow, a suitable way to round off the 2 hours plus of wonderful music.
To summarise: unless you are a serious Krautrocker there should be something here to make this well worth purchasing. Ibliss' High Life and Michael Bundt's La Chasse Aux Microbes are great tracks and certainly aren't out of place amongst the pantheon. Finally, a quick word in praise of Soul Jazz: included are potted biographies of all the artists and a decent essay putting all the music in context.