Primavera is Costa Del ATP. All your favourite edgy guitar-manglers and electro-warriors without the inherent grey drizzle of a British holiday camp.
Primavera is Costa Del ATP. All your favourite edgy guitar-manglers and electro-warriors without the inherent grey drizzle of a British holiday camp.
"I've listened to that Fuck Buttons album" says the sports-casual Scouser to the couple sat behind us on the plane who are more obviously going where we're going, "and it's just noise!" Minutes later I hear the male half of the couple explain to their (possibly new) acquaintance "…you know, who produced Nirvana, Shellac's his band…" whilst the female half, in Monster Magnet T-shirt, sits tight-lipped. Possibly thinking that anyone who doesn't know who Steve Albini is should not be allowed to go to Primavera. Are we music snobs? Maybe. Music fans, certainly, and this is OUR festival.
Summercase is two months away, pal. Loosely speaking, if Benicassim is Costa Del Glasto and Summercase Costa Del V (or maybe Reading / Leeds on a good year), Primavera is Costa Del ATP. All your favourite edgy guitar-manglers and electro-warriors without the inherent grey drizzle of a British holiday camp. And yes, this year sees more "mainstream" acts at headline level – being a music fan doesn't mean being wilfully obscurist and we're looking forward to The Pet Shop Boys and Pixies and a second Orbital festival set of 2010 – but they're more a bonus, really. It's more about Monotonix and Fuck Buttons and (one of) NEU! and Latin American bands you've never heard of and things that sound like "just noise" to sports-casuals. Tickets and hotel were booked, as ever, months before a single announcement was made about the line-up – which grew into one of the best ever. But never mind all that, I know what you're really dying to know: which four artists have been deemed important enough this year to get a butty named after them, and what's what?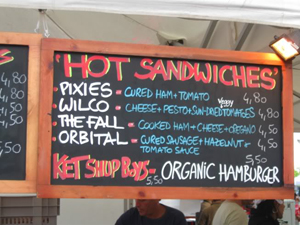 The weekend kicks off, as arguably all good weekends should, with a vocal-free trio of variably hairy Brazilians (MACACO BONG) doing a sort of grungey, quite abrasive take on post-rock down on the Adidas Originals stage – new this year and tucked away in a corner almost on the beach. The bar down here's not open yet, but with 11 hours to go I think we can manage for a while. They sound like the sort of band you get first on at (Manchester's renowned experimental/post-whatever night) Wotgodforgot, anyway, which probably isn't everyone's idea of sunbathing music but it'll do me. I'm sure one track is announced as "Bananas For You All", which I hope is its actual title.
Head for a bit of shade and SIC ALPS over at Pitchfork but their vaguely trippy alt-gloop is, we presume, an acquired taste so BIS on the main stage it is. Yep, you heard me. Bis. On the Main Stage. The band who were doing indiepop at a time when liking indiepop was on a par with pigfucking, in terms of social acceptability, so it's only fair really they should be allowed to enjoy its current revival. "I don't think I've ever been singing a song before while a ship sails past" squeaks a typically excitable Manda Rin, still looking ace in a polka-dot dress. The blokes have a bit less hair than we remember but they sound better then they ever did "at the time" – or maybe it's just that cold beer + late afternoon sun + punky indiepop = brilliant. Manda can't quite believe the massive crowd they've pulled and frankly nor can we, but it just works. And when they finish up with the (I can admit, now) genius Candy Pop and everyone-dancing Eurodisco I concede they were actually probably always great, I just never realised in the grey miserable 90s.
7pm and notorious fire-raising Tel Aviv rockers MONOTONIX are not on the Vice Stage. They're somewhere in front of it, buried in the crowd Lightning Bolt style, although we get to see plenty of the extremely hirsute and somewhat underdressed singer Ami Shalev as he crowdsurfs the whole set, sometimes riding a large bass drum and just about keeping his shorts on. Closer up you can't see a thing but you can feel the power of their actually quite textbook MC5/Stooges garage punk, and when they ask everyone to crouch down we do; the wider crowd gets a brief glimpse of the men behind the racket. And they're definitely trying to make friends: "Viva Catalunya!" "Viva Lionel Messi!" roars Shalev. By the end guitarist Yonatan Gat is actually on the stage, whilst Shalev and drummer Haggai Fershtman are in the stands. Outstanding.
I like to see THE FALL at least once a year (or once per line-up, which is much the same); you know they're mostly just The Fall unless you get one of the really dodgy ones (one date of last week's UK tour saw Mark E. Smith last just three songs before buggering off in a huff) or the really great ones (they do happen) – never seen them at a festival, though. They might have to – the horror! – start on time! Longtime Fall-watchers often talk of The Moment, as in the point three or four minutes (or sometimes up to fifteen, but not today) into the band's instrumental introduction, where Smith shuffles onstage, usually pulling a face, and you can have a pretty good guess which way things are going to go: these days however there's a prior great moment which is when his wife and keyboard player Elena walks on, usually second after the drummer, and plonks her coat and large bag down by her synth stand like she's literally just arrived at the venue. Which she probably sometimes has, after scraping him out of a nearby pub. They kick off with Your Future Our Clutter and if like me you've not got round to hearing the new album yet it's textbook modern-day Fall. There's something very strange going on though. Smith is smiling. Not just occasionally, but frequently. That isn't what we pay you for! You have to laugh a little yourself though as the relatively young and attractive Elena sings I've Been… Duped! while her goblin of a husband presses random keys on her synth trying to put her off. All in all it's a pretty good one – most of it new stuff – but by the end Smith has done the unthinkable. He's made it RAIN. In bloody Barcelona. And he's still smiling; he even tried to lead the band back for an encore but their time's up.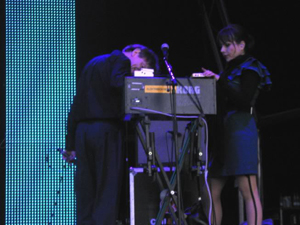 Right. Curry. The Spanish legendarily don't do curry – is this new addition to the food court a reaction to the ever increasing Brit contingent here? Pakoras worthy of Rusholme though, we're impressed. Down by the amphitheatre stage it's clear the crowd as a whole is increasing year on year. Never seen it this full on the Thursday before. Or is it just that everyone wants to see THE XX? It's an odd one because whilst their popularity clearly warrants it, they're very much not a festival big stage band. The word most generally used about these shy-looking youngsters is "subtle" and I'm not about to argue with that. Subtle to the point of almost not being there at all. Their quiet electrogaze is reminiscent of the more understated bits of M83, whilst their stage presence is more like a band whose gigs are still in single figures – it's easy to see how in a tiny basement bar this could be bordering on magical, but we're not: here it's all quite nice, but it's nice in the way that a cloud briefly crossing the holiday sun is nice. You wouldn't want too much of it.
There's a noise coming from the RayBan Unplugged Tent that really doesn't sound very unplugged. And there's a massive crowd around it (said tent bring about the size of my fridge) but I battle through to catch the highly entertaining COMANECHI. This London duo have been doing their thing – that being Simon playing a trashy thrashy guitar and Akiko flailing at a drumkit and yelping in the traditional Japanese indie-punk way – for some years now, although with Akiko having since joined The Big Pink for live outings there's renewed media interest in them – some of it even focusing on the music as opposed to her propensity for forgetting half her clothes on any given evening.
It's that time of night where things have got a bit zoological – we have to decide between Tortoise, Crocodiles or Wild Beasts. We go for a double helping of scaly. Sometimes when you're watching one of those Great Renowned Influential Untouchables it can be a bit of a disappointment as you realise those who followed in their wake actually took things further. And sure, without TORTOISE we wouldn't have Mogwai or 65daysofstatic, but here watching the source material you realise just how far ahead of its time this Chicago band truly was. And how they managed to incorporate fusion jazz into the mix without it ever coming across as pretentious or deliberately clever (yes Battles, I'm talking about you). We depart before the Chicago-born member of our party can get too misty-eyed, and head for the opposite end of the musical intellect scale and the gloriously pointless fun that is CROCODILES. No longer a Suicide-esque duo, they have pretty much mutated into a carbon copy of The Jesus And Mary Chain circa Automatic – dirty, pacy singalong-even-if-you-don't-know-the-words stoner fuzzpop. The tasty but throwaway filling in a heavy-duty sandwich, as MISSION OF BURMA are next up. A band who, alongside Shellac (on tomorrow's menu), have become synonymous with Primavera for me, I wish I could remember more of their set but the native Catalan in our party has been chatting to the bar staff, ensuring our next vodka-lemonades are terrifyingly non-measured.
I do remember jumping around to That's When I Reach For My Revolver and discovering I was doing so next to a regular from one of my favourite indiepop nights back home. I discover the next morning that I was actually still taking notes at this point, after a fashion: specifically the single line "Fuck Pavement, MOB is American indie". Yep. We're missing another of those Great Renowned Influential Untouchables right now, but there's something happening down in the amphitheatre. There are so many strobes and lasers it's probably got the attention of every interplanetary travelling alien race this side of Andromeda, and in the middle of it all, two rather sweet young English boys: you've come a long way, FUCK BUTTONS.
Flashback to this very festival two years ago and I finally get round to seeing this act people keep telling me I'd like; on a dark and underpopulated ATP stage there are two kids who look like they've just come off shift at a fast food chain outlet but the sound they're creating is incredible – for once, those "people" are right. Jump cut to October 2009, Tarot Sport has been the unlikely recipient of glowing reviews almost across the board and an hour after leaving their biggest London headline show to date, at Heaven, I still can't see, hear or think properly. No dark ATP stage for the duo this year; when we read of their billing, effectively the grand finale of the first night, we did wonder if they were big enough. Not big in terms of fame and success, just big in terms of sound and show, in the way that The XX really weren't. Yet here they are, doing their little head-bobbing thing, whilst unleashing missile after missile of electronic white noise and synth sweeps and beautiful, thunderous beats and there are thousands of people dancing. Literally. I am hopeless with venue capacity estimates but the amphitheatre is the size of an arena-type indoor venue and it's pretty full. Down the front it's a wild rave of Jagermeister-fuelled buzz, but after a while we retreat to the terraces to soak up the bigger picture and suddenly I'm remembering my first visit to Forum Park, not Primavera but Summercase, and The Chemical Brothers electrifying this stage on a night like this – The Chemical Brothers, the closest the UK techno scene's ever had to Rock Stars – and tonight Fuck Buttons ascend to that level. The last words I write "on the spot" before a short walk back to the hotel I don't really remember, are simply "My god, it's full of stars".