..only Neil Tennant could, in this day and age, get away with stalking around the stage in a regal cloak and crown whilst the perennially cool Chris Lowe wears what looks like a Yucca plant on his head
..only Neil Tennant could, in this day and age, get away with stalking around the stage in a regal cloak and crown whilst the perennially cool Chris Lowe wears what looks like a Yucca plant on his head
Saturday afternoon: "I hope we're yoing to fuck with your head a bit, so everything else you see today will seem normal…" I'm going to hold you to that, Danny Perez. Perez being the director of the film ODDSAC, made for and with music by Animal Collective, which is showing in the Auditori (indoor stage) before the bands start. Well sorry Mr. Perez, it takes more than people covering each other in flour and glue and washing large alien eggs in a stream and spreading thick oil up walls interspersed with visuals like a moving stroboscopic Magic Eye picture set to "loud ambient" electronica with the odd processed scream, to fuck with Incendiary's head. Nice try, though: as 45-minute stints of dark-psychedelic post-Aphex nonsense go it's a pretty good one. Wouldn't go looking for any deep meanings in it, though.
Outside the black clouds and heavy rain forecast by the BBC could not actually be further from the reality: no clouds at all, blazing heat, and thus oddly-named locals BIGOTT's rattling upbeat folky Americana (albeit with a certain acoustic-guitar-flourishing touch that's unmistakeably Spanish) sounds ace. And their final, mariachi'd-up take on Springsteen's Dancing In The Dark (this year's must-cover artist, it seems, following Joensuu's stoned reworkings) is about two trumpets short of brilliant. REAL ESTATE meanwhile are one of those tuneful ordinary-bloke trad-indie acts (US spec) that the monthly glossy music magazines love: a bit Springsteen themselves actually (they are from New Jersey after all), a bit Grandaddy, a bit Byrds, and frankly a bit boring. A big bit. Their high popularity is possibly more down to the fact that the Pitchfork stage is sheltered from direct sun, or it may be just the fact that 80 per cent of Pitchfork "alternatives" are actually pretty conservative at heart. After four songs that sound exactly the same as (a) each other and (b) 15,000 other earnest bands in plaid shirts who look like IT Support, we make a break for the ATP stage where THE PSYCHIC PARAMOUNT are chucking out angry black-clad guitar-drum crunches and squalls of feedback – and therefore far more enjoyable.
Next it's MICHAEL ROTHER AND FRIENDS PRESENT NEU! MUSIC – or Neu!, as he could easily have called them if he were to take the same rather disrespectful attitude towards former bandmates as far too many ageing musicians: the Friends in question however are not without pedigree: Sonic Youth's Steve Shelley on drums, Tall Firs' Aaron Mullan on bass. Always the most melodic and accessible of Germany's 70s pioneers, even if you find Kraftwerk too cold, Can too jazz, Faust too fucked up and Amon Duul too psychedelic, you can love Neu!. And this early evening crowd do, very much, dancing to music from the 1970s which sounds as 2010 as anything else we've heard all weekend largely because they influenced so much of it, as if the hour is much later. Rother himself plays guitar, synth and laptop and his sounds are so heavily processed it's hard to tell exactly which he's on at any one time, layering drones and oscillations whilst Shelley holds down the Neu! trademark motorik beat with a precision the late Klaus Dinger would have been proud of.
Another legend next – Saturday night at Primavera tends to be "oldies night" – as we head back to the Auditori for RODDY FRAME. He walks out alone onto the bare stage, acoustic guitar in hand, into a single spotlight: 46 years old and he actually looks his age now (albeit good for it) which he never really did before. How can Roddy Frame be 46? He starts with Small World – known in the UK as the theme music to poignant sitcom Early Doors – and I have tears in my eyes already. I can't help it, it's that voice; part of my musical life since I was 11 years old and the pretty 19-year-old turned this Smash Hits kid indie. So it's partly his fault that I'm here, 27 years later, still "rushing through the stars, captivated by the worlds beyond" at an age where arguably both of us should be doing something more responsible. "It's a small world, and you've grown"… I am snapped out of the wave of nostalgia not by the bloke in the front row (we're on the second) discreetly and unobtrusively videoing the song on his phone, held low down so as not to disturb those around him (I hadn't actually noticed), but by the security bloke loudly remonstrating with him for it.
"Can we get this white spotlight off" asks the singer, "I feel like I'm on Mastermind: specialist subject 80s indie…" – it'll be another four or five songs before this message actually reaches whoever's in control of said illumination after which subtle patterns are projected onto the black walls. There is lots of recent material, and then that riff: Oblivious, the song that put the teenage Frame in my Smash Hits, and as he continues with perfect takes on Walk Out To Winter, We Could Send Letters and Down The Dip it really doesn't matter that I'm a 38 year old watching a 46 year old play music because we both still love it.
Out into the evening sun and I'm uncharacteristically without a plan for the next hour and so is everyone else so we go and drink beer at ATP while POLVO – another of those old Touch & Go bands who seem to come as a package here – do some regulation 90s US alt.noise guitar-mangling. Steve Albini and Sonic Youth do, indeed, have a lot to answer for. Lots of serious looking men with beards seem quite excited by them, though, so what do I know? It's not my nostalgia, though; there's more of that about to start on the main stage…
Few, in 1990, would have picked THE CHARLATANS as the band most likely to have an enduringly popular career lasting a couple of decades? God me and my mates used to take the piss out of them at the time: an appropriately-named Stone Roses Lite for kids (as in people a whole – gasp! – three years younger than us) playing "the only song we know"; we'd point out like only arrogant teenage indie kids can that there wasn't an original note in their set – but we all quite liked them really. Here they're in full-on retrospective mode, playing their debut album Some Friendly in full as they have been doing around the UK this past couple of weeks. On which note ManchesterMusic.co.uk's reviewer Jo Nightingale made a good point after watching the Blackpool instalment: the band's continued activity makes this more of a 'special edition' gig than the cash-ins currently being peddled by some who haven't recorded a note in 15 years. She also commented that Tim hadn't aged. (true! – ed). I didn't quite believe her, but she wasn't far wrong actually – he's grown his 90s curtains back, donned a baggy(ish) white T-shirt, and the voice is exactly as it was when I saw them at Manchester Boardwalk in 1989. And where every single track from other albums of that era has been done to death at mid-life-crisis indie discos, there's stuff here most people genuinely haven't heard for years: Polar Bear – what the hell was that all about? They even chuck away the golden rulebook of reverence by squeezing in early singles that weren't on the album, so the time-for-a-bar-trip cliche of The Only One I Know is balanced by the rarely heard psychedelic wig-out of Indian Rope.
And yet it all feels a bit "guilty pleasures"; up on the grass at the back of the arena there's a troop of Welsh lads monkey-dancing in matching T-shirts and yeah, it's fun, but the music snob in me doesn't want Primavera to end up on the Brits-on-the-piss stag night or middle-aged-lads'-weekend-away-from-the-Mrs trail. And then the band strike up a magnificent Sproston Green and I tell myself not to be such a miserable sod. We end up staying the distance, which is going to make us rather late for the next act over on the furthest-flung Vice Stage (all of ten minutes' stroll, Glastopolis this isn't)… or not, as the case may be. GARY NUMAN, where the hell are you? It's 25 minutes after stagetime and people are getting restless. Primavera runs to schedule, even the bloody Fall, and we're not used to this. There are various people with torches scuttling about onstage looking stressed. And then he appears through the smoke and the lights, a sci-fi warrior in silhouette; my mate is dancing in ludicrous 80s sunglasses and we are surrounded by lesbians and men who look like Moby – and it's downhill from there, really. Another review I read criticised the mass exodus after Cars – but it's third in, so we've already endured two of his newer tunes and in all honesty they're not very good. It's synthy industrial rock (with more chunky guitar than is absolutely necessary) and it could be a long wait for another great synthpop hit, at least if we stay put. So we fuck him off and go and watch THE PET SHOP BOYS.
Yeah, what? Not cool enough for this festival? Bollocks. At the recent Record Store Day event in Manchester, after a long and probably quite anal conversation about Fuck Buttons with the electrohead next to me in the queue, he confessed quietly he was also after the limited Pet Shop Boys release. I told him he had nothing to be ashamed of and only a strict personal budget control had bumped it off my own list. And the band's very presence here demonstrates we're far from the only people who consider the sardonic duo's contributions to British electronica-pop crossover at least as important as the more credible New Order's. Yes it's another greatest-hits singalong set, and the fact that this one contains a load of things that topped the Radio One charts when Pixies were confined to John Peel Corner. And it's a great spectacle, too – multiple and increasingly ridiculous costume changes (only Neil Tennant could, in this day and age, get away with stalking around the stage in a regal cloak and crown whilst the perennially cool Chris Lowe wears what looks like a Yucca plant on his head), dancers with large cubes on their heads, you name it, and the crowd lap up every second of the feelgood experience. During a typically over-the-top Go West there's a gleefully camp young man enticing all around him to join in his actually quite skilled ballroom dance, whilst in my mind somewhere maybe one of the Brits-on-the-piss lagerboys is admitting to his mates what they've always known and of course they still love him. (Amusingly the openly gay man in our own party can't be doing with any form of commercial pop and has turned in early).
They even manage to slip in the odd obscurity, such as the brilliant piece of mid-80s proto-techno that is Two Divided By Zero, and then they come back to encore with one of the strangest records to top the charts in the polished, conformist middle years of the 1980s. West End Girls now sounds as dated as map with a big red Soviet Union covering half the North Eastern hemisphere, and every bit as evocative of that time. A time when we thought we were living in the future – but such things as summer holidays in Eastern Europe, handheld gadgets on which you could instantly connect to all your friends and information about anything, and indeed the lead singer of a mainstream pop act's open homosexuality being one of the least remarkable things about him were still the stuff of dreams and fiction. "We were only being boring", sings Tennant on their final encore, a knowing wink from a band who have always been anything but – and have long since transcended any transient definitions of cool and uncool.
One more band to go then, and it's a proper 3am band, a band who should headline the closing night of every festival ever because nobody else does the job quite as well. Screw your rock bands, this is not the time for guitars; it's been three months since we saw ORBITAL energise a tired and musically near-saturated crowd under a star-stuffed Australian sky and here with the Barcelona skyline stretching out in front of them and the sea behind them they do it all over again. They sample Belinda Carlisle and flash up projections of slowly spinning bottles of household cleaning products. Chime stretches to a good ten minutes and is still the most perfect techno tune ever. Glowsticks and cigarettes and shots of Jager are passed around a crowd who know that any minute now it's all going to be over for another year.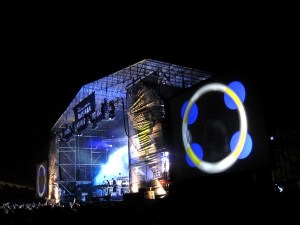 Sunday afternoon in Joan Miro Park, Primavera's official hangover session, and there's a bloke singing like a Spanish Kevin Rowland doing Vic Reeves' Club Singer on helium whilst several other people play snippets of The Lion Sleeps Tonight and, er, the French national anthem in the style of a Victorian music-box on largely percussive instruments. EL GRAN AMANT are soundchecking. Their three chosen genre tags on Myspace are Folk / Korean Pop / Children. I do hope their set's of the same deranged quality – only going to have time for a couple of bands here this year as the flight home's earlier than last year's, but if this is one of them it was worth coming. Possibly not, though, as OLIVA TRENCADA goes on first, and this boy takes indie twee to whole new levels with his fey little singsong voice and glockenspiel girl accompaniment. But he's off after two songs and the stage is full of Hawaiian shirts – this is possibly some sort of radio show, and utterly incomprehensible to non-natives. We'll just go with the flow. Ah, this is EL GRAN AMANT, they've just got changed and are now waving a melon at us. And a mango. Their set sounds exactly like their soundcheck did, only with added fruit. If I ever had any idea what the fuck was going on I really don't any more. The park's main stage is a little less like being on scary drugs; MCENROE do downbeat atmospheric Americana that's far more appropriate for the state most of us are in today.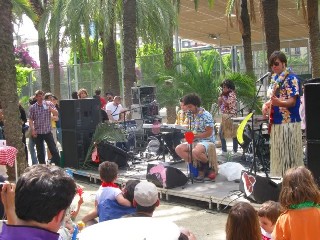 Back at the airport, the long and slow-moving check-in queue comprises roughly 50 per cent families returning from more traditional Costa holidays and 50 per cent festival wristbands with sunburn and bags under the eyes. "I can't come in to work today" jokes the lad behind us in a check shirt, "I've got Polvo Back", and he bends at the waist and bobs backwards and forwards a few times "you know, from doing this…" – the bank holiday means for most of us reality's still another day away, but it's still going to be a tough descent. Still, only 51 weeks til the next one and whilst we have no idea what delights may be on the bill a year from now there's little doubt we'll be here, in a changing world it's good to have some certainties. See you by the pizza cone stand, just before Shellac.
www.myspace.com/macacobong
www.sicalps.com
www.myspace.com/monotonix
www.myspace.com/reformationposttlc
www.myspace.com/comanechi
www.myspace.com/tortoise
www.myspace.com/crocodilescrocodilescrocodiles
www.myspace.com/missionofburma
www.myspace.com/fuckbuttons
www.myspace.com/leforzudo
www.myspace.com/lhautacam
www.myspace.com/sunnydayinglasgow
www.myspace.com/thenewpornographers
www.myspace.com/javieramenamusica
www.myspace.com/ganglian
www.myspace.com/wirehq
www.myspace.com/japandroids
www.myspace.com/pixies
www.deathcrew77.com
www.oddsac.com
www.myspace.com/myspacebigott
www.myspace.com/realestate
www.myspace.com/thepsychicparamount
www.myspace.com/theroddyframe
www.myspace.com/polvotheband
www.myspace.com/thecharlatans
www.myspace.com/garynuman
www.myspace.com/petshopboys
www.myspace.com/orbitalofficial