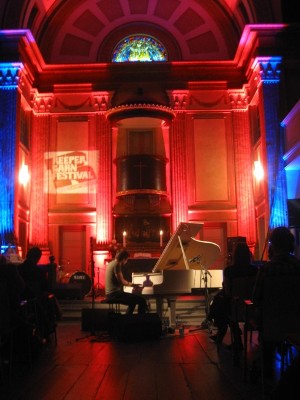 (Nils Frahm – see our review of day two)
It's Friday, it's about five in the afternoon, and I really have no idea what's going on.
Pleasingly full of cherry waffles, we are sitting in Hamburg's glorious Schmidt Theatre (from the outside a terrifying monstrosity seemingly made of red perspex, but inside rather plush) largely because it's over the road from our hotel (yet again, Incendiary has managed without trying to book accommodation so close to the festival hub we were able to check on the wristband exchange opening without leaving our room), ready for Ray's Reeperbahn Revue. Which is not, despite implications to the contrary, any sort of mucky show. How dare you. Ray Cokes is apparently a "British entertainer" (his fame has somehow escaped us, much of it having been on MTV Europe – it seems he's been Benelux based for most of his working life) and the booklet, whose English translations are as unintentionally hilarious as these things usually are, tells us he will present artists of the Festival with "funky questions" in between unplugged performances. Sounds like a good place to start…
This is Hamburg's Reeperbahn Festival, one of those walkabout wristband jobs where up-and-coming bands from across the globe try and follow in the footsteps of those famous Scousers by making their career in the bars of St Pauli. Only this isn't the Beatles' Reeperbahn: sailors on shore leave, amphetamines and dimly-lit brothels have long been supplanted by British stag parties, discount shot bars and glitzy neon table-dancing clubs, and you don't have to play two sets a night for weeks on end: one cracking performance in front of the right badged-up delegate could do the job. Accordingly, there's a load of industry panel type stuff in the daytime like you get at In The City or SXSW, but Incendiary's not doing any of that, we're not press accredited, we're just here for the music. Only the gigs don't start til 8ish and information on any afternoon or fringe events is hard to come by when you've been in the country all of six hours – although a German friend has already tipped us off about something rather exciting happening tomorrow afternoon. For now though Ray'll do.
The usherette (OK, female security steward, but she looks more like an usherette, I mean it's that kind of place, it's got velvet curtains and that) is trying to get people to move into the front seats so it looks good on the telly. We politely decline, as we have been up since 6am UK time and probably look like it. There are sofas and guitars onstage. We appear to have landed in a music chat show. As you do.
Ray is that kind of excitably wired that you only see in music TV presenters that never quite made the top grade. He's personally invited a few of his favourite festival bands, he tells us – some of them said no, "mentioning no names Blood Red Shoes"; COSMO JARVIS said yes, and entertains us with a whimsical little lament on the fact that he can't pull famous women such as "the lesbian from The OC" despite the fact that he's "nearly got a moustache". And another couple of nuggets of equally friendly upbeat acoustic pop with a bit of a hip-hop influence. He endears himself further to Incendiary in the interview by wishing deep unpleasantness on a particular NME "journalist" known for writing nasty personal slights on artists in lieu of reviewing their actual music.
THE LATE CALL, aka a broodingly handsome young Swede called Johannes, does some nice troubadour acoustica a la Johnny Bramwell. Oxfordshire baroque-folksters STORNOWAY meanwhile go for the full band acoustic thing, double-bass, sit-on crate drum and one of those folky things that looks like a shiny box and sounds a bit accordian-ish. A harmonium, apparently. Odd how Scottish their music sounds, as if the name they freely admit they adopted because it's always on weather reports and sounds kind of romantic, has seeped back into them. And Belgium's BALTHAZAR do some kind of gutsy soul-blues thing with four-way vocals that, especially here in "raw" acoustic format, sounds very odd coming from their fresh young blue-eyed faces. Ray congratulates them on being from Belgium. They seem quite nice, but not as much fun as Cosmo. You can probably find the show on the internet somewhere if you wish to know the identity of the aforementioned music writer…
Only thing is after an hour of this English-speaking entertainment, we're back to square one in the "remembering how to speak German" stakes. And it is absolutely bucketing down outside. The only shelter is a small covering by the mainstage bar – oh well, beer it is then, while the bands soundcheck presumably in the hope that it stops pissing down later enough for some people to come and watch them. On the strength of most of what we hear we make a mental note not to, although the bloke attempting to cover No Woman No Cry in German goes beyond shit into truly bewildering, and a local tramp has a good dance. He (the singer, that is, not the tramp) is Torben Möller-Meissner, a name to conjure with if ever there was one, and when his set proper begins the tunes are nice enough but singer-songwriters in a language that's not your own, well, you're only getting a tiny bit of the story aren't you?
WOLF PARADE are, according to the blurbs, "an ode to life's amazing climaxes and hurtful dips". Actually, they're a sort of supergroup of underground Canadian indie hipsters including Sunset Rubdown's Spencer Krug and Handsome Furs' Dan Boeckner (I realise this is stretching the definition of "supergroup" somewat) who make big spiralling alt-pop with balls and thunderous driving rhythms and a bit of psychedelic wig-out: the passionately deranged Krug appears to be playing his keyboards with his hair most of the time. Other times they're like a rockier, harder Arcade F… oh god, is that because they're Canadian? Not entirely, there is a similar kind of anthemic pile-up thing going on. It also gives us a chance to check out the legendary Docks venue, bang in the middle of the Reeperbahn – it's smaller than we expected, but then legendary venues often are – before heading off round the back streets. And suddenly here we are…
To say Prinzenbar is an important place in my personal musical life is something of an understatement. In November 2002 I watched my beloved Chameleons here, exhausted after two months on the road and becoming fractious as some of the problems never resolved from their first acrimonious split started to resurface, on a tour of Germany none of them really wanted to do. Hamburg was not the end, but I had to get back for work – and on the freezing street outside afterwards my companions and I had half an idea, albeit unspoken, that we would never see our favourite band again. We did not; the remaining three or four dates on that tour were their last.
It's very strange to be back. It's exactly as I remember it, weird art deco statues, big mirror over the bar. And, oddly, WILD PALMS carry some Chameleons echoes in their expansive effects-drenched indie brooding. Puressence, too; Bunnymen, all that kind of thing. I love the way Lou Hill has a stunning falsetto on him – especially when the reverb's turned up to full – but doesn't feel the need to use it all the time, and the stirring washes of sound, part keyboard, part guitar, that permeate the whole thing. But beneath that Gareth Jones' bass and James Parish's drums make for a dark and solid rhythm section. It must be oddly disconcerting for bands playing these walkabout gigs; people watch a bit and leave, go somewhere else – by halfway through there's space down the front and yet they just get better and better. And they've been around for a couple of years, signed to One Little Indian and released a single with another one on the way – why did nobody make me go and see these before?
Time to catch up with some Mancunians then: it's all of three minutes' walk to Molotow where EGYPTIAN HIP HOP are just starting. And fucking hell, these lads have come a long way. It's about a year since I last saw them which is shameful when they're from down the road from me, but there you go. Back then their fusion of post-punk tension and contemporary "new wave of no wave" sounds was promising, but not enough to stop your humble scribe from rather missing their wilder previous incarnation. Since then of course the hype-wave has been ridiculous, with all manner of music industry opportunists sliming their way up the M1 to grab a piece of the so-called New Manchester: with a genuinely individual sound these are definitely one of the better bands currently being landed with that double-edged sword of a label. My German is now sufficiently restored to eavesdrop on those near us who mostly seem to be astonished by how young they are although one is concerned there night be something wrong with the drummer: he's wearing a slightly disturbing animal mask which in the club's dim red light actually makes him look like he has severe facial disfiguration. Finishing up with the skewed post-punk of Wild Human Child, they dissolve into a blaze of techno squelches, bass funk and strobes. Suddenly people are dancing wildly, like someone's hit the Party On switch. But then it's over and the next band don't look much, so time to seek out some of the other venues…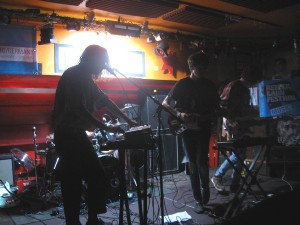 Egyptian Hip Hop
At this point we have a little setback due to the somewhat limited and topographical map in the guidebook. And the fact that none of the venues up round the football ground actually identify themselves particularly well as venues: one is in fact a small shop (full) whilst another doesn't seem to exist at all, at least where the map says it does. Only the following day with the benefit of full-fat laptop Google do we discover that the excellently-named Uebel & Gefährlich ("Evil & Dangerous") is in fact an old WWII Bunker – that massive hulk of concrete we saw but had no idea was the venue we were after. Should have done slightly better research on that one. Knust, meanwhile, seems to be part of some sort of alternative market type place but does have the common decency to be labelled, even if the street it's on isn't. It's worth the effort though: it's got that "squatty" feel that German venues used to have when I first visited, like Berlin's Knaack or Cologne's incredible Gebaeude 9, and the next 45 minutes' music is brain-warpingly fantastic.
PVT used to be called Pivot until some other, pre-existing act called Pivot precisely nobody's ever heard of except their mums whinged (research reveals them to be American prog-metallers of little merit or success). So this Aussie trio approached the problem in the easy-going way their countrymen deal with most things. "We're called PVT" says one of the Pike brothers (frontmen Richard and Laurance are not actually twins but are phsyically pretty indistinguishable nonetheless) "which is spelled P, V, T." I love Australians, straight-talking, no messing. But traditionally, Australian music has tended to be similarly straight-up: The Go-Betweens wrote the most poignant lyrical poetry, AC/DC had the loudest riffs and Nick Cave is more rock'n'roll than anyone else ever, all great talents but could rarely have been described as experimental in any way. PVT are therefore the least Australian Australian band ever. Another band who have come a long way since I last saw them, but that was two and a half years ago – an age in music.There are elements of the PVT sound which must feel like they've come home – well, home-ish; we're a fair way from Dusseldorf but we are in the same country – but the Kr*****ck is only half the story. If that. There isn't actually a name for the kind of twisted goings on here. Vocals – and about half the tracks have them – melodically (as opposed to in pitch or tone, which they don't) echo Thom Yorke at his most wayward; there are massive dystopian cinematics; and swathes of synth and hard beats sound like Holy Fuck at the death disco.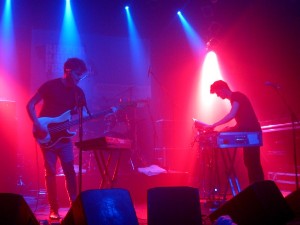 PVT
Heading back to the Molotow we catch the lasy few songs from THE LYREBIRDS. Here, the book mentions Joy Division and Bauhaus – but in reality they're more U2. Decent first album pre-wankerdom U2, but still. I have this vague idea I have encountered them before somewhere, possibly another festival, a Great Escape (they appear to be from Brighton) maybe and thought the same thing ,but I might have imagined this – it's half past midnight and we've been up since before daylight, and when you come from the north of England bands like this are two a penny. Oh, and the singer spends far too much time with his foot on the monitors. They get an encore, but the venue's rammed because all the smaller ones are at this time (a Facebook feed informs us several are not allowing anyone else in) then within seconds of them finishing, the DJ sticks on Interpol's PDA as if to point out to them the finesse and subtlety they could only dream of.
One band left anywhere tonight – back to the Docks it is then. FM BELFAST are no more from Belfast than Stornoway are from Stornoway. Reykjavik actually. There's three blokes in shirts and bowties, kind of boy-band Sunday best, plus a girl; one of the blokes seems to do 90 per cent of the work on a laptop, one of the others holds a guitar about as convincingly as the ladies in Robert Palmers's Addicted To Love video, the other two don't bother pretending. They play extremely dubious electro-discopop that's as vaguely familiar sounding as it is instantly forgettable – good lord, we seem to have found the Icelandic Scissor Sisters. And it warms my heart. I'd always presumed all Icelandic acts were over-educated experimental post-rockers – but no! A band from up there who are unashamedly low-grade pop. They are shit and the crowd loved them, and musical equilibrium is restored.
http://www.myspace.com/cosmojarvis
http://www.myspace.com/stornoway
http://www.myspace.com/balthazarband
http://www.myspace.com/thelatecall
http://www.myspace.com/torbenmoellermeissner
http://www.myspace.com/wolfparade
http://www.myspace.com/wearewildpalms
http://www.myspace.com/egyptianhiphop
http://www.myspace.com/pvt
http://www.myspace.com/lyrebirdsmusic
http://www.myspace.com/fmbelfast
Saturday's review is here.