social commentary, laid back sleazy love songs and horns, beautiful funky horns
social commentary, laid back sleazy love songs and horns, beautiful funky horns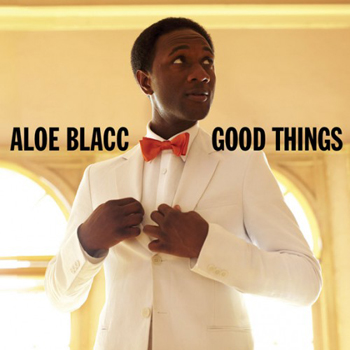 I take great pleasure in telling you that Aloe Blacc's Good Things is indeed a good thing. A very good thing, in fact. A soulful thing. A tuneful thing. An album of soul, of style and of class and I haven't been able to say that about many modern R&B albums, I can tell you. The reason? This ain't no modern album. For instance, take a glance at that cover picture. Doesn't he look like he's just about to go on stage with The Drifters? Yes, there's some modern seasoning on here but the meat of the album is so old fashioned that you may find it hard to believe that this is a brand new recording and not some lost classic someone discovered down the back of a sofa in Philadeplhia. All the ingredients are there, social commentary, laid back sleazy love songs and horns, beautiful funky horns.
Aloe Blacc has obviously studied his classics and you can hear their influence all over this record. Nowhere is this more evident than on the opening track, I Need A Dollar which feels like somebody trying their hardest to write a Gil Scott Heron type song. Amazingly, he pulls it off. Green Lights pops you into second with the kind of sultry, laid back, number we all used to love Stevie Wonder for before he forgot how to write love songs that don't make you feel sick. Hey Brother knocks in the triple with a gloriously old fashioned tune built around a wah wah pedal and a funky organ. It's so old fashioned it should be wearing platforms. It's marvelous. Hitting for the cycle, Miss Fortune takes Caribbean rhythm and mixes it with some street smart guitars and a slightly threatening undercurrent. It's a modern hip hop track, stripped of the bling and infused with a sense of distrust and menace and then there's those horns again. Oh those horns.
By now, you've already gotten more than your money's worth but Life So Hard feels like a mix of Outkast and Curtis Mayfield and sweet Mary and Joseph is it good! The lyric is passionate, literate and heartfelt and the tune is extraordinary. Feel that throbbing bass. Swoon with those strings, fall in love with the Curtis Mayfield like guitar and just pay attention to Aloe himself because he's on fine form here. Life So Hard is an extraordinary track, the type of which we haven't heard for a long time and if there's one reason to check this album out, it's this.
But then again, Take Me Back is great too, Loving You Is Killing Me will be filling dancefloors the world over and even his cover of The Velvet Underground's Femme Fatale is an unexpected delight. Everywhere you look, Good Times rewards. It's an album of power, of poise, of grace and of sheer class. You owe it yourself, brothers and sisters, to let the Good Times into your life.