if it's not their biggest selling album since Everything Must Go then there really is no justice in the world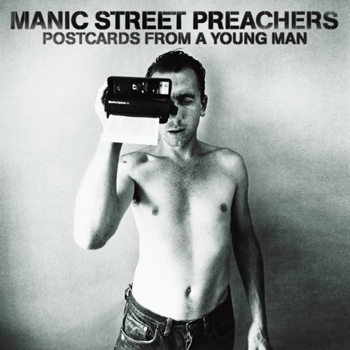 The Manic Street Preachers have changed direction so many times their career path can be compared to one of those double mini roundabouts they like to place in housing estates nowadays – easy to get on to and impossible to get off without losing your bearings all together. Following the Manics often feels like driving around a modern town, everything seems familiar and the road layout makes no sense whatsoever. Many parallels can be drawn between The Holy Bible/Everything Must Go and Journal For Plague Lovers/Postcards from a Young Man but that's nothing new, the Manics have constantly railed against themselves, seemingly making each album a clear reaction to the one before. Follow the list and see if I'm wrong. Generation Terrorists, Gold Against The Soul, The Holy Bible, Everything Must Go, This Is My Truth Tell Me Yours, Know Your Enemy, Lifeblood, Send Away The Tigers, Journal For Plague Lovers and now, this. You see, it works (or at least from Gold Against The Soul onwards it does). Anyway, the story behind the music has often been more important to most critics – and even some fans – and that's a real shame because if there's one thing the Manics can do it's write a tune. They may often wrap those tunes in incomprehensible or unfathomable lyrics at times but they certainly know how to get inside your head. Postcards From A Young Man is no exception.
James has described this album as "one last chance at mass communication," or words to that effect, and it's easy to see why. Postcards From A Young Man simply blasts its way out of your speakers and commands attention, right from the off. The wonderful one-two opening of It's Not War (Just The End Of Love) and the title track provide such an incredible rush of energy that you may well find yourself a bit punch drunk by the time Some Kind Of Nothingness comes around, a song that's so triumphant even a choir can't de-rail it. Of course it's helped by the presence of Ian McCulloch of Bunnymen fame but in anybody else's hands this could well have turned into something ridiculously mawkish. As far as opening statements go, Postcards From A Young Man has a pretty powerful one, it's just a shame that The Descent (Pages 1 & 2) comes along and completely derails everything.
The Descent, in truth, isn't that bad of a song but it has no place on this album. It doesn't have the power or precision as the rest of the album and almost feels half cooked. Isolate it from the album and it feels a lot better, in fact it's crying out to be a decent b-side (remember those?) but it sticks out like a sore thumb here. Thankfully, things pick up again right away. Hazleton Avenue is the kind of pop rock song you simply don't hear anymore. If the PussyCat Dolls sang this it'd sell millions of copies and be number one everywhere. As it is, it's sung by a middle aged bloke from Wales and will probably be glossed over and forgotten about. More's the shame. Seriously, I don't mean this as an insult but Hazleton Avenue is one of the best pop songs I've heard in a long time. Is it the best song on the album? Not by a long chalk but it's certainly the most commercial and wouldn't it be great to see a proper band sell those kind of numbers again? The standout track on the album is probably A Billion Balconies Facing The Sun, although Auto-Intoxication (featuring none other than John Cale) and Golden Platitudes run it close. A Billion Balconies…. however, is just a pure blast of rock and roll energy. Duff Mackagan guests on it and you can just hear how much fun the band are having playing it. It's infectious, anthemic and absolutely relentless from start to finish.
You'll probably find lots of critics telling you that this is a return to form but they'll find it hard to say that the Manics are nothing without Richey any more. Journal For Plague Lovers was an amazing album, but so is this. In that true Manics way, it's incredibly different from the previous album and yet you'll feel instantly at home with it. Whether it's a return to form or not depends on your position coming in to it and it's far too early to try and decide where to place this on the Manics top ten list but what is for sure is that it is, like Journal For Plague Lovers before it, an illustration of a band working at the top of their game. They're still bold, brash and incredibly self confident, as they always have been, and they've never sounded better. Postcards Of A Young Man is a highly polished, powerful and incredibly uplifting record. It may not be the best album they've ever released but it's easily one of the most satisfying albums you'll hear this year and if it's not their biggest selling album since Everything Must Go then there really is no justice in the world.