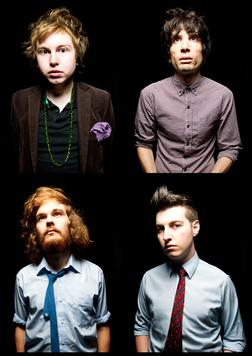 Incendiary heard of this lot when they played a friend's club night. We were struck by their different take on things, and invited Greg from the band to answer a few questions via the wonders of the internet.
IN: A brief history of why Moon Visionaries formed is in order… (not how, but why, musically)
Greg: The band was formed when I met Marco. We found a common interest and love in the warm analog sound of the 60s and 70s. Various musically projects came and went for both of us over the years, but things seemed different and 'right' with Moon Visionaries because we felt the musical chemistry was there. The 'why' has a lot to do with the appreciation and respect that Marco and I give to a vast array of styles and genres of music. Experimentation and progression are the 'meat and potatoes' of Moon Visionaries.
IN: Quite a name btw.

Greg: The name came when we were in the London Underground, trying to invent a name that was dreamy yet focused. We wanted to add a space element to it. So, we decided on 'moon'. Marco then suggested we add 'vision' and I thought 'visionaries' would give the name the special open-mindedness we were looking for.
IN: Are you urban soul boys?
Greg: We love soul music. A lot of the influence in our music traces back to soul and funk from the 60s and 70s. Some of our favorites are: Smokey Robinson & The Miracles, Curtis Mayfield, Martha & The Vandellas, Marlena Shaw, etc…
IN: What leads your music to be so dreamy do you think?
Greg: The music is essential 'dreamy' because we (being cliché as it is) believe that anything is possible. We don't take lightly to people who try to bring us down, and feel that people who self-identify as 'realist' often times are actually pessimist. Our music tries to convey the feeling that the future is what you make it.
IN: And it's sunny music – it feels sunny. Could you possibly comment on that?
Greg: I'm from the desert in Utah, and Marco is from Rome. We miss the sun, and so the music helps to capture that warm feeling.
IN: Your music does feel out of time at the moment It reminded me of Traffic at their most soulful & winsome and the glossy sound at the higher end of the register, very reminiscent of lots of the clever urban soul pop you used to get with Orange Juice or Scritti Politti. Fair comment?
Greg: Wonderful comment. Thank you. We love the funk/soul/jangle in music. For us, it's about groove.
IN: Saw some clips of you live and was struck by the comfort you displayed in allowing your tracks to meander on. Which leads me to ask: how do you put your tracks together? Because there is a dichotomy here, between the attentions you give to your demos and the jams you indulge in live.
Greg: The writing and recording process usually happens fairly quickly, and we do that at home. The songs are the way they are, and we realise that by changing them up live – some people might not recognize them or find them strange. But, we love to mix things up, so that people have an extra incentive to see us play live. As much as we love recording, we love to get on stage and make the crowd move. That is one of the highlights of making music.