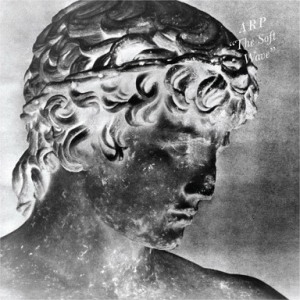 http://www.smalltownsupersound.com http://www.konkurrent.nl
If you like Kraftwerk, Cluster, Harmonia or any of the Düsseldorf groups (or Before and After Science era Eno) you'll like this. Like listening to the work of Jonas Reinhardt, you can almost place the sounds to tracks on certain classic Krautrock LPs. However, (and again just like Jonas Reinhardt) this brazen worship is no bad thing, as the music contained on The Soft Wave is really great and worth your time.
The opening sequence of tracks – called Pastoral Symphony – uses that soft percussive keyboard sound that drives Autobahn's more graceful moments (you do feel like you are listening to an outtake of that LP at times), but it's still a very pleasant listen. White Light is a cut up starting off with bits of that guitar sound that sounds like radio interference (the noise that's all over Faust IV) until a gently simmering guitar thread adds a mellow tone and ushers the racket out. Alfa (Dusted) has elements of Faust about it before stretching out to be a quiet meditation powered by a cyclical spindly guitar line.
Elsewhere, Catch Wave creates a pleasant piano-led ripple of noise that mutates (with some guitar delay and Cluster-style synth noises) into a flutter of electronic noise. High Life then reverts to Kraftwerk, with a more baroque take on a track like Tanzmusik or something off Ralph and Florian. (It's the snaky beat that does it), or maybe something that Conny Plank could have cooked up himself. Memory jolts or no, it's still a lovely track. Grapefruit is a floaty synth moment in the Moebius and Plank tradition, nearly breaking into Endless at one point; whereas Summer Girl is a beautifully dozy reflection using thick, rich and distorted key sounds. Perhaps the most obvious hark back to older LPs can be heard on the maudlin From a Balcony Overlooking the Sea, which is a straight cut from side two of Before and After Science. It's still eminently listenable, mind.
So there you have it. Very, very derivative, but in a good, "I'm in love with this music" way rather than the usual brainless "let's see what we can rip off" approach. Fair do's. I really enjoy listening to it.