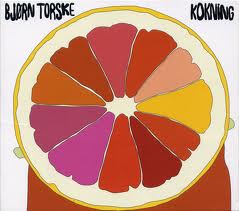 http://www.smalltownsupersound.com http://www.konkurrent.nl
Well now here's a thing; another slightly demented disco release from the Small Town Supersound label. Where does this Oslo label find these people?
This release follows the pattern of many others (Meanderthals, Disk Jokke, etc), by showcasing pretty kooky disco work outs, interspersed with reflective instrumentals. The latter is represented by the opening track, Kokning, which has more in common with the sort of music you here in a soundtrack for a TV detective series, but it's effective in setting what turns out to be an illusory downbeat mood. Gullfjellet is another quiet piece, a synth-led stroll which sounds like something off Sowiesoso by Cluster. And Slitte Sko is a lovely meandering piece of quiet synth funk that actually sounds lost… By contrast Bryggessjau is a perky, spiky little thing, forever begging to catch your attention with an endless guitar riff. You wonder how Torske found the patience to keep playing this relentlessly jaunty piece. It does get a little spaced out towards the end, courtesy of some ethereal synth noises.
Dance tracks are represented with the percussive Langt Fra Afrika and the mix of inane melody and marvellously dumb beats in Bergensere, which sounds like the sort of underpowered disco you'd get down your local WMC on a Friday night back in the day when the pubs were too rough (older people might grasp what I'm on about here). It's marvellous and a pivotal point in the LP. Nitten Nitti is a grumbling little dance number too, utilising that underplayed fidgety percussive beat that Talking Head used to be so adept at creating. Sloppy keyboards add to the charm.
Just to wreck all the nice plinky plonk synths the last two tracks change course; the first, Versjon Wolfenstein, turns down dub avenue for a quick look around eth estate (why it reminds me of Roxy's Bogus Man at about 17rpm is anyone's guess)… and Furu is a funny work out, which doesn't really go anywhere fast but's fun all the same.
A diverting listen.