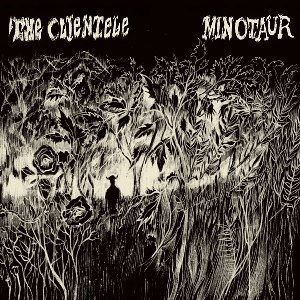 http://www.pointyrecords.co.uk http://www.konkurrent.nl
A lovely LP, short but packed full of the sort of understated pop that can't really be classified as belonging to any time, nowadays. There are very strong overtures to certain lesser-known sixties heroes, but who would really know that in these unromantic times? Sadly, due to various reasons I left it hanging about my turntable like some soul waiting for a bus that would never turn up. So I'm 6 months late for this review. But in the Clientele's world, maybe that doesn't matter. The band have been making this sort of pop for the last few years now, and it should be no surprise that this short work doesn't really (outside of one or two tracks) seek to rock boats.
Still, there's plenty to enjoy. The opening (and title) track is a seductive stroll that is given its strength by the romantic, searching vocal delivery and a very subtle instrumentation that never intrudes on the pace of the track. The songs do feel like they run along at their own steam, regardless of musical direction. In that respect they are very dreamy, and for some reason reminding me of the yearning pop that Michael Head knocks out. And there are hints to Love in Jerry, (it's the melody line in the verse that does it I think, or maybe the psychedelic, slightly jazzy guitar break). Paul Verlaine has a touch of the New Seekers about it and Strange Town is a classic lost 60s chanteuse track, and far too short. Outside of the John Shuttleworth keyboard sound, the melody could have been made for Sandie Shaw.
The strange stuff starts to unravel near the end of the record; especially in the track The Green Man, which is a queasy urban monologue that's got a lot in common, atmospherically with Derek Raymond, James Johnston and Terry Edwards' LP, I Was Dora Suarez (certainly not so much with the actual content I hasten to add). It also sounds like the recent Clinic track, Radiostory. I'd like to see them do more stuff like this that's for sure.