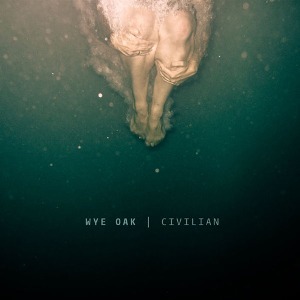 http://www.cityslang.com http://www.konkurrent.nl
A really great album this; brim-full of beautifully worked harmonies and clever arrangements, and boasting the sort of spacious, unhurried presence that other bands who work in this genre can only dream of. This unhurried feel is carried over to the titles, whcih are are a bit on the introspective side. Kicking off an LP with a song called Two Small Deaths either nods to their confidence or to their diffidence, take your pick; though the song itself is a perfectly accessible, dreamy chant that slowly dissolves into a noise. You hear this remove on tracks like Fish and We Were Wealth. It's always pleasant and always inventive stuff but the music is never looking to ask more of you than some sad glances out of your bedroom window.
And quite why Wye Oak sometimes reminds me of Stereolab is anybody's guess. At times Jen Wasner's voice has that same rich, slightly dusky timbre that Laetitia Saedier's has. There's also a predilection for picking 60's garage pop chords and attitudes, especially the slow winsome ones that Gainsbourg or Dutronc were adept at using, and twisting them in a slightly different direction. It's all bit like scrubbing up & polishing old furniture, though the results, when they work are spectacular, as heard on one of the album's highlights, Holy Holy, which is a lazy druggy strum, with explosive moments. It's like imagining the Velvets at half speed and with Mo on vox.
There's a homespun element to their records that you can always hear at some point, too. The title track and Plains are good examples of their rural rock vibe: even when they kick out, everything is that little bit starry eyed and winsome. That's not a criticism, they do it very, very well; it's not a record that ever seeks to break out though, or show any rough edges. Everything is in its place.
Still, I get the feeling that this is going to get played a lot on my stereo, not because it is the sort of thing I normally listen to, as it isn't; rather the LP has the presence of one that knows it's really, really good… The breezy Hot As Day, for example, is marvellous and worth the LP price alone with its big sound and forceful drumming. You suspect they could mutate into a very good stadium act at some point.