Fabulous, re-affirmative stuff and should be the sound of your summer.

Fabulous, re-affirmative stuff and should be the sound of your summer.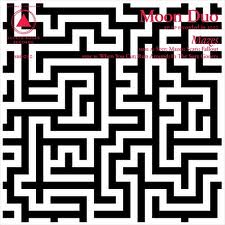 http://www.konkurrent.nl http://www.moonduo.org http://www.souterraintransmissions.com
I've always had an unabashed love of trippy, spaced-out music, so it's no surprise that I'm going to rave on about this record. Over and above my enthusiasm for listening to long drawn out psychedelic drones, (which I suppose gets you the potential listener nowhere) it's fair to say that Mazes is a record that boasts a positive spirit that is all-encompassing. And you'll benefit from giving it a spin.
The LP starts life in its first incarnation, Seer, as a sort of amiable one chord groove very much in the Spaceman 3 tradition. This is all very pleasant but it's just the aperitif, so to speak, as the LP has enough twists and turns to make the most laid-back stoner raise an eyebrow. This is evident with the second track, Mazes; a light, skippy thing where the sing-song melody does battle with a few scuzzy guitar lines. Everything is welded onto a groove that reminds this old git of the Velvet Underground's What Goes On. It's exhilarating stuff. Scars is a mumbling sort of reflection with a nice bubbly guitar effects. All very laid back and grooving.
By contrast again, the middle section of Mazes is a marvellous: things are kicked up a gear, and everything gets that little more abstract, perspective-wise. Fallout is a monolithic growl employing the most basic and effective of chord changes and guitar licks. When You Cut is a formidable alliance of a suggestive, snaky groove some classic rock and roll sense/ no sense lyrics, and a stellar guitar break that worms its way into your consciousness. And Run Around is a fabulous shuffle with a dinky little melody and a whole battery of guitar effects thrown at you. It's really heady stuff. Following that effervescent hat-trick, In The Sun brings us full circle with an amiable, simple strut very much like a speeded up version of this LP's opening track. (For some arcane reason it also reminds me of Read it In Books by Echo and the Bunnymen). Goners is a lovely ending to the record, employing that upbeat shuffle, a simple melody, and a nice long drawn out guitar noodle.
Fabulous, re-affirmative stuff and should be the sound of your summer.