an unwitting comedy moment was served up when we witnessed the guitarist play a trumpet whilst balancing a fiddle under his chin – to paraphrase Mark & Lard there's "no need"…

an unwitting comedy moment was served up when we witnessed the guitarist play a trumpet whilst balancing a fiddle under his chin – to paraphrase Mark & Lard there's "no need"…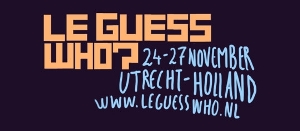 Despite feeling decidedly seedy, Incendiary decided on an early start in order to see Low at the Spiegel bar sessions. By our reckoning these free mini concerts are sometimes better than a full set; being filmed, the bands don't just go through the motions of "playing at a festival". The bar itself is a strange and slightly characterless place, located in the top of the Tivoli Oudegracht, decorated by old posters and possessing a small stage. There were some classic posters on display too: Nico, Dinosaur Jr., the Pogues, Ramones… perusing them made you wonder whether any of today's acts will find their flyer art hung up with such reverence 20 years' hence. Low traipsed on, all dressed in black and proceeded to play a fabulous mini set culled from the latest LP, C'mon. Low are great to catch in a quiet setting such as this, and we had a chance to settle down and appreciate the momentous & reverent sound built up by the band. Alan Sparhawk's fluid guitar playing and the steady, understated bass lines are something special, as are the harmonies between him & Mimi Parker. The expression they can squeeze out of quiet tracks like Nightingale has to be seen to be believed. The only levity in this increasingly reverential atmosphere was the slightly forced banter between Mr. Sparhawk and the camera dudes: he insisted on making "cut" movements after each track, which, to be honest, was a bit wank, though it was worth it hearing him berate someone for having "weird eyebrows" at the sound check.
After dinner we trudged along to see Richard Buckner opening the night's bill at the Oudegracht. Bruckner and his band looked like a classic bar room outfit, primed for long nights entertaining truckers out in the Midwest. That comparison may be a little unfair as his music – whilst having a lot of the world-weary grizzled blues rock about it – something that we normally try to avoid, does stray into psychedelic territory now and again. When things got stretched and trippy, they got very interesting indeed. The band exuded vast reserves of calm and patience as well: whether you stuck around to watch them wasn't really their concern. And this confidence gave the audience confidence too; a bond built up over the set, and a quiet victory of sorts was gained. Off we went to take in Other Lives, who we missed at Haldern. Well I did: two of Incendiary snuck into Haldern's packed Pop bar to catch them and came out sweaty and happy and talking of a band that was Americana, but weren't Americana, which confused me more than anything else. I'd been struggling with this tag, which sounded like an excuse as Incendiary's co-editor DOES like a lot of Americana and often tries to win me round by playing it ad nauseum, but his judgement was pretty spot on with Other Lives. They sound like an American band, all wide eyed and hopeful, and they have more instruments than your average orchestra – an unwitting comedy moment was served up when we witnessed the guitarist play a trumpet whilst balancing a fiddle under his chin – to paraphrase Mark & Lard there's "no need"… but, but, but… their music has a broad sweep to it more reminiscent of spaghetti western soundtracks and the more progressive elements of 70's incidental music. They can stray into ELO territory sometimes too, the odd clever tempo or chord change is all very well, but I always find it's better carried off with a bit more verve and a bit less knowingness, but still. Minor quibble. On this showing Other Lives were pretty epic and well worth you checking them out.
Incendiary stuck around for Anika, who we've known as a long-distance friend for a fair number of years, owing to her duties at Haldern Pop festival. Her record, whilst gaining a fair amount of kudos amongst the Beau Monde sort of left us a bit annoyed and nonplussed, the good bits (which are very, very good indeed) were often fighting a desperate battle with the bits that drove us up the wall (Master of War I'm talking to you here). It's fair to say we attended more out of a sense of friendly curiosity than outright hero worship. Well I have to east some of my words; without becoming a new hero of ours, Anika has really got something about her: a certain stage presence, a mix of sang froid and terror – I'm not sure it's put on either as at times she looked painfully shy onstage – a side of her we hadn't really noticed before. And the gig was pretty tremendous; due in no small part to a very good band and a stronger more confident sound. These songs do help when blasted out and played aggressively; Yang Yang sounded particularly powerful and Officer, Officer was a tremendous staccato burst of white noise. Simply put, the bits I hated on the LP were grand live: Master of War was a fabulously rich and intense work out and I Go To Sleep was actually very beautiful, with more emphasis on the harmony and the melody than on the LP. Matters were also improved by the antics of the diffident guitarist/clarinettist/keyboardist/whateverelse-ist, whose chimp faces would have won prizes at talent shows. A quiet triumph, we say. We are now officially impressed.
We caught seconds of Bill Callahan bit not enough to make a judgement. Such is life.