There's a feeling in all of the pieces that is akin to the music in an old adventure film, when the heroes stumble on a lost valley in a remote part of the world, or are transported back to the realm of the dinosaurs

There's a feeling in all of the pieces that is akin to the music in an old adventure film, when the heroes stumble on a lost valley in a remote part of the world, or are transported back to the realm of the dinosaurs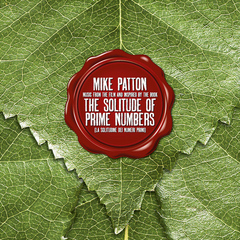 http://www.ipecac.com http://www.konkurrent.nl
This is a hell of a record but there again this is Mike Patton. This is a film score and a brooding one at that…. Music From The Film And Inspired By The Book The Solitude of Prime Numbers is a soundscape inspired by a novel by Paolo Giordano. As if that title alone isn't terrifying enough, let's take the quote on the beautiful and mystifying album sleeve (the one I have is a folded leaf – what is the provenance of that? There must be one)…
"Prime Numbers are divisible only by 1 and themselves. They stand in their place defiantly in the infinite series of natural numbers, squashed in between two others, but a step further than the rest…"
Suspicious and solitary. These are two very good words to describe this record: for instance, Matrix and Cicatrix are chilling and brooding hums whereas both Method of Infinite Descent and Snow Angel take a hesitant piano part (that always sounds like its being played in another room)and create a ghostly waltz. Everything is hidden, untouched and by that token, menacing: with tracks like Supersingular Primes and Quadratix Patton seeks to make you feel the cold, nausea of being overwhelmed by the unknown. It's paranoid music…
There's a feeling in all of the pieces that is akin to the music in an old adventure film, when the heroes stumble on a lost valley in a remote part of the world, or are transported back to the realm of the dinosaurs – the mysterious choral parts in the some of the score underline that. I'm also thinking of the collaboration he had with Kaada a few years back, there's the same ethereal twist to the music. Radiance of Convergence has a dreamy quality to it that suggests the infinite deep or a starry realm and is that a Moog rumbling about in the background?
Now and again there is a thing that sounds upbeat or full of purpose; Calculus of Finite Differences is one such track and things do seem to get upbeat by the end with Zeroth. Weight of Consequences is a mighty ending, almost getting into T-Dream territory four minutes in.
This is a fine record, but one that is suspicious and solitary in its outlook; that's for certain.