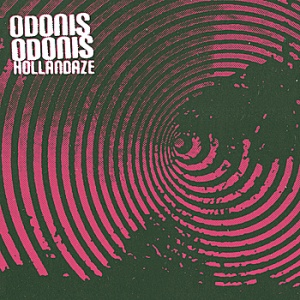 http://www.fatcat.co.uk http://www.konkurrent.nl
Odonis Odonis present nothing new or remarkable with Hollandaze but it's an enjoyable listen nonetheless. There are many other bands around who dabble in mixing the respective snarling visions of the Mary Chain and Dick Dale as well as exploring the Psychobilly and Gothic sides to this sound, but to give Odonis Odonis their due, it's an exciting record at times and certainly one that isn't content to merely create a facsimile.
The thing that stands out for me is the band's attitude. Although this is a loud and abrasive record it's one that has a clear direction and balance, and is all the better for that. Whilst there's a lot of fun to be had listening to White Flag Riot, Handle Bars or the title track – where the sounds splurge out and threaten to engulf the listener in a thick rich white noise – it's better still that Hollandaze allows some space and light. It's a very well balanced record and one that actively seeks to keep the listener interested by judicious song placement (believe me it's not as boring a listen as my sentence suggests).
There are also some very good songs here, too: New Worlds is a great rolling mix of psych and stoner rock, with a clear melody to hang onto, (I'm sure it's very easy on a record like this to continually mumble something into a vocal and drench it with reverb). The band's more introspective side is the thing that gives its quality: Basic Training and Busted Lip are as gloomily sullen as its title suggests. Blood Feast throws a bit of Goth into the mix and things come out better than expected, (you could suggest that the Cramps and the Cure are other sonic marshlights for Odonis Odonis). And Seedgazer is an enjoyably morose stumble around that gets pretty epic as the guitars begin to carve out a chorus of sorts. By contrast We Are the Left Overs starts to tread into Pale Saints or Lansing Dreiden territory with its pretty riffs and über-morose, very teenage lyrics. There's some pop of sorts too, with Tick Tock and Ledged Up.
So nothing that will turn your head, or remarkable on first listen but it's a good LP with a clear plan.