Tex-Mex dining for the ears
Tex-Mex dining for the ears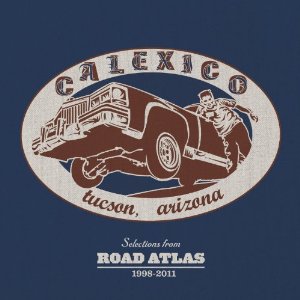 Calexico have recently released a lush, stunningly packaged, hand numbered, limited edition vinyl box set entitled Road Atlas 1998-2011. It's a thing of beauty and not your standard run-of-the-mill box set either . It collects not the studio albums of the band but instead the eight self-released tour albums the band have created. Sadly, you can't have one of them.
All 1100 are sold out (Calexico fans are greedy for this kind of thing) so unless you're prepared to pay somebody over the odds in an online auction, you'll probably never get the chance to stroke its delightful discs. What you can do, if you so wish, is buy the original cds from Calexico if you turn up at a gig – or through their website if they ever get their store back online! If you're not quite tempted yet, or wonder if you're really that much of a Calexico fan to want to venture into their 'tour' offerings then here they come with Selections from Road Atlas 1998-2011. Which is nice.
Sampling selections from a bunch of off-cut albums may not sound like everyone's cup of tea and the idea of a "Greatest Hits Partly Live" may well have you automatically deciding that this is a ruthless cash-in and not worth anybody's effort; save for the kind of fan who will shell out for hand numbered, limited edition vinyl box sets of albums they already own. Well, there are a few things you need to consider if you already find yourselves cementing those kinds of ideas in your head. One, this is Calexico we're talking about so there aren't too many hits involved. Two, you can't fault their musicianship and some of their live discs are among the best things they've ever done. Three, with this disc you get a feint whiff of the main dish and if it's not your cup of tea, then you really don't have to bother dishing out for the main course now do you?
Having said that, if you've already decided that you're not a Calexico fan – and if you have what the hell are you doing still reading? – then this will certainly fail to change your mind. Most of the album sounds like the soundtrack to a Western that's yet to be made and the rest of it contains excerpts from soundtracks the band have already made (there are two tracks from their Circo documentary soundtrack on here.) Their music is dismissed by a friend of Incendiary's as Tex-Mex dining for the ears. Personally, I see that as a compliment. Just pass me the Tabasco sauce and I'll be a happy man.
What I find amazing about this compilation is that, although the songs cover more than a decade in time, they hang together fantastically well. This may well be one of the best Calexico releases ever! It feels like a proper album, which is a mighty compliment for this kind of release. When they say the songs have seen selected, they mean personally, affectionately and carefully selected. Ok, I could live without the farty horns of Boletos, but its only a minute and a half long and every album is allowed a clunker as far as I'm concerned. Also, I wish that Entrenando A Los Tigres was more than double its length (a paltry 1.13!) but those are the two selections from Circo so there are probably editing reasons for their brevity. Elsewhere, there are some majestic things to be found. The live version of Lost In Space is fantastic and the feintly soulful, slightly funky Detroit Steam proves the band venture into more than the Tex-Mex territory they're renowned for. There's also a live version of Man Made Lake recorded at the AB in Brussels and seems as that's one of the best venues on the planet and the crowd are always amazing there, you can bet your bottom dollar that this is worth wrapping your ears around.
It may well be a mixed bag, but this is like buying a bag of Revels with only one coffee flavoured sweet in it. That, my friends, is what you call a result! Selections from Road Atlas is well worth your time and effort so hop right in and let's go for a drive.