The triumphant return of Minny Pops; with lead supporting role from Rats on Rafts, ably assisted by Jack and the Beanstalks, Womb and Viv Albertine.
The triumphant return of Minny Pops; with lead supporting role from Rats on Rafts, ably assisted by Jack and the Beanstalks, Womb and Viv Albertine.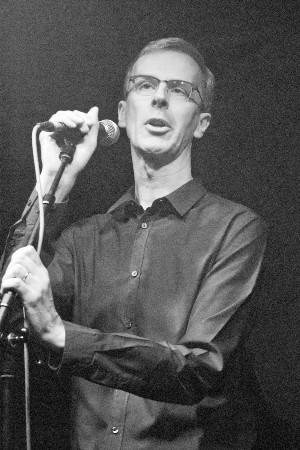 image courtesy of http://www.twitter.com/@fotografica137
A play in four acts.
Plug, Sheffield– 19 / 01/2012
It's taken a lot of work (eight months or so) and the odd Thai meal with Wally van Middendorp to see Minny Pops get back on the road in the UK. And now looking at a sparsely populated Plug in Sheffield it does seem more and more like this time was preparation for some dreadful, toe curling folié de grandeur, enacted in an increasingly grisly manner over four nights.
It's also been weird promoting this tour, the combination of a name unfortunately associated with another – far crappier and sadly more famous Dutch novelty act, a 30 year hiatus and the fact that both the headline and main support bands are Dutch means that, outside of a few champions, (and they deserve to be mentioned here, step forward Franz Ferdinand drummer Paul Thompson, Tim Burgess, Dan Maier, James Nice, John Cooper, the Quietus lads, Manchester Music's Cath Aubergine and Louder than War's John Robb), it's been hard going. As Paul Thompson remarked, seeing who's up for Minny Pops has really sorted out the wheat from the chaff. And sitting here in Plug, I'm glad I've had about 8 pints… I know Sheffield isn't easy in terms of mustering troops to watch gigs nowadays, but this crowd is a tad ridiculous. Or so I think. Long Blonde Dorian Cox, deejay for the night, congratulates us on getting so many out. Really?
Anyway first up are Jack and the Beanstalks playing their last ever gig. A classic garage rock five piece, their singer looks like a South Yorkshire take on Todd Rundgren or Screaming Lord Sutch. My immediate thoughts are why on earth do they want to split up? They're fiery, exciting, and in the singer Jack Clayton have a performer of considerable charm. While not doing anything that strays away from the psych/soul end of Nuggets, the gig is a real blast and actually a gauntlet thrown down to everyone else. People relax, smile, start to (in that camp, matronly Sheffield way) ever so slightly to wig out. Clayton's pièce de resistance is to periodically summon a derisory flick of the wrist – often signalling a key or chord change in the music – triggering thoughts of a mild form of Bacchanalian abandon. It will be interesting to see what life-form the embers and ashes of this band will cultivate.
Then it's time for Rats on Rafts, slinking onstage in that nonchalant manner they have, fresh from Marc Riley's Beeb session in Manchester. Normally their gig begins with a bang, this time with a snap as Arnoud's string breaks just at the point when the Bunnymen-tastic Moon Is Big guitar part kicks in. Not to matter, this is taken as a matter of fact and Rats construct a gig full of their trademark high-octane pop, awash in crystalline guitar and a thunderous rhythm section. To my mind they have a typically Rotterdam manner of constructing their sets, which, in a strange way, mirrors that city's architecture: first sort the base of the building out then add the outrageous stuff on top to make a real show. Their set is built round three partially submerged pillars; Moon is Big, a ridiculously wigged-out version of Kiem's Money Man and the pop gold rush of God Is Dead, all of which serve to keep people on their toes. Rat's showpiece building, the one firing lasers from the top is most definitely the ten minute groove that is Jazz; a song which starts to see people go ape with a mixture of surprise and glee. The crowd are by this point pretty much blown away, this Dutch lot can't be that good can they? Quite like those first great foreign players in the Premier League in the 1990s, the Zolas, Ginolas, Bergkamps, et al… Rats are showing the complacent Brits what can be achieved if you apply your talents to the work and not the myth.
And now, it's Minny Pops. I'm nervous, and not sure what to expect as having only seen the hesitant Roodkapje gig in December. They certainly look up for it, Wally in particular a mix of very human menace and extra-terrestrial charm. In fact, it would surprise me not one jot if at any point he would say "hi I'm an alien I mean no harm/be my friend earthling"…
Three minutes later and all nerves are gone; after hearing the first rich, sonorous bars of Vogel/Kogel, it would be a mild understatement to say that I'm blown away by their menace and power. I was expecting the arty, existential side for sure. You could say that if Rats are the skilled builders and foremen then Minny Pops are the architects. But adding Mark from Mecano on guitar was a master stroke, the Pops balance their synth aestheticism against warm brushstrokes of pedal feedback and Wim Dekker's increasingly thumping beat. It's cold and menacing for sure, but it's very human music. And very different than synth music created today; in that Minny Pops made music that was not created to be programmed, or to work as a malleable entity in a studio. It's actually quite shocking and direct – especially in the way it stops and starts and people in the audience are not expecting this at all. By the end, and despite Wally's understandable "little chats" now and again about being back in the UK, most people, We Happy Few – are beaming.
Brudenell, Leeds – 20 / 1 / 2012
Apparently we're making the gig free at the Brudenell. What?!? After all that work? "Logistics and communications issues" mean that sales have been poor and to get a crowd – any crowd – we're opening doors to one and all. A flood of last minute publicity from the Brudey itself ensures that this great venue gets a decent amount of people including the lads from the nearby works and the regular suppers who have been propping up the main bar since the weekend started at 5pm. This crowd will make the gig interesting in itself… We have Goths out from the hills too, and a number of people who heard Rats on Riley and came to see, (to quote the Charlatans), "what all the fuss is all about"…
No local support sees Rats on Rafts go on late (and means that I miss the Minny Pops set in a dash to get back to Sheff, typical) but I will say that Rats throw a few surprises into their set, their classic unrecorded track Fire gets an airing, a tragically underrated song that is full of vim and vigour, and Emma Sophia – their bastard daughter of Velocity Girl and Mersey Paradise – escapes the playpen too. As usual by God Is Dead there's a sort of Ceallaigh going on amongst the Bright Young Things, I even see a Gothicke type essaying a moping swaying dance which I think, (my Goth signal handbook being stuck down the back of the settee since 1987), means he likes it. Best of all is the remarkable sight of some old gent wearing a high vis workman's jacket who, profoundly moved by the thunder Rats make, has thrown down his two sticks and tries, Lazarus-like, to walk towards the band. I am the Resurrection indeed.
Later I get a text from Cath Aubergine who informs me that some kids on the train to Huddersfield are going ape about the gig and then texts me this after I ask about Minny Pops;
"Minny Pops are deeply weird. I like that!"
That's good enough. I have a sense that, maybe like that moment when Hitler attacked the USSR in 1941, that the tide has turned.
Gullivers, Manchester – 21/01/2012
Bags dropped off, pie inside me, and pints in the Castle pub on Oldham Street. This day feels good. Better already as the West Yorks obfuscation has lifted and that damp slightly mystical air of Lancashire (yes, no arguing) has begun to irrigate my thoughts. By 7pm we're chatting onto all sorts of people; Incendiary writers, Modern Painters, Air Cav, Franz, John Robb, my brother, hotfoot from Oswaldtwistle and a lad from Gnod… not to mention the support band Womb who are fizzing with a sort of expectancy I wasn't ready for at all. If it means this much to them to play with the Minny Pops then we must have landed on a good musical leyline.
Womb are on first and nothing, nothing, prepares me for this assault. Their sound is visceral, rumbling elemental stuff, existing on a number of past and future planes. Womb's music has a direct correlation with their name, in that it seems to be to be a fluid entity, nourishing at times and opaque and cloudy at others, but always germinating ideas and formulating new movement through its primordial stew. With my Ambassador of Kraut hat on I'd say that they've somehow managed to catch hold of the last vestiges of that omphalos spirit that drove the communes of Munich through Amon Düül, and adding the acerbic Frankish attitude that gave birth to the rumblings of Floh de Cologne. It's killer. They have a video behind them too, where a giant girl seems to be knocking down council flats – it's incredibly inspiring.
A quick change and then Rats on Rafts saunter on. What makes watching them take the stage so exciting is that they have no interest in showing off, or being self-conscious… it's a real Dutch thing that I can guess is like ichor to a UK gig watcher. And what's more exciting is the knowledge that if they are up for it, they deliver in spades. They don't do bad gigs but they do perfunctorily great gigs and then they do gigs full of soul and fire. This is one of the latter. And the North West is their proclaimed spiritual homeland, the one they've always said to me they wanted most to play, first Manchester, then Liverpool: anywhere else is a big lottery to them. They howl and rage through their set, David acting like some wicked young apprentice Druid straight from the stories of Saki, screaming out incantations to an increasingly jumpy crowd. Nights like this one also set their thunderous rhythm section into stark relief, I've often yelled at people during their sets about the thunder of this band, especially Joris and Florian – it's like no other I've seen since the Bunnymen with Pete on drums and Les on bass– there I've said it. The sound is incredible, shards of crystalline, amber-bright music crash about the rafters of this beautiful old building… Money Man becomes a hypnotic groove, literally squeezing the latent rhythm and empathy from the crowd, making them dance. By Jazz the place is going bananas, memories of 87-88 musty be floating around some peoples' minds, people are holding onto me at this point as if I'm at a revivalist meeting and I have to be pushed forward to bear testimony. It's ridiculous what is going on.
No time to be exuberant yet, I have a Sacred Rite to perform. I have been asked to introduce Minny Pops onstage in Manchester which is going to be weird. I walk onto Gullivers small stage and feel the electricity from the crowd surging towards me, cloud-like and yellow-green. And I'm thinking, bloody hell… the atmosphere in this room is incredible… No matter a few words, stolen from John Peel's 50th birthday gig (introducing the Fall – felt appropriate); I'm off and they're on.
At the point when Vogel/Kogel envelops the room in its two-cylinder majesty, it suddenly hits me. It's as if this Dutch double act has performed a trick on Manchester: presenting two elements of this city's musical past on a plate, continental style. First you had the warm, poppy grooves of 87-89, now you have 78-81 beaming back at you, thoughts and wonderings suddenly made flesh and machine. Wally is much more stentorian tonight, none of Sheffield's chats, just silence, abrupt stops, clangs… the beat is like that of an industrial pump from the docks, huge, balloon-like and always menacing, warning you to keep your distance. Most of the set is drawn from Sparks in a Dark Room – Black Eye and Wong are monstrous on the night – this record's metallic clang just keeps going over the audience like the third wave… Being Manchester Fac 31 and Fac 57 get an airing as does a dedication to the late great Rob Gretton. Goddess and Island are just monstrous in their Gothic psycho drama whereas Secret Story and Dolphin's Spurt are literally goose-stepped through, it's crushingly good stuff. The crowd are stunned by this display of intent; people I know who have come mainly because of Rats – or just out of curiosity – are just motionless in awe at this metallic assault. By the end, Wally is screaming at the audience, they won't let him go, but he does.
This has to be one of the gigs of the year.
Upstairs at the Garage, London – 23/01/2012
Dedicated to the memory of Ali Hale.
A day off and then the Big Smoke. If the Manchester gig was about emotion this is far more one crafted from cold, hard gold and iron.
And this feeling persists, despite a nice afternoon watching the Pops sound check and listening in to a bizarre conversation between Wally and the Tour Manager, Milan, on the merits of which oily substance would serve best as a vehicle to anoint Wally with in the show…
You see, a lot of press activity over the weekend from influential types has seen this gig take on the mantle of one of those to be seen at… Tim Burgess and James Nice are deejaying, various well connected types are mulling about. Bloody heck. This is the contract at the point of contact…
The schedule means Rats on Rafts are on first, then Slit Viv Albertine. Rats are anxious, a bit angry. Annoyed that people are coming later than their set, they channel any latent aggression into a spitting display, lumpy at first and initially dogged with technical problems but once Money Man and a marvellous take on Sailor is through they have found their groove. And when Rats lose themselves in their noise they are thrilling proposition. Jazz tonight is killer, Joris hammers his drums as if they are the epitome of all that's wrong and frustrating about the world… their simple "good/bad" outlook and the power of their sound alone, unfettered by any notion of what is cool or right carrying them through. And there are some in this crowd who start to go loose at the seams when Jazz fires off – a manic lad who, literally frothing at the mouth, introduces himself as "someone whose dad played bass in the Fall" demands to meet the band. Well it's a triumph of sorts – maybe a triumph that they don't realise as yet.
Next is Viv Albertine who is alone tonight and plays charming, meandering troubadour music built on what I take to be a Barrett-esque vibe but a music that I can't take in fully as I'm whisked away after the first track to attend to some grindingly annoying business. And nearly end up in a scrap with some complete London nobber type. I return to cheers and a departing Ms Albertine. Bugger.
I'm not moving for Minny Pops. My role is again to introduce the band and once I've come out with some stuff in cod-Dutch, Minny Pops walk on and stand in complete silence for at least a minute. It's completely unnerving. But it's a brilliant move. This silence reinforces the fact that this is no revival show to tick off; this gig is about the here and now. The band smash through their set, the opening being a (literally) screaming Vogel/Kogel. I knew Wally was in a determined mood that day but it looks like he's up for crushing London under his well-heeled shoe. He's also wearing lippy, informing tracks like Wong and New Religion with a cod-paranoid intensity that has people gasping.
As in Manchester the Factory singles get a tremendous reception and also get a work-out that has every ounce of sonic fat removed from them, especially by bassist Pieter Mulder – as a pal said, it must be incredible to announce a song by its catalogue number and everyone to get and appreciate what you say but there again it's about time Minny Pops had such appreciation coming their way. And, as hinted at earlier, a sort of anointment for the king over the water happened during a lunatic ending – with the Robots in Disguise singer jumping on stage and covering Wally with Maple Syrup or honey. Apparently he got covered in his lyric sheet too…
I leave for south of the river feeling that somehow this is a triumph but one that hasn't made itself manifest as yet. At least no trendy worth their salt won't dare to snigger about the old Mini Pops / Minny Pops jokes on a social media platform near you for a while…