Now then, there's enough farty saxophones and fannying around tooting on clarinets in here to put anybody off so if that doesn't sound like your kind of thing then by all means continue to walk right by this little record

Now then, there's enough farty saxophones and fannying around tooting on clarinets in here to put anybody off so if that doesn't sound like your kind of thing then by all means continue to walk right by this little record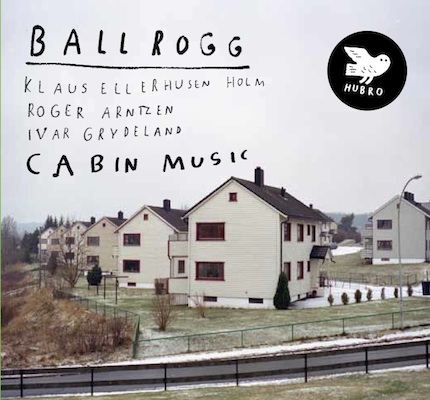 When a four track record spins out over thirty five minutes you know you're in for something reasonably pretentious. That still doesn't prepare you for what Ball Rogg have got up their sleeves. Or in their hands, as it were. Let's list the main ingredients: Alto saxophone, clarinet, double bass, pedal steel guitar, banjo. Sprinkle in some "electronics and fieldrecordings" and a small dollop of "radio" and essentially what you end up with is a 35 minute school band jam. Now then, there's enough farty saxophones and fannying around tooting on clarinets in here to put anybody off so if that doesn't sound like your kind of thing then by all means continue to walk right by this little record.
HOWEVER, if you're the type of person who's quite patient and is willing to surrender yourselves over to a bunch of Scandinavians with wind instruments, then you may well be in for a bit of a treat. True, Cabin Music may give more of you cabin fever than anything rewarding but there's something quite hypnotic, quite meditative about this entire record that can become quite captivating. There aren't any real melodies here, no real narrative thread on show, but there are enough fragments, enough individual motifs and phrases that are truly interesting. They can help you can forgive the occasional saxophone fart or clarinet wail. I'm not quite sure what the pedal steel guitar is meant to do apart from unsettle you because it's not so much played as tortured but it's still rather interesting.
It may not be for everyone, but Cabin Music could certainly make your next bus journey a lot more interesting. Hole yourselves up with this for a few days and who knows what might happen to you? It may well damage your frame of mind but that's a small price to pay for something this intruiging. Isn't it?