Beal screamed out his torch songs, with a taste for in yer face drama, he indulged in a whole variety of props and poses; covering up in a cape, waving the mic stand like a Claymore, taking off his belt and whipping the floor like a sex crazed fetishist…

Beal screamed out his torch songs, with a taste for in yer face drama, he indulged in a whole variety of props and poses; covering up in a cape, waving the mic stand like a Claymore, taking off his belt and whipping the floor like a sex crazed fetishist…
THURSDAY 08/08/2012
"John the Baptist, he comes up to me, he's wearing a hospital smock that flaps open at the back, he said, "hi guys I wonder if you've got 50 cents, I need a shit". I gave him two; he said "that's awesome". I hate that phrase but when he used it, in his predicament, it seemed the natural thing to say you know; it felt okay. I didn't want to ask him why he had three toothbrushes".
After three days at Haldern you start to view things through a different lens. The temperature is unique here; it can be freezing at night when, ten miles down the road, people will be unable to sleep due to the heat. This affects people's heads. Here in the Rhine basin the swampy, bucolic micro-climate takes hold and alters the warp and weft of your perceptions. Things shift. Time can be viewed like two mirrors facing each other – you can knock on the glass and see people on the other side, but they can't hear you. No one acts like they're at a festival. I suppose it's a bit like entering a Syd Barrett song. That's how it feels, for me at any rate. And before you jump to any conclusions, no: absolutely not. I stick to beer from the tap, in a glass.
Damian: Unless it's vodka, from a bottle. With lime.
Richard: Where was I?
Oh yes… The festival, maybe unbeknownst to itself, takes advantage of this changing climate. In fact, the mantra of "always changing, always the same" is Haldern's secret we guess. Incendiary have (in various guises) been coming here for 10 years (it's my eighth time) and each year there's something new in the festival's make up that allows the prism to refract a different light. This year we had a new stage for a night in the biergarten, more gigs in the church, cross-dressers serving food and new beer.
"German bands from nowadays they like to be loved, they'll do what they feel the crowd wants them to do, it's like taking orders, and they're happy taking orders."
I thought on this a bit; I suppose it's a fair point, my tastes in German music from ('68 to now) are not those of the German mainstream. I could certainly see the point when Kraft Klub played the biergarten that first evening. It was fun, and they had a nice line in that inclusive smart, up-tempo alternative sing-along stuff that Kaiser Chiefs and Franz Ferdinand perfected. The crowd and band were also able to convince each other that this was what it was all about, feeding off each other's abandon. No-one seemed concerned whether these strident songs had any soul – we couldn't tell you in any case – our German isn't up to that. Maybe soul and personality wasn't needed. Like some energy drink designed to pick you up and nothing more, the gig did just that for this audience. Maybe the crowd needed just that and nothing more; maybe they were still in a state of rude awakening, because before Kraft Klub had embarked on their revival act Iceage had played.
Anyway: I had to tell you about Kraft Klub before I could start to tell you about Iceage.
Damian: I was hoping you'd skipped them.
Richard: Because, opening matters in this 29th Haldern at 5 in the afternoon, Iceage weren't taking any orders or looking for love. Iceage couldn't give a toss about what an opening act should do on a glorious summer evening in a packed, hopeful, and essentially gentle Spiegel Tent. There is something about this band that is truly elemental. The music from their brilliant LP New Brigade is like some raw distilled alcohol or like a blast furnace; they are a melting pot, sharp to the touch, imperfect in form, stinging to the eye. Listening to their crunching metallic sound, it's easy to conjure up thoughts about acts of fission, or creation. In the brutally precise way that equations seek to describe an act of physics, acts that are terrifying if considered in their elemental, physical form, Iceage draw out their vision with clear, clean lines. The imagining part is left to us: like plunging a red hot metal bar into water, it's the quality of the act of shock that counts. And like one famous equation the unstoppable force of Iceage met the immovable, lovable, bovine object of the Haldern crowd. At Haldern, the crowd just soaked it up, held back by a sense of decency maybe, wondering if it would be OK to nod along. I've seen Iceage a couple of times in NL, and normally the singer lad likes to throw himself into the audience. This time security and crash barriers (installed after the British Sea Power bulb riot of happy memory) kept him back. In between howling out his lyrics, the singer contented himself with pulling Blakean poses. Like some angry animal looking out of his cage in a zoo he had to content himself with prowling and pacing the stage, staring balefully out – a scruffy take on Milton's Satan, or Gabriel Ernest – falling over his monitor almost as an act of light relief. I'm betting that there's no way Iceage can continue to be such a remarkable band if they submit to more than a few years of traditional music industry grind – their music is impersonal, thoughtless and fucking exciting in the way of music made by people unconcerned with other people. For now I'll take what they do as a parched man looking for water in the desert.
Damian: I'll be quick because we have argued about this incessantly for days. They look good, sure. Their on stage attitude is great. They play fast and fierce but I still don't see the point of it all. If all they want to do is make a loud racket then I'm sure one of their parents has a garage they can practise in. At least there I won't have to stand around being bored by it all. I grew out of my teenage whining phase quite a long time ago and I found nothing much entertaining within Ice Age's half hour set of what seemed like a stroppy teenager feeling sorry for himself. To be honest, they seemed pretty bored with it all. So was I. I much prefer middle aged whining now, thank you very much.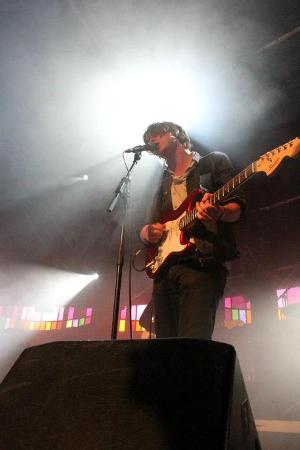 great band or stroppy bairns?
Richard: Things were upside down. As we mentioned, people scampered off to find a life raft (or just something they enjoyed) in the form of Kraftclub.
Damian: Who played a blinder.
Richard: However the idea that the pressure Iceage had created would be diffused in the tent was scotched with the performance of Willis Earl Beal. Backed by a reel to reel and armed with a litre bottle of vodka, Beal teetered menacingly round the stage: the music veering between a kind of macabre backstreet cabaret and hard, uncompromising blasts of blues and soul. This gig was a revelation: a big lad, built like a boxer.
Damian: He looked like Blade. Or certainly a drunken Wesley Snipes.
Richard: Drawing on R & B and some kind of Gothic electro, it was akin to seeing Screamin' Jay Hawkins doing tracks like I Am The Cool, Bite It or Maybe. Beal's had – and dished out – tough moments in his life: and because of that there's violence and uncompromising hardness floating around in his Muse.
Damian: Everything just felt so raw and emotional. He had the crowd hanging on his every word. His voice simply commanded attention and I found the whole set to be quite hypnotic; that sense enforced by the looped samples and drumbeats cascading out of his reel to reel. It was an uncluttered and electrifying performance.
Richard: So this wasn't any tribute act, but neither was it some kind of queasy, or aggressive plea for popularity – there just seems to be no compromise in what he does. That it was all a bit cavalier, that the reel to reel overran at times, or that he dropped things or muttered on about nothing in particular is probably just there to remind you that this is no academic exercise in "being a musician". I'm certainly not going to argue the toss with him. Anyway who gives a shit when he's got a voice that could warn ships away from each other on a dark night? Beal screamed out his torch songs, with a taste for in yer face drama, he indulged in a whole variety of props and poses; covering up in a cape, waving the mic stand like a Claymore, taking off his belt and whipping the floor like a sex crazed fetishist… (The whipping was dedicated to "that bitch in Chicago" by the way). This time the crowd were more than happy to go along with the whole spectacle. You couldn't but, given his outstanding presence.
Damian: I was completely blown away by this. I felt emotionally wrecked afterwards and it took me quite a while to shake it off. The image of him stood precariously on a chair; cape wrapped around his head, looking like a rider of Mordor, piercing his chest with a mic stand will haunt me for quite a while. The show was completely theatrical, veering from pantomime to avant garde dance in some sections and yet it felt like a truly honest performance. His lyrics are unflinchingly raw, his delivery absolutely full force and assured. He is a revelation. He seems like a damaged, somewhat dangerous individual but one who I'd happily hear tales from again. And again. And again. As he said himself, "I'm trying to give my all for you. Leave it all on the stage y'all." He certainly did. Extraordinary.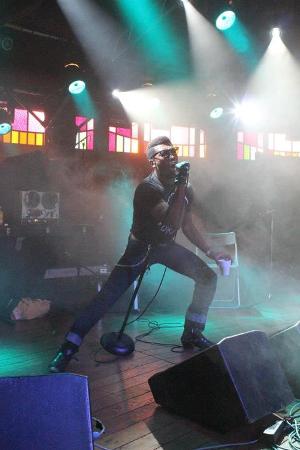 Richard: Following that, we had Emanuel and the Fear in the biergarten, an earnest and strident six piece replete with flutes, fiddles and cello and all sorts of other things. The music was widescreen, rootsy, hobo, and at times really great. It did take a while to adjust after the wigging our senses had just got from Mr Beal, and yes you just had to allow the fact that Emanuel and the Fear are one of many, many bands doing this kind of music. And what they do, they do well, especially when they tuned it up a bit and starting bowling along with an increasingly frazzled and sun-kissed crowd. Their singer has a rasping delivery that works really great, though it's fair to say they are an essentially urban band; their rootsy tumbledown Muse forged by concrete and steel more than any grasslands.
Damian: They do hail from Brooklyn, after all.
Richard: Haldern loves folk of any kind it seems and once the band got a little looser and more into making a din, they turned round a quiet audience who'd seemed more intent on taking advantage of the evening sun. We enjoyed them a lot.
Remember that we said Haldern follows the dictat of "always changing, always the same"? Well we had beer, as always, but the Diebels brewery sponsorship had ended: replaced by Der Köning pilsner.
Ah Der Köning; there's a famous cartoon in Germany: A guy drinking, looking happy; "King for a day" and the drawing for the next day shows the same guy with his head over the toilet – yeah, beggar for life".
Richard: Incendiary had a glorious Thursday night taking advantage of the naïveté and good nature of the lovely helpful bar staff who, (before they were reprimanded by their boss), assured us the beer was free to the press. (The after affects were – initially – volcanic. Proceed with caution). Because of this weakness we only caught a bit of Jamie Commons who – in the words of some moonbeam-stroked local – had an incredibly old vibe, man. The lad has a presence about him, he's an entertainer of the old school despite being about 20, and we are pissed that we only caught a few minutes.
After this we staggered back outside to see War on Drugs, whose LP we have played a lot in the past year. Although it was a good gig, and they are a very good band indeed, it was, in a way, a let-down – mainly because the tension, bombast and fire of the LP which we like so much was muted in the Biergarten, replaced with a kind of ever-building groove that tenderly carried the drawn out solos and meanderings of the singer. The balance was lost at times. Don't get us wrong, it was good, sometimes quietly anthemic and beautiful. At others it was well, pleasant enough.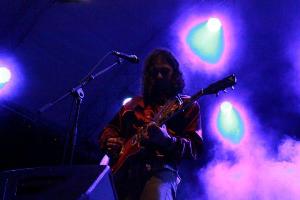 Damian: I went with it. I knew what to expect though, having seen them live last year. They're a band that likes to build into a gentle rhythm and then run with it, often for quite a while. They remind me of Crazy Horse in that sense; although the singer is definitely more Dylan than Young and the band can certainly play more notes and keep in time than Talbot, Molina and Sampedro. The singer wore a Tom Petty jacket and I think that says most of what you need to know. They play at that kind of laid back tempo that Petty pretty much made his own, only they draw things out a lot more. I like the band a lot; I find it easy to get carried along with their tunes while they're playing, even if they're quickly forgotten about afterwards. War On Drugs just kind of drift on by, like a very brief but exciting thunderstorm. They're not going to destroy your house and flood the riverbanks, but they'll keep your crops watered and give you one hell of a show. I found myself feeling pleasantly relaxed after all that.
Richard: We were ready for Charles Bradley though, and glad we were too. Presented like an old fashioned soul revue, Bradley's music is very, very much in the vein of Brown or Redding, (reading the press bumpf he was spotted at a James brown tribute show and spent half his life as a JB tribute act) but that doesn't matter. Soul music can grab you like no other, as it's a music that is very much of the moment, it's about getting caught up in a hook or a beat, letting go, being part of a congregation. You can easily to stand on the side lines and convince yourself that you know that this is a hoary old tradition, or this genre's not really moved on with the times. But that misses the point, like R n B this isn't music to be dismissed or ignored or dissected by a critic. Pulling out all the stops, squealing, grunting, wailing, sweating like an ox, and taking advantage of the unique atmosphere of the Spiegel tent, Bradley threw himself into the whole act. Soul always was about making an act out of real tough or humdrum times and as someone whose certainly had a share of that, Bradley could bring real content and perspective to the show. Haldern's crowd went wild and it was hard not to be affected by it all in the moment. And what is life except for a series of moments?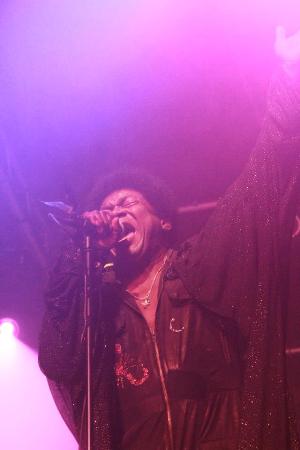 Damian: It took Bradley to shake my head clear of Willis Earl Beal. Not only that, he made me cry. With sheer happiness. I found myself standing to the side of the stage, practically back stage, with as much a view of the crowd as the band themselves and it was a pleasure to witness. The band are great, let's not beat about the bush and Bradley is a consummate performer. His lifetime as a James brown impersonator means he has an armoury of stage tricks at his disposal. Knee bends, spins, twists and the occasional scream for no apparent reason. All of which are brought out, on multiple occasions. He's even stolen the cape routine! But who gives a monkeys how much he's learned from the master because he sounds fantastic. But the reason the show was great wasn't just because of the band, or the music, or the theatrics, it was the crowd.
For the first few numbers, the kids near the front "weren't digging it, man." Then, after two or three songs, the heads started to bob, the arms started to wave and clap along and smiles began to appear. Before long the kids were dancing, truly dancing, teeth shining like a room for of Cheshire cats, all delighted, enthused and enthralled by what they were witnessing. By the end, Bradley was hugged by almost everybody within sight and those that couldn't hug him, hugged each other. It was an emotional and truly uplifting show and I'm just glad I was there to witness it. Wonderful.
Richard: By the time Apparat Band appeared we had no real idea what was going on, and although to my (by then) limited perception it sounded okay – nice gentle atmospheric pop in the style of the Blue Nile – it seemed like a good way to end the day.