I'm paraphrasing here but one line the girl bawled out, "My boyfriend likes me from behind/and you know I don't mind" actually got the crowd hollering and bouncing along, it was extraordinary.

I'm paraphrasing here but one line the girl bawled out, "My boyfriend likes me from behind/and you know I don't mind" actually got the crowd hollering and bouncing along, it was extraordinary.
SATURDAY 11/08/2012
"You drink this and then we fill it with the vodka. No, we don't know what the vodka is either. It comes from Berlin, with no labels. Try. It makes everyone happy"
Richard: Incendiary had been looking forward to this day. Not because of vodka but because of music, we hasten to add.
We trotted on down to the main stage in high expectation to catch British Expeditionary Force, a band that wasn't a band for a long time and now (so we were informed afterwards by members of said band) playing only their second live gig in five years. Blessed with two drummers, a bassist, and three keyboard / gadget / magic electrical box players and a guitarist the band were – like Evelyn Waugh's Miss Tin and Dame Mildred Porch – prepared for every eventuality. Initially unprepossessing, looking like they'd wandered by mistake onto the stage, (I'm sure in some ways they felt they had), they quietly went about their business, growing in confidence and timbre as an increasingly appreciative crowd swelled and started to quietly groove along. And Haldern's crowds are rarely wrong when comparatively sober.
Damian: If they didn't exactly come and conquer, they certainly came and warmed everyone up quite nicely. The band looked like they were having a decent time and their extended wig outs, trading keyboard and synth noises from one side of the stage to the other, with howling squalls of guitar noise and incessant drumming from both stools built up a pretty impressive wall of sound; which is a difficult thing to pull off at 1 in the afternoon.
Richard: Without playing to their vainer sides we think a big stage suits them and they should get on one more often. Their music has a quiet, charming candour about it; and although built round a primarily electro/glitchcore framework it's actually stadium electro-pop in some ways – but without any bluster.
Damian: Think of Sea Power's lighter moments and mangle them through a laptop or two and you may get an idea of where they're at.
Richard: Maybe it's something to do with the pacing of the vocals, or the way they are great at blending a soulful, confessional element into their big, broad-brush sounds. They have a clever way of adding classic German sounds in there, someone likes Klaus Dinger's or Manfred Neumeier's mantra-like rhythms and someone has been listening to Harmonia, too. But these elements have always crept into British synth music: and we can all name plenty of names. Suffice to say I could certainly imagine their music being played in out of town shopping centres as comfortable couples graze contentedly through the bargains – this isn't meant as a derogatory remark by the way, I'm trying to say their unassuming and intelligent music has the framework to be very popular. Dark horses.
Damian: If they ever venture out of their bedrooms again within the next five years, we suggest you check em out.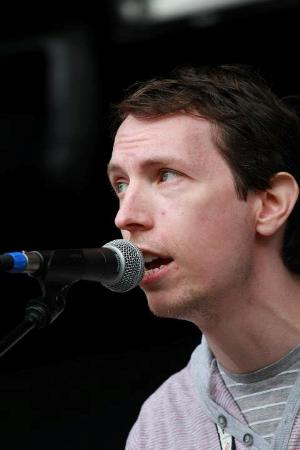 Richard: Off to the tent to catch Guillemots, who were – frankly – sensational. Without ever really warming to his style, (despite, I hope, always conceding the lad Dangerfield has a lot of talent), we have to say that whatever's happened in the last year or so has been the making of him. He's got that Summer Holiday wholesomeness that I'm never going to accept but bloody hell, Guillemots tore down the Spiegel Tent. I mean tore it down. The audience, always pretty young at Haldern and always very broad minded, got it; for them it was like a cool end of term show and they threw themselves into the fun. Fyfe Dangerfield in this role was in his element: he morphed into a classic old fashioned entertainer putting on a rock gang show or a punk Tim Rice; I wonder what in blazes he's doing treading the indie circuit. (Playing to a wildly appreciative crowd in Germany that's what, Foster you fool). The ending was jaw dropping. Gawky, rolling his head like he was trying to screw it back on, smashing the keys on his piano like some music teacher playing Sound of Music as an Oi track, he led his band enthusiastically onwards crashing through the last few bars like a colt kicking down a gate. The crowd erupted. Bloody hell.
Damian: Acoustic shows aren't meant to be this much fun. They're usually a load of bollocks. Not so here, as everyone insisted on telling me. You see, I was away on official Incendiary business and am gutted I missed it, quite frankly. This seems to be the one that got away from me this year.
Richard: After this a slight let down as the sound bust on the main stage, leaving charming folk duo Bowerbirds resorting to conducting a pop quiz with a bemused but patient crowd.
Damian: In many ways this was my favourite part of their show. One broken keyboard reduced them into nervous, dumbstruck fools with no idea of what to do next. The answer, as long haired roadies ran around searching for gaffer tape and hammers, was to ask the crowd questions like "What's the capital of Wisconsin?" And, "What's the best cheese in the world?" For some reason, the crowd seemed to go for Gouda, which worries me slightly.
Richard: This seemed to add a bit of edge to their set: when able to play their very appealing and lush folk, they began, (and I suppose quite rightly from their perspective), to enter their comfort zones and entertain as American bands are so adept at doing. It was nice, and we liked it.
Damian: I think I enjoyed the atmosphere more than their show, to be frank. They were certainly pleasant enough, but I can't say I heard anything that really grabbed my attention, aside from the questions about cheese. I enjoyed just wandering around the festival grounds, milling through the throng of skimpily clad sunbathers and soaking up some rays. It was lovely but hardly exciting. Even the band themselves seemed to be happy just to play early so they could hang out and watch some bands later on. We had the same idea; sometimes just being part of a festival vibe is enough to give you your kicks.
Richard: A dash…
Damian: Or indeed a slow, meandering wander
Richard: to the Spiegel Tent again to take in Honig; a singer songwriter from Düsseldorf backed by a full band. The lad has a warm voice and a really nice way with a melody line. His band isn't too shabby either, being able to build up a shimmering and soulful sound. I can see his music being incredibly popular as it is empathic and pitched at the teen heart. The only thing we couldn't get our heads round is the lad's switch from matey inter-song banter with the crowd (in German, of course) to delivering winsome lyrics with a Midwest twang. I'd love it sometime if just someone dared to sing with their own accent – like Nico, or Ralf Huetter. Just for a change…
Damian: Agreed. Kraft Klub proved a couple of days previously that singing in your native language shouldn't hold you back but perhaps it was the sheer yearning of Honig that turned us off a little. He certainly wears his heart on his sleeve when he's singing, that's for sure. A new signing to the Haldern Pop label, I think he'll find a place in many a home, usually to be played in the background at dinner parties. Good, decent stuff all round, but a bit too OTT for us right at that moment, perhaps.
Richard: By this time the heat was settling above Haldern Pop like some huge inescapable presence, lulling you with ideas of sweet abandon, hurting you with searing flashes of pain: especially if you'd been on the pop. The day before, Other Lives had mastered this heat and tamed it, riding it smoothly like some wild mare over the prairie. Today we had a different interpretation of how to turn blinding sweat-inducing discomfort to your advantage. Team Me were excited by the heat, I suppose it's because they hail from Norway and any moment in the sun inspires some St Vitus-like reaction. There were a lot of them, all brightly dressed, all dapper enough in their straight leg jeans and "sneaker pumps". They proceeded to make an absolute howling racket, always looking for an opportunity to jump around, yell, and run across the stage, goofily greeting other band members as would a set of Springer Spaniels out for a walk. Their music is, well, broadly described as poppy emo, or screamo, or whatever… reliant on brash injections of tempo energy, and reckless, sugary chord changes.
Damian: They also filled the front of the stage with large balloons, which turned the crowd into happy, bouncing children almost immediately as they had something to play with. As for the band, Team me will be soundtracking a mobile phone advert of note in the coming months, I assure you. They're this year's Alphabeat and every single bit as sugary sweet as that sounds. At least they were for a while, anyway.
Richard: Just at the point when we'd decided to leave it to the young folks the band changed direction and started to build up a shimmering beautiful slow number, which floated across the field like a burnished, see-through veil of golden thread. It was truly beautiful to be caught up in this static, but pliable wall of texture and harmony. What was that about?
Damian: their final song was a whole world away from the Sunny Delight style sweet pop of the rest of the set. In truth, it was rather extraordinary, if only for its surprise element and we'd be happy to hear more of that kind of thing from them. Much more.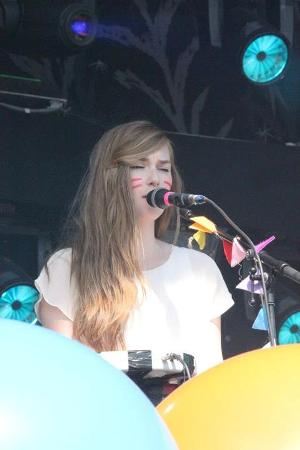 Richard: We can't say much about Nigel Wright in the Spiegel Tent apart from he didn't really get going. And his cover of Hallelujah rumbled around in a circle. Oh well. Back on the main stage, Grant Lee Buffalo greeted us all with the clarion call "let's make some noise" and they did; bashing out their old hits and creating a good freewheeling vibe. Lots of the rock mums and dads grooved about at this point. It was a standard gig, not doing anything remarkable, but it certainly entertained and was loud enough to kick-start people out of their afternoon stupor.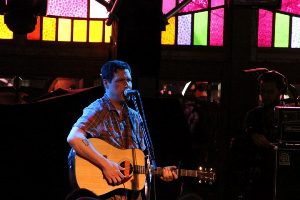 Damien Jurado's gig was the complete opposite of Grant Lee Buffalo's; a hushed Spiegel Tent watched this very quiet, self-contained character run through a set of beautiful acoustic numbers, floating across the crowd like gossamer on the wind. His music possesses a considerable emotional hinterland, but it works brilliantly because it is so clearly and directly presented, and so simple seemingly; but, as Jurado himself quipped, two songs that were so inspirational to a couple of people that they dedicated them to their partners were actually songs about madness and divorce. Just shows how subjective happiness is, eh? Back to the main stage to catch Tune-Yards. As we walked back we heard the strains of a tribal beat and a clatter not heard since the Slits or Maximum Joy gave up the ghost. Further inspection revealed a girl and three lads, two on sax (one alto), one on bass – all united through the style statement that is the luminous headband. To say Tune-Yards were the highlight of the day is an understatement.
Damian: They were incredible.
Richard: I liked the LP well enough but until now had enjoyed it without really taking it all in. Just shows what live music does to alter perceptions I suppose. They blew Haldern away with their well-paced mix of Afro-beat, soul mama incantation and distorted cut-up pop. There's an umbilical link from them to Maximum Joy or early Neneh Cherry, the way the melodies are hacked up and presented in spicy segments, the way the beat turns up and instantly propels the music to a new, giddy plane. The lyrics are bawdy, again reminding you of the old bands like Slits or Rip Pig Panic; recycled urban groove music, a whiff of the shebeen or the Restoration stage too – I'm paraphrasing here but one line the girl bawled out, "My boyfriend likes me from behind/and you know I don't mind" actually got the crowd hollering and bouncing along, it was extraordinary.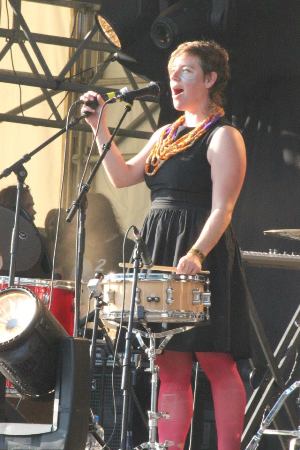 Damian: At times, her voice reminded me of Tracy Chapman, and at others Terrence Trent bloody D'Arby; but in all honesty but no matter who she reminded me of, the hairs on the back of my neck were on end for most of the show. Somehow, the stars were aligned and everything just fell into place. The band were on fire, the PA system held up (for once this afternoon) and the crowd went absolutely ape shit. The field was a heaving throng of dancing buffoons. Those infectious rhythms and those funky horns just carried us all on a wave of joyous abandon. Nobody cared about anything other than to dance and enjoy themselves. Arms were waving, legs were kicking, money makers were indeed being shaken. It was a spine tingling show and a joy to witness. I kept arguing with myself throughout the gig, thinking I'd have to leave early to go and catch Megafaun. I couldn't tear myself away. I stayed till the last note had been played and the triumphant roar of the crowd bid them farewell. Stupendous. Thankfully, Megafaun waited for me. The others, they even found time to find some vodka before joining me.
Richard: By the time we saw Megafaun in the Spiegel Tent we were a little worse for wear. But we did notice that Megafaun are as good as they are on record (and that is very good indeed) and we loved their last number which was a brilliantly rootsy, slightly psychedelic burn out, the sort of thing The Band were great at. In fact, Megafaun are pretty close to The Band, and their covering a Dylan track during the gig sort of cemented this notion.
Damian: Actually I found the Alberta cover to be the one stumbling point in their brief show. They didn't need to do that. What I love about the band is the way they're unafraid to turn corners during a song. Even something like Get Right, which in many ways is a very simple song, is put through the Megafaun grinder and pulled, dragged, twisted and elongated into the kind of extended wig out most bands reserve for the closing moments of a show, to build up a head of steam towards the end. Megafaun played it in the first couple of tracks. And that's what's great about them live, you never really know how long songs are going to take because when they get into a groove they just go with that feeling until they're satisfied. As such, their Haldern show felt painfully short as they only gave themselves time for around 5 songs. Having said that though, they were excellent and won more than a few fans in their brief stint on stage.
Richard: Afterwards Megafaun hung around and signed CD's – lots of them – and we took in a bit of Patrick Watson from afar; (running from stage to stage at this point being an academic exercise). Patrick Watson proved yet again that they are a great festival band and have the sort of numbers that work brilliantly in the open air and make you wonder why you never really listen to them on disc…. for the life of me I can't see the same attraction on record… Turning back into the Spiegel Tent we caught Australia's Boy and Bear who were happily improving their German with the aid of the crowd. Boy and Bear are a pleasant, perky indie band, really there's not much more to be said; they do possess catchy melodies, the singer's got a good, empathic voice and there's a little bit of salt in the stew, despite the songs having a fairly earnest side to them. Now and again the tempo lifted and their buzzing poppy vibe reminded us a bit of the Lemonheads albeit without that band's good natured scruffiness. Over on the main stage, The Maccabees made a racket, at times a pretty good one: again I can't say I've ever really got them, outside of seeing them here at Haldern and each time being vaguely impressed with the way they have got their mojo working. But even now I can never make up my mind whether the studied eccentricities were an act, or the real deal. In their willingness to experiment with Pop's everlasting, ever-giving goodness, they are mutating into a very English take on one of those psyched sixties pop bands like The Nazz or Chocolate Watch Band or Shadows of Knight – for sure they really don't sound like them, but it's this attitude that counts and they are at least pushing their talent and that's good to see. Someone – knowing little of them as an act in the here and now – will "discover" the band 20 years hence, and pronounce them "important"; that is if anyone cares then.
Damian: Haldern will. They almost feel like ever presents here – along with the Guillemots – and yet they never seem to disappoint the crowd. I keep thinking I've had enough of them, then I see them play live here and I think "job well done" every time. Maybe we need to give them some more credit. I doubt we will, but maybe we should. The kids love them, that's for sure.
Richard: Then we repaired to the back stage camp fire and vodka wigwam to ready ourselves for The Afghan Whigs. If there's one unifying, edifyingly wholesome thing to come out of this year's Haldern it is this. At least 50% of Team Incendiary will never allow cheap vodka to sully their lips again. By the time the 'Whigs bounded onstage led by the sinister Mr Dulli, (who for some reason looks like the King of Spades in profile), pretty much all of the audience – Team Incendiary included – were comatose and bewildered with alcohol. The back end of the field was on its collective back, whacked, unable to take the huge prehistoric noise emanating from the stage.
Damian: It's true, the back half of the Hauptbuhne field resembled the aftermath of some battle – albeit with the blood and guts replaced with sunburn and drunken smiles. It's not that the crowd wasn't there, it's just that half of them were no longer standing.
Richard: The Whigs were deafening, it's a long time since we'd heard a hard rock band – in the classic, old fashioned sense of the word, kick out such a racket. This was crunching, unforgiving music; the guitar riffs had been smelted and cast long ago, and had proved trustworthy under many conditions. When we considered this another thought hit us: that the main stage was like a massive blast furnace with Dulli its master smith, the elemental, directing operations. And with the backing of a three guitar assault verging on the noise the MC5 would have mustered, (I'm sure they were trying to out gun the '5, sure of it in retrospect), Dulli could easily sort this bunch of drunk and shell-shocked Krauts out. He refused to let them off the hook. Into the audience he went stirring up what martial vigour remained. The crowd, as if awoken by a rude slap on the chops, got going. And to be honest they should have, as they played a lot of old favourites. We remember some thumping versions of Debonair and Gentlemen and did they play Be Sweet? After 20 minutes I have to be honest and say I really can't remember. Somewhere in the back of my mind there's a voice saying, "I think they did".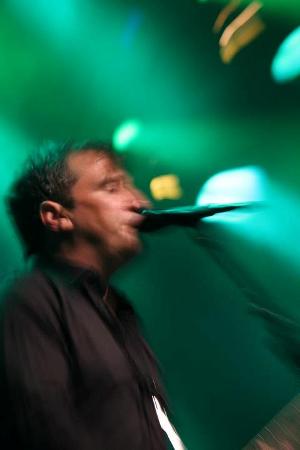 Damian: Being the one member of the team who was vodka free I stood out front with some members of BEF and took in the whole show. Having been a fan of the Whigs for many a year it was a kind of wish fulfilment moment for me to see them play live, having never done that first time around. They simply came on stage and bulldozed the crowd. They brought a storm to Haldern –thankfully not literally – but their rumbling, smoldering noise enveloped the crowd in a sea of dark sonic waves that simply beat everyone about the face until the alcohol wore off and you sobered up enough to realise you were watching something special. What a drummer. What a band. What a noise! And Dulli, on majestic form as usual. What more could a rock fan want? No histrionics, no bullshit. Just muscular, beautiful rock music played with power and precision. Excellent stuff.
Richard: More vodka, more emotional breakdowns and pointless cross country rambles, and time for Wilco who seemed in a splendid mood.
Damian: We had talked all day about how this was going to be either fantastic or absolutely dreadful.
Richard: I was dreading them being the "grumpy" Wilco, but no. They got down and jammed, long lush guitar runs, affirmative songs, good spaced out vibes.
Damian: They were on great form, but that's not really a surprise as they are truly consummate professionals. They're a truly excellent live band, especially in this current line-up. Ok, so Jeff Tweedy may get a big cheer every time he raises his hat, but just how good of a guitarist is Nels Cline? And how good of a drummer is Glen Kotche? Bloody marvellous, that's how. They may have elegantly wandered into the festival, walked off stage and then quickly vanished in a tour bus, but Wilco certainly left their mark on those of us still standing (admittedly fewer than at any point over the weekend). Great, great show.
Richard: In all honesty Wilco sounded even better in the campsite,
Damian: I'm not so sure about that.
Richard: (note to self: one year we will JUST stay in the camping area and see NO bands as we're convinced there's some secret thing we've been missing out on this past decade), where their trippy gig sound-tracked the intense amount of frolicking and burning, and the screeching nymphs wearing strange clothes… The field was buzzing, and, lit by some unearthly glow, like an invading army encamped – but only there to exploit their own sense of fun.
Damian: A quick word on Alt-J. Pleasant. There, that'll do.
"Don't go to the fire they're still at it, it's 8am… no… look it's John the Baptist back from his crap. He's lost his sandals and now he's only got one toothbrush? What does it mean? Time to go home…"
Richard: Bubble burst on another year.
Damian: Until next time Haldern. It's been emotional.