"A guy crowdsurfs through a sea of balloons with a George Michael mask. This is Diagrams, this shouldn't be happening. They're going bananas and it seems Mr Michael impersonator isn't ever going to come down".
"A guy crowdsurfs through a sea of balloons with a George Michael mask. This is Diagrams, this shouldn't be happening. They're going bananas and it seems Mr Michael impersonator isn't ever going to come down".
FRIDAY 09/08/2012
"Rock and roll, rock and roll yeah Richard yeah. And world freedom. But excuse me as I have to photograph more shoes."
Richard: Friday was initially spent dealing with a particularly intense series of bodily ablutions.
Damian: I'd rather not think about it. I do apologise for ruining that lady's rose bushes though.
Richard: Recovered but slightly shaken we parked ourselves in front of the main stage to take in Wye Oak. Now, Wye Oak are a talented duo who have made an LP this magazine likes a lot. We thought they'd have a hard job as the opening act on a broiling hot Haldern day – especially as they'd just flown in from the States – but the band have a couple of tricks up their sleeve. One is to set up a dreamy vocal line against some sharp and gritty blasts of guitar noise, like with their splendid single Holy Holy. The other is to abandon themselves to a sort of shimmering, hovering dream pop that isn't too dissimilar to Heaven or Las Vegas era Cocteau Twins or maybe early Stereolab. They do both brilliantly, and the girl on guitar gives it hell too; though you would like to see them push their ideas after hearing a set of one of these songs "types" followed by the other. A new song, a long groovy effort called (I think) Spiders?
Damian: I thought it was Spirals? Anyway, it was a cracker.
Richard: Any the song, whatever it was called – did seem to go somewhere else. And because there are two of them their music does suffer – simply through lack of bodies to replicate this big sound. At times the drummer lad was playing keys with his left hand and losing time with his right. Maybe it was jetlag, but they could certainly add someone and evolve into a pretty great band. Hell, we like them; they did a grand job kicking the day off.
Damian: Well said. What is it with all this one-man-band business? Almost everyone's at it. Wye Oak weren't the only band of the weekend to indulge in a bit of multi-instrumentation but still, it may be great for you to be able to play lots of instruments – I'm sure it works well in the studio too but find yourself a friend and give them a bass guitar, or a keyboard and stick to one instrument for a while. I guarantee you'll be better for it. Still, having said that, as Baltimore's answer to the Ting Tings (visually) they entertained me quite a bit and they kicked things if in a rather pleasant manner, even when they were making quite a racket they seemed to be doing it rather politely.
Richard: The heat near the main stage was getting unbearable. Bodies sprawled under the trees around the "natural amphitheatre" of Haldern's main stage. Sylvan attitudes became more pronounced. Idiots danced in the sun and Incendiary sweated out corn cobs. An iron heat lay upon the land, shimmering and intense. In many ways it was the perfect setting for Other Lives, whose widescreen, spaghetti western music was built for days like this. Their tremendous gig in the pop bar last year – if overly reverent for our tastes- in no way prepared us for such a volume of sound. It was as crushing as the heat but in a manner that induced most people to a kind of sweet surrender.
Damian: They impressed me greatly. The cello and extra percussion add a real sense of drama and strength to their sound. So often, this kind of stuff can fall into rather twee territory, where people sing about mountains and rivers and lonesome winters. It all gets a bit nostalgic and sepia-filtered. Other Lives somehow avoid sounding twee , while simultaneously embracing many of the pitfalls and it's the darker elements to their sound that lift them out of the treacle so many other Americana bands find themselves in (Midlake, we're looking at you now).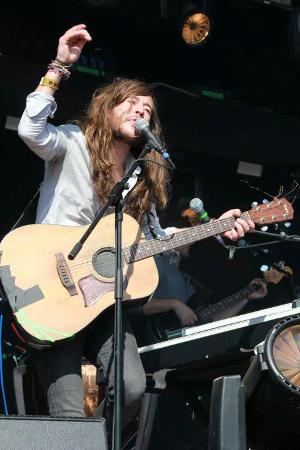 Richard: We found a shady spot and soaked up these romantic stories, enjoyed the castanets, the Latin flourishes and the soulful Preacher man-style reflections. The temperature made it impossible to argue or to be cynical. And, sometimes it seemed that their music was in danger of disappearing, like a mirage. It was a bewitching performance, the band seemingly thriving in the heat like some kind of exotic desert flower. I can't imagine myself getting out their records on a wet day in the Randstad, but there's a time and a place for everything and in this sweltering afternoon oven they delivered in spades.
Damian: You're absolutely right. Right band, right place, right weather. Great stuff.
Richard: Off we went to the Spiegel Tent to catch Australia's Steve Smyth.
Damian: Who was a revelation!
Richard: A raw gig at times and a placid one at others: Smyth's muse can be sugary, we were initially worried when we saw scarves on the mic stand, and the squirming existential wankers deep within in us started to recoil, whispering "why are we here?"… But luckily the screaming blues work outs got us captivated. Smyth's "loner boy soul" can grate and there were moments where the gig got a bit too close to Jeff Buckley's worldview, especially when it's just him and a guitar and his admittedly extraordinary voice – but it can, on this evidence, be damned brutal if it wants to be. Incendiary preferred the bar room hollers, which are fabulous. Backed by a drummer, who set up a sound that was in parts spacey, in others crushing, Smyth's playing was a tremendous counterpoint; grinding out riffs in the dirt, squeezing out his demons as if they were wet clothes going through a mangle. Then his voice really kicks off, not worried about trying to balance high falutin' melody lines, he goes at it like a man possessed; smashing out riffs on his clanking, screeching semi acoustic with abandon. The tent soaked this music up as readily as they sweated their bodyweight out in this searing humidity.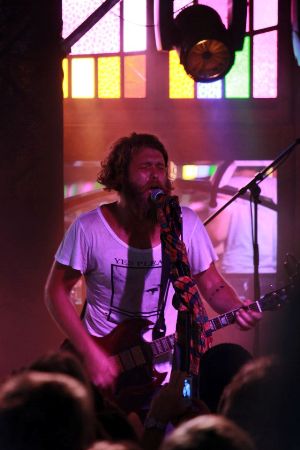 Damian: Steve Smyth looks like a strange amalgam of Sam Beam from Iron and Wine (good) and Mick Hucknall (bad, very bad) and at times his delivery was a bit too theatrical and melodramatic but I could understand why as the crowd were going ape shit! Steve was receiving so much love from the crowd he could have read out the phone book and the crowd would have carried him shoulder high from the building. He may have been playing a set of what could have been traditional blues working songs but the gig was still peppered with impromptu foot stamping sessions and inspired finger-clicking accompaniment from the audience. And that's before I tell you about the sexual antics going on to the side of the stage. Actually, I won't, but the group of people in red t-shirts certainly got to know each other a lot better during that show, I can tell you. Hot and sweaty? You ain't seen half of it. Your grandmother would be appalled.
"There's a guy in a bowler hat, (seemingly straight from the City of London) tee shirt and shorts – not in the first flush of youth – he looks like a bigger version of It Ain't Half Hot Mum's Don Estelle. He's with a crowd of other people of a similar age, similar weird dress codes – who are indulging in the sort of shenanigans you'd see in a window in the Reeperbahn. They're in the front row for Steve Smyth. Maybe that's why the gig stopped being so rocky? The guy is now dribbling and leaning on a pillar, eyes shut and inert, except for an occasional "yeah, how 'bout that" in cod-American. The security is wondering what to do. What can you do?"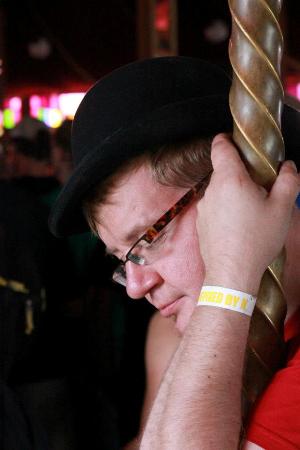 Richard: After all of this we needed to sit down and frankly just couldn't get our heads round the change of scene offered by White Rabbits. I'm sure it wasn't but it just sounded a bit too pedestrian and mannered. But by this stage we were tripping with the heat. And then, just ton further addle our brains, the tent was running late meaning we caught Dan Mangan and missed out on Zulu Winter. Oh well… Let's deal with Dan Mangan.
Damian: And his happy songs about death.
Richard: The band rocked out brilliantly, the lad's got a tremendously gravelly voice – a sort of simpatico growl that is charm itself and he's got a great line in a sort of grumpy, self-depreciating humour. The music had a warm amber glow about it too; rich, textured, and a very "male sounding", if you know what I mean. Road Regrets is also a great song and the band blasted it out – they were tremendous. Thing was, after a while his lyrical content (personal problems, death, divorce, drunken depression et cetera) started to wear us down. It was hot, the field in front of the main stage was by this part of the afternoon full of shameless, frolicking couples (no Bromide in the Niederrhein it seems) or people utterly sated off food and drink. The basic essentials of life, wine (wo)men and song (and some pretty tremendous organic chips), all there, in plentiful supply: we didn't need death just yet. At the point when he introduced a track with this "soubriquet", "here's a jaunty little number about dying", Incendiary thought, "oh not again son" and went to the Spiegel Tent. So Dan, we like what you do, we'll just wait for a more appropriate moment to tune in.
Damian: If the band had played an instrumental set, this would have been a perfectly uplifting, muscular way to enter the evening but instead, every time Dan opened his mouth you just felt like giving up hope on humanity. And also, another thing, there are leaves ON the trees, not IN the trees. You get me?
Richard: Revelations of a more ethereal kind came from Daughter in the Spiegel Tent. The contrast with Dan Mangan felt seismic, where he was all rough-edged, shoulder punching charm, Daughter (despite being one girl and two lads) were blue stocking; full of shy giggle fits and coy half smiles. Their music was very personal and at times pretty angsty too, but it was an upbeat experience to watch this thoughtful threepiece work through their material. Now and again the content did teeter on the edge of the land of Po-Face but always matters were balanced out by some coy aside or luscious chord change. The crowd had room to breathe and to dream. It also helped that the guitarist had a number of Marr/Sergeant-style licks and using delay pedals and e-bows certainly created a cavernous atmosphere. Now and again things got a little bit ethereal – like some extremely soft, feathery take on New Order's more romantic moments. The temperature was so hot that singer Elena Tonra's fingers slipped on the fret board a couple of times but these were forgiven, Haldern was enchanted that's for sure.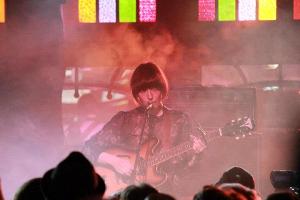 Damian: I enjoyed their set much more than I thought I would. On record I found it easy to dismiss them but after this, I'll be happy to give them another play. I found the whole gig rather enchanting, I have to say.
Richard: Thees Uhlmann and Band and Niels Frevert passed us by; Thees Uhlmann because his music was just that bit too pleasant, Niels Frevert because it was something you just had to understand really. His power is patently in his message and whilst his music is really nice, we needed that bit more to tip us over. Then Ben Howard did his soulful thing on the main stage – and once again proved why he is incredibly popular, especially with the girls. He really has something about him, some kind of emotional clarity in his music that we can readily appreciate – even if it's not really our thing. Back to the Spiegel Tent for Diagrams…
Damian: Who provided the breath of fresh air that everyone, myself especially, needed. I'd spent most of the afternoon trapped in a tent sorting electronics out while you'd been swanning around in the sun with the kids and I was in need of something energetic. I got it. Diagrams were simply joyous and full of life. They were exactly what the doctor ordered.
Richard: The new project of ex-Tunng singer Sam Genders , Diagrams' LP is a delight, a set of wry, warm but essentially low key numbers warmed by a clear wit, a nice "synth-pop"/ "coffee-table electronic" sound and intelligent delivery. Incendiary fully expected a quiet gig, lots of thoughtful references and mature playing. On the contrary: Genders fairly belted out his numbers, chatting merrily on to the crowd, getting a party atmosphere going from the off. Despite being the complete opposite of what I was expecting, on reflection it should have come as no surprise; when Tunng played here a few years ago they worked up a similarly giddy atmosphere. No, this was an affirmative gig, in the true sense of the word, all doubts and regrets were banished, and it seems the band was up to accentuate the positive. Near the end, Mr G started throwing a whole box of balloons out into the swaying mass, telling the crowd to blow them up when the gig was coming to a close. This duly happened, the balloons were released and the place went potty. It was a superb moment.
"A guy crowdsurfs through a sea of balloons with a George Michael mask. This is Diagrams, this shouldn't be happening. They're going bananas and it seems Mr Michael impersonator isn't ever going to come down".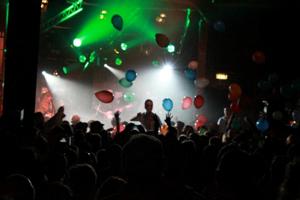 We staggered out, the atmosphere becoming too hot, and giddy. Tramping over to the main stage we managed to catch Two Door Cinema Club, whose African inflected pop was in the process of igniting some form of mass ceallaigh amongst the young by the main stage. I can see why Gilded Feckless Youth may well love this band.
Damian: Indeed, if I were eighteen I'd probably feel like they were one of the best bands on the planet because their skill with a pop song is fully evident and they played a blinder here. Alas, I'm now twice that age and frankly, I just don't fall for this kind of thing as much as I used to. That's not to say I didn't like them. I did. I just didn't love them. But who am I to critique? There was a field full of kids going ape shit. Even when they played what sounded like the same song twice.
Richard: They sound like a form of adolescent energy drink in musical form: sugary melodies, that American candy pop sensibility welded onto those classic Hi-Life guitar runs – a soundtrack to all that fizzy impatient giddiness you have by the bucket load when you're 17 or so. The band's music is infectious, if nothing extraordinary, but right here, right at this point, it mattered not one jot. A good three thousand people were skipping around the gloaming as if some released from the oven-like heat. Like cats coming awake after dark, the audience was injected with new life; the stalls round the stage were selling chips and beer with renewed vigour, people ran round laughing and chasing each other like a huge Breughel canvas of a provincial wedding feast.
So, off to the Spiegel tent to watch Wendy McNeill make a triumphant return. The tent was packed, probably in memory of the cracking gig she did last time. Incendiary find her an extraordinary artist to watch, she manages to impart the strongest dose of magic into the pretty simple proposition of accordion, drums and double bass. It's not as if the basic ingredients promise anything at first glance. Put it this way, if you were sat on a boulevard and that sort of combo struck up, chances are you'd be off. Not so with Ms. McNeill's troupe. Apart from being bloody good and focussed solely on what she does, they create an incredibly rich sound; sometimes a salty tap room band, at others a haughty and Gothic chamber music. There's a lot of elasticity there: and easily able to embellish the accordion or guitar led tracks.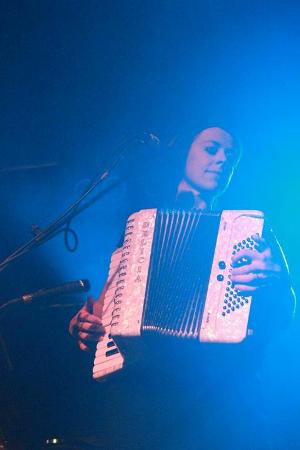 There are two things about Wendy McNeill. First is her stage presence, like some extremely enchanting but slightly wicked youth worker (or if you're posh, or just like old fashioned words that sound less inane, we'll grant you governess), she seems to promise that you can do anything you like as long as you don't piss her off. And then there's her music. Her music is often like that in a play or revue, but a fucking cool score, one written by Ivor Novello or Kurt Weill: melancholy and savage in equal measure and radiating a clear eyed intelligence, the tracks off pretty much all her LPs are extraordinary tales of life and death and shape shifting. On the night, the band and crowd provided the perfect platform; allowing her songs and voice to run through a set of emotional hoops and situations. None of it sounded contrived or actressy, though she's not averse to the odd move that would have made Viv Leigh blush. She has an extremely long neck and uses it to pull some shapes, like an actress declaiming in some ol' Greek play. Incendiary loved the bit when she picked up her guitar and slowly cradled it, coaxing the feedback and rocking out; creating a brilliant afterglow that finished the gig.
Damian: This was one of the real highlights for me. She sang songs about the King Of Diamonds and people living under the sea and I'm pretty sure it made no sense to anybody other than Wendy and yet, I was captivated, as was almost everybody else in the room. I want Wendy McNeill to read stories to my son. She could make anything come to life. Wonderful.
Richard: After this we took in Jaga Jazzist which could have made sense if we weren't whacked but felt like an assault (albeit a highly intelligent and purposeful one) in the state we were in. Oberhofer and Der Köning Tanzt. Let me tell you: if the beer sponsor's dancing, we're hitting the sack.