I have to say from the off that this isn't really a review of Incubate: this is a review of what happened at a venue, Café Extase, with the odd bit thrown in from elsewhere… Incendiary had teamed up with Louder than War and Smikkelbaard to curate our own conceit over the final weekend: "Cultural Cringe"

I have to say from the off that this isn't really a review of Incubate: this is a review of what happened at a venue, Café Extase, with the odd bit thrown in from elsewhere… Incendiary had teamed up with Louder than War and Smikkelbaard to curate our own conceit over the final weekend: "Cultural Cringe"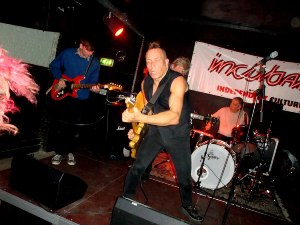 Membranes and Rats
Where to start? Maybe by reeling off a list: a list of what we didn't get to see. Read and weep real tears for me, if you have a heart. Here goes: Chris and Cosey, Damo Suzuki (all three times), Bill Wells and Aidan Moffat, Earth Control, Anthony Rother, Iceage, Yann Tiersin, Conan, Mogwai, Nathan Fake, Moody Mann, MV & EE, Luik, Malignant Tumor, Kumbia Queers, Mike Koldin, The Men, Silver Apples, Warm Digits and Evangelista: oh and Gul Night Out; (most tragically, them). As I sit here amongst the debris of a long weekend, a table strewn with flyers, notes, programmes and wristbands, as well as realising what I've missed I know one other thing. Curating is hard work. No, actually I lie. I know two. I now know that bands hate carrying snares around, but that's another story and one too tedious to relate in this review.
I have to say from the off that this isn't really a review of Incubate: this is a review of what happened at a venue, Café Extase, with the odd bit thrown in from elsewhere. The reason for this is that, in a fit of enthusiasm and no little vanity on actually being recognised, Incendiary had teamed up with Louder than War and Smikkelbaard to curate our own conceit over the final weekend: "Cultural Cringe", a showcase of the unwashed of the scene, the baffling acts, the acts that somehow would slip you by. Bands that didn't fit. The reality that I'd spend a lot of my weekend looking for snares hadn't hit home when we first arrived.
As I mentioned we did see one of two other things; we were in Tilburg early enough to catch Simon Reynolds make the "keynote speech" about the DIY aesthetic in the NWE Vorst.
This was a fine speech in many ways; in a clear and well-presented argument about the changing nature of what Do It Yourself culture represents, Simon Reynolds led us inexorably to the Götterdämmerung that faces all our well-meaning, overheated brains – too much DIY. Reynolds has a formidable arsenal of facts at his disposal, leading us through the permutations in a carefully constructed piece: even (and quite correctly, in our view,) quoting Jeff Nuttall's "Goodbye to All That" on the 1960's underground, Bomb Culture. But there was something in all of this that sat uneasy with me: like a respected but controversial prof delivering their own personal polemic it was clear it wasn't everything, couldn't be everything… for sure as an (journalistic) argument it was faultless, but as a reflection of why I'd bothered to do what I'd done this last 10 years, it missed the mark. Reynold's piece began to loom through the Mezzanine of facts as a metaphorical Gordian Knot, waiting to be slashed. I could laugh along like everyone else to him quoting Jonathan Sterne's "Interactivity is the new Passivity" rap, and yes he tried to throw us the palliative (like he'd suddenly turned into some study-bound Chet Holmes) that if we all stood together we'd maybe change things, but I'm sorry the genie's out of its Silicon bottle. Standing together means being identified as an issue and creating a target in my eyes. I'll keep on polishing my Loki/Odin act and keep my copy of Bend Sinister (both novel and LP) by my side, thank you Simon. For me it's relatively simple: you can't take the absurd, the human, the physical and the irrational away from pop culture. Otherwise you end up dangerously close to the marketing / branding / demographic nonsense that is practised by dullards and no marks around the world.
For all the soubriquets applied to it, rock music in whatever form is primarily entertainment: after all we wouldn't listen if we didn't like, you dig?
And anyway, if you're getting freaked out, just stop. Walk away, turn off your electronic device; it's a human thing.
(To be fair, when I accosted him dancing to the Buzzcocks and spiralling out of the after party's polonaise and accused him of not acting out his theories, he was charm, wit and courtesy itself; which is a lot more than can be said of many when being confronted with a ruddy faced bloke who's lived most of his life in the workers paradises known as Gateshead, Leiden & Accrington).
After lunch it was back to the venue to meet up with Marcel and the sound lads and begin a weekend of liaising between artist and soundman via the medium of text and email. Once matters had calmed down sufficiently we grabbed some food and a drink with Gnod who we'd seen the night before tearing up Cab03 in Leiden, and hoped Ravage! Ravage! would get through the traffic jam between Utrecht & Tilburg.
From such things and more are made the Sons of the Stage… Ravage! Ravage!, an Amsterdam electro-Goth trio, fresh from their motorway hell, were on first. They clashed with the much awaited Nurse with Wound at 013, which meant Extase only held 20 people or so, and their waif like presence made then seem ever more in need of a convivial audience; but somehow the band's Glitter Goth cabaret convinced the crowd to stick with them – even through the dreadful moment when the PC crashed…. Who says gigs using laptops are boring, eh? Singer Maarten's not got the strongest voice but what he does have is hatful of attitude and a certain acidic presence which he can readily turn into a heart-melting charm. He has a neat line in astringent, acidic bitch ballads too; equal amounts Noël Coward and Marc Almond: not much melancholy or self-pity, just very direct and simply framed put downs over a very clear melodic structure. This was the sort of show that would have gone down a treat at the Colony Club; redolent of red plush and fag smoke and back biting. Before you think it was a complete bitchfest and nothing more, Ravage! Ravage! boast some fine tunes: they have an orchestral sweep about their music and despite the odd "moment" on the night the rhythm section built up a powerful and impressionistic backdrop that dovetailed nicely with Maarten's quips. A triumph, then, an unlikely one that's true, but wasn't that the brief?
After this something completely different. From feast to famine almost: the venue was packing out for GNOD, who have quite a following in the Lowlands, (as seen the previous night when they pulled a good crowd at Cab03). GNOD have a brutally simple modus operandi: their aim is to get as out there as possible with their audience; and for the wondering crowd it became increasingly apparent that the band weren't looking at any pit stops on their road to sonic oblivion. They lay down a gig that can be both unforgiving and enchanting, akin to some sort of prehistoric rite of passage. Sound-tracked by a crushingly primordial beat, the band's determination pushed the gawping, nodding, subservient crowd through the into the chamber's inner sanctum towards the omphalos. Neil's pixie vibes ensured enough gold dust entered the atmosphere: playing the Daevid Allen / Scorp Murtlock rôle for all he was worth and lost in a world of his own making, he wailed, screamed, rolled around and lost his mic countless times; inducing a frenzy of buck-like hedonism amongst those nearest to him. Like the Roebuck in the thicket ever destined to escape, Neil danced about in front of the audience, throwing out enough incantations to create a brilliant visual counterpart to the determined and solid rhythm section who, in the sweet smelling fug of the Extase, began to resemble renegade members of the Diggers or New Model Army (the army not the band, that is). Suddenly, and after a particularly pulsating and marrow crushing 15 minute drone, they stopped. The audience, breathless and wondering what to do now the spell had been broken, staggered out.
How on earth could we follow that? Well luckily we had The Membranes which would guarantee a crowd… or would it? A fine reputation as punk tricksters and great skewed psych pop band notwithstanding, when it came to show time we had 5 people in. It was lamentably empty. Lamentably. OK, we'd wait 5 minutes, no make it 10, fuck it man they're last on, I'm not having it that no one's coming… I shouldn't really have worried, (even though at that moment I could have applied for an EU grant for "nerves"), I've lived here long enough to have some inkling of the way a Dutch crowd works at a festival, they seem to come in when the band's actually playing and lo! here they were, a steady trickle became a stream and suddenly we had a nice enough crowd of about 70 souls, all getting into the supercharged The Membranes' vibe. I'd seen the band in the late 80's somewhere like Preston, or Blackburn, and I remembered they were rabble rousing alright, but they weren't that loud back then, surely… They were damned loud here mind, and dangerous too it has to be said: John Robb prowling around the stage like a bear at the zoo with the band cutting shapes around him. It was all like watching some manic, shiny clockwork toy that's been wound up too much. The audience started to get fidgety: propelled with a sort of agitated excitement, they were held by The Membranes, fascinated that the band could perform at such breakneck speed over the 45 minutes. For the band fairly belted out their tracks; Robb yelling and shouting at the top of his range, Tatty Seaside Town sounding particularly mean and abrasive. The new material sounded great, Everything's Brilliant was killer and a fantastically iron clad Lions… was the personal highlight. The audience clocked: dancing broke out and a sort of mild human whirligig ensued. David from Rats on Rafts came on to jam – with whoops coming from the younger members of the audience – David Fagan jamming with the Membranes? Mental. Somehow this meeting of old and new clicked, it didn't look out of place, the Membranes have this cocky sixth form vibe about them that just works in any setting. And suddenly it's all over and a tidal wave of relief hits me and Marcel.
Afterwards we chatted to Aidan Moffatt who'd come to watch them, and frankly got so pissed that we couldn't remember much of Messer in the Buitenbeentje. Oh well. Mission accomplished for one day at least, even if we did lose a guitar lead and even if the thought of cymbals and snares began to take a new, foreboding aspect in my everyday thoughts. Avance!