Dekka held court magnificently, a huge presence, like the carved figurehead on the prow of some ship, with the two girl singers flanking him, like harpies giving him hell as he negotiated his way through a set that spat out anger and frustration at every turn.

Dekka held court magnificently, a huge presence, like the carved figurehead on the prow of some ship, with the two girl singers flanking him, like harpies giving him hell as he negotiated his way through a set that spat out anger and frustration at every turn.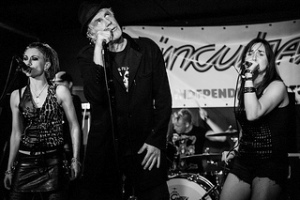 Paranoid Visions
Photo by Michel Meeuwissen http://www.flickr.com/photos/michelmeeuwissen/
Couldn't sleep, couldn't sleep… The usual sense of foreboding I get when trying to put any event on was magnified tenfold by the realisation that I was detailed to host a panel with Roy Wilkinson – who would read from his book about his time as BSP's manager. Roy would be joined by the Quietus editor John Doran and Louder Than War's John Robb, two esteemed and eloquent journalists. Roy's talk would have a "rogue" flute accompaniment, added by the BBC's Clare Tavernor, too. Uncontrollable. Would there be no end to my worries?
Before this, I decided to ease my nerves by watching friend and sometimes partner in crime Koen ter Heegde from Subroutine sit uneasily through a panel he was on, though to be fair he pulled it off a hell of a lot better than I thought he would. Soon there was no escape and it was, "hello and welcome, everyone…" and off we went, beginning with Roy's reading from Do It For Your Mum (which at one point saw a flute rendition of Hocus Pocus that no-one recognised), and ending with a spirited discussion on – I suppose – how journalism has been changed by the net with the two Johns leading the way in giving short shrift to any notion put before them. After a while it was good fun sitting back and allowing the panel to get on with it – by the end I was beginning to wish we had a bit more time considering the form John Doran was in.
Off to the venue to look for a whole range of things including bass strings, a guitar, cymbals and yes, snares, but not before catching three of Vox Von Braun's numbers at the Studio: I know Vox will have what promises to be a tremendous LP out very soon – I've heard bits of this new record, mixed and recorded by BRMC and Electric Soft Parade no less, and yes, it's that great – but their live set on this afternoon was a revelation, easily the best I've seen them. The set was hard, metallic almost in a spray-painted way the pics in those 80's car calendars always were. Their last track was a snorter too; with a considerable amount of snarling feedback and controlled aggression on display. Normally Vox are a bit too elegant and "accommodating" live, sometimes their lassitude and wry natures can mean the strength of their songs can be a bit lost on an audience; but here the band concentrated, saw matters clearly and burnt up the strange corner stage in a tremendous show of confidence and brashness. Afterwards singer Wymer said they'd not practised… maybe there is the secret.
Despite hanging around for Warm Digits who were sound checking, and watching WOLVON's Bram drum in his usual crazy fashion through the window of the Buitenbeentje, we only had time to spare for another Dutch guitar band at Extase, this time our opening act Nouveau Vélo. Being sort of local lads, (Tilburg and Helmond) this gig promised a good crowd and we got it: not as rammed as Gnod, but not far off. They have this clean-cut set that follow them, the sort that go to freshers weeks; nice lads and lasses that aren't really underground audience material at all. The fact they all buggered off sharpish afterwards – looking askance at the members of Paranoid Visions who were drinking outside – sort of confirmed the suspicion that this band could cross over into being a big act over here, and be groomed and fêted and all those other miserable things that go with success.
But that's to look into the future: for now the beauty of Nouveau Vélo is their edge; it's what makes them tick. The simplicity and space that is inherent in their unabashed guitar pop is given this exciting current of contrariness. You never really know whether their being sarcastic or underhand with you, they have these fabulously bittersweet songs from their 2 EPs that hit just the right balance between a clean cut Feelies and Buddy Holly, but there again their guitarist drives them to wig out on a chord as much as he can, and their drumming is very much that of the Mo Tucker / Klaus Dinger school. They need to keep this contradiction, their needle and bolshie attitude, as it adds immeasurably to what would otherwise be just pretty chord structures.
As I stated earlier the place emptied after the gig, and the next band Plant Duw stood in a protective huddle 5 minutes before show time as I vainly tried to explain that yes, people would show up and yes, it was a complete bitch that they were clashing with Yann Tiersin, but no, not to worry because he wasn't that great live despite being a seriously respected recording artist, and of course everyone would come here to watch Plant Duw, a Welsh language psycho pop band, unknown outside of Wales. The band looked at me wonderingly, as if I was a madman.
Funnily enough after a number or two the place started to fill out quite well; what's more the audience, despite having lots of alternative entertainment on offer stuck around because, in a nutshell, Plant Duw were fantastic. Utterly fantastic. Despite a complete lack of movement on stage, despite a sort of gawky awkwardness that could at times evolve into a gnomic sarcasm, (a brilliant moment saw the lead guitarist, bemused by the attentions of one of the crowd, berate this punter for standing too close), and of course despite the fact that no-one had an inkling of what they were saying, they created a gig that was mesmerising. Plant Duw have a burning soul sound – a sort of spiky Dexys pop allied to a tinny but urgent punk sensibility that wasn't – for my money at least – far off what Orange Juice sounded like round the time of You Can't Hide Your Love Forever, minus all the feyness, (of course). Like some bunch of kids sliding bumpily down a hill on a homemade sledge, the band created and rode their loose and rumbustious rumble for all they were worth. Initially playing at a blistering pace that caught most people unawares, the set began to develop into a sort of punk hoe down, creating a steamy, ramshackle vibe in Extase. People danced, wouldn't let them go: the gig became magical, one of those moments where two entirely disparate elements – in this case a fairly passive Dutch audience and a nervous Welsh band – come together to create something completely unforeseen.
After this I knew things couldn't really go wrong. For one we had Paranoid Visions as a closer and I was pretty confident they weren't going to hold back, regardless of what audience was watching them. You often hear about a band adding colour to a gig. Let me tell you this band has it – colour – however you want to envisage or interpret the phrase, in spades. There's an aura about them, a clash of considerable personality that somehow gives off sparks that can literally be seen: their restless theatricality has a hint of menace, that of the wandering troubadour, the gleeman, the street entertainer living off wits and a certain glib-tongued aggression. Their singer Dekka held court magnificently, a huge presence, like the carved figurehead on the prow of some ship, with the two girl singers flanking him, like harpies giving him hell as he negotiated his way through a set that spat out anger and frustration at every turn. Paranoid Visions also have some startlingly good songs to boot, in some ways (and I don't know how many rules of the punk code I break here) sounding like the sort of things Pete Townshend could rustle up for the Who around Who's Next or Tommy; songs choc-full of clashing and ringing power chords: driven hooks and riffs dovetailing brilliantly with the three pronged theatre that the vocalists provided. It was one of those rousing gigs that just kept on giving and giving however you wanted to approach it.
After this we just laughed and hugged and cracked increasingly inane jokes and – despite the entreaties of John Robb to come down – missed Mogwai to boot. Yeah, we heard they were brilliant but there again so was Extase on the Saturday. It's funny how a sort of embattled, "we'll show you whose got the best show in town" defiance sets in after two nights hosting a venue. I don't advise it if you're looking to open your mind but it's a heady wine to drink nonetheless.