Out there on stage it's hot, repressively so… and given that I can only see Abi's arm and a lot of silver foil from the fruit basket come helmet on my head, there's not a lot I can do apart from attempting my Larry Grayson "skip" dance.

Out there on stage it's hot, repressively so… and given that I can only see Abi's arm and a lot of silver foil from the fruit basket come helmet on my head, there's not a lot I can do apart from attempting my Larry Grayson "skip" dance.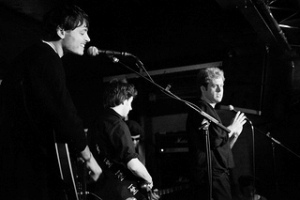 Gul Night Ou at Extase
I don't know if you know this, but artichoke tablets are a godsend. I recommend them as – in my experience – they somehow turn a crushing hangover into one that's just about bearable, and one that shows definite if incremental signs of disappearing. This artichoke business could of course be a heap of nonsense but there you are, it's my nonsense and I think Incubate festival should graciously thank artichoke tablets everywhere for the fact that I made an appearance on Sunday.
The last day would be a complicated one – as well as the usual foraging for equipment there was the fact that British Sea Power would be playing at the same time as Gul Night Out, meaning frantic dashes between venues as I sought to carry out previously agreed upon obligations as well as support the band I'd booked… It's the sort of thing that makes you want to give up this malarkey altogether at the monumental injustice of it all: like Sir Arthur Streeb Greebling I felt like writing a letter.
But enough of this moaning – as well as having a line up most festivals wouldn't know what to do with, Incubate is a fun and invigorating institution, and the fact that it's set bang in the centre of a convivial Brabant town means that by the Sunday our very own Incubate party crew (step forward Roy Wilkinson, Ian Harrison, Clare Tavernor and Marcel van Schooten) were intent on having a "good do". We all needed a couple of beers to fully appreciate those Mighty Hairies of the NL underground scene, Wolvon. So just the one, well go on then why not, another will do… Wolvon were on at Studio as part of the Subroutine showcase where we caught the last and beautiful tailout bit of The Fire Harvest's gig before preparing properly for the Wolvon assault; (this involved wearing a girl's size Wolvon tee – much to the bemusement of the band – and pulling "Wolvon faces", a sort of wondering gurn if you must know). None of these frivolous notes should take away from the shining and carefree brilliance of this band at the moment: they rock hard and free. Whilst not looking to take their audience anywhere too far off the Ash Ra Tempel / Blue Cheer/ AR Kane map, you know that what they do is not coloured by any attempt to be important or part of any in crowd, the accent is primarily on fun, on being a band that values people having a good time with them. It sounds outrageously naff to write this sort of stuff about a band, but it's the case with Wolvon. And it's a mightily undervalued thing, this having fun, especially in the world of "indie" rock where every move is examined for a betrayal and everyone loads their own fears and hang ups on a band's shoulders. Talk about fucked up.
Enough amateur psychology: Wolvon have some great songs, the new single Unicorny being one, Heliotropics being another – and they have a tremendous sound: the rhythm section attempts to create this primeval on-going clatter to offset singer Ike's mix of dreaminess and gawky, punk Albrecht Dürer vibe. On this day, Ike was determined to completely get out of it, head-butting someone half his size in the stomach and gallivanting about like a longhaired daddy longlegs. Other highlights were the fabulous Bland which careered all over the place in its fractured, brittle, colourful way and (I think) Shitpuppy, (did they play that?). It just goes to show I can't remember it must have been a hell of a gig. All too soon their crashing chords and epic rumble was over. They are special, believe me.
Then it was time to run over to our very own café Extase, for Fawn Spots who are on John Robb's Louder Than War Label. I was pretty excited about seeing them; their LTW single Spanish Glass is brilliant – the sort of record that you didn't realise you were waiting for until you hear it, and their energy is infectious. Even better, Fawn Spots charged at their gig like a horse jumping a gate. Spanish Glass kicked us off then we had (in no particular order, and certainly an order I can't remember) tracks like Paper Man or Grey Arcade. They may be messy at times, but Fawn Spots have this instantly likeable bleached-out racket; everything is tremolo-drenched and backed with a battery of drumming – the drummer's rôle seems to be about making a flat wall of noise for the guitars to bounce back off. Like that other threepiece, Wolvon, they're a good time band and proud of it: their gig sounded like some sort of glucose-ridden charge – just in love with the simple fact that they can make a riff or a chord change sound epic, meaningful, if only for a moment. They had a couple of very effective slow tracks too, winsome, and full of that bittersweet navel gazing that you can only pull off if you're about 20 and from the arse end of nowhere. The crowd latched onto this and began to love them, their cheerfulness and simplicity of outlook was a blessing in this regard, live music is about that second of cognisance, of being informed by the sound, of understanding your surroundings are changed, however momentarily, by what you hear. Fawn Spots grabbed this hot, sweaty, slightly Bacchanalian afternoon and transformed it. This is a good band going on a great one and you have to watch out for them.
Then a charge of a different dimension, a dash over to British Sea Power at NWE Vorst. British Sea Power were in relaxed mood; not only was it 5pm on a sunny Sunday afternoon but their festival set, once so gawky and ill-formed is now a thing of great beauty and space. They've mellowed in a good way, they seem to realise that they have a formidable arsenal of songs at their disposal allowing them to pick and choose with discretion. And as such this was a (non) "hits" package, all those beautiful melodies and shuddering riffs seem to be more anthemic, their gleemen attitudes are mutating into something more meaningful as they gain a year or two. Carrion was immense, as was the ever giving Larsen B and the far sightedness of Waving Flags becomes more apparent at every play. Phil wasn't with them, sadly, but somehow, given their inherent self-belief, Sea Power could play as a three piece and pull it off, more of a movement than a band it seems and finally, finally getting the appreciation they deserve here in NL, making the transition from a trend band to being an act that's respected for having a unique view on things.
I wish I could write more about them, but to be honest for a fair bit of the set I'd been making a robot costume and trying to fit in it. Now I have to be a bit vague here as to the exact date; but robot costumes made out of orange boxes and me haven't been "hanging out together", so to speak, since I was around 7. I've grown since then and it seems that cardboard orange boxes haven't grown with me. Somehow I was cut into my outfit, the cardboard sagging to accommodate a "big lad" like me. Suddenly regretting the fact that I couldn't breathe without lifting my head at an angle that would better suit a penguin swallowing a fish, I robot danced towards the stage.
Out there on stage it's hot, repressively so… and given that I can only see Abi's arm and a lot of silver foil from the fruit basket come helmet on my head, there's not a lot I can do apart from attempting my Larry Grayson "skip" dance. Let's run, no that's utterly stupid, that's nearly garrotted me, doing that. Let's make Namaste signs. Peace be on all of Ye…. Fuck that that's ripping me shoulder and there's fucking green paint all over the place. Christ it's fucking hot, and why is Scott looking at me and laughing, a cruel revenge, no doubt. St Louis, I can hear that now, this means we've got to do something outside of Larry Grayson impressions and Buddhist kack… I hate this bloody cossy it's doing me nut. Let's bite a whole in it so I can breathe. Oh sod that it's St Louis, take that … have my robot hands crowd, have them, fucking green mouth, that paint tastes shit, right this is off. Roy's fucked that cow's leg, he's knocked it off, oh piss, oh well… This is worse than that fecking Rats on Rafts video with a classroom of screaming kids, at least I was well dressed then… I'm laughing but angry, I'm going to have to attack the crowd. They are far too passive and this is not a coffee morning.
At this point I decided to assault the crowd, throwing anything I could find at them. This meant the entire robot costume albeit piecemeal, the set lists, and Abi's whisky. I decided that I should eat a set list if only to alleviate the foul tasting green paint. Somehow I wasn't assaulted, and somehow despite trying to abduct a cow with one leg and a plastic arse whilst covered in green paint I wasn't arrested either at the venue or in the street. Outside, Sea Power sat on the grass and smoked, as if nothing had happened. But something had happened; a couple of people were walking round with silver robot heads on, grinning.
Off to Extase only to miss Gul Night Out… and to be further disappointed when I'd heard crazy singer Jacco had attacked the crowd with bed sheets. By this stage I'm sure I looked a sight and can't really blame the staff at Extase when they kept avoiding me. Never mind, one act to go, the brilliant Boutros Bubba. Bubba are splitting up. It's a shame as they are a fine band, a slightly off their head power trio in love with Beefheart and possessing a singer in Jeroen who is – frankly – something else, especially when he does his crab walk. Which is quite often. Anyway, Boutros Bubba smashed the Extase up with their strange rock growths. Like some dark animal that's lived in an extremely inhospitable climate and adapted to its surroundings by becoming ever more extreme in its habits and appearance, Boutros have this peculiar way of putting on a gig. Outwardly a three piece making math rock, I'm not sure whether their music, with all its stops and starts and curious vocal inflections makes much sense for those who aren't already worshippers at the altar. And frankly it's too late now 'cos they're splitting up… No matter, the gig was a blast, a racket, a great send off, with Jeroen acting up like a mad professor and Joeri playing his goofy bass player act for all it was worth. Tops.
After this it was euphoria. Somehow everything was "alright". No disasters, no empty gigs, all great performances, and we'd stuck to our brief. Even Extase seemed happy. Off to Laibach for a quite stunning and visionary gig and the Buzzcocks for a tremendous hit-packed send-off (which even had Simon Reynolds dancing) and – best of all – the after party where De Deurzakkers hosted a carnival come punk gig with their mental Brabantse Carnaval weepies. Whilst the Polonaise snaked round the tiny hall of the Lil Devil, we screamed out Herz aus Glass (no not ol' Herzog but Marrianne Rosenberg) and Cindy & Bert tracks with various hammered members of Fawn Spots and Iceage.
"Kom maar binnen" Inder-fucking-daad, jochie.
Now what?