Shuffle is a sincere collection of modern day moans set to immense rhythms and bigger brass; a musical happy slap to the state of current pop chart hip hop. This album you can appreciate and shuffle to, no hoodie required

Shuffle is a sincere collection of modern day moans set to immense rhythms and bigger brass; a musical happy slap to the state of current pop chart hip hop. This album you can appreciate and shuffle to, no hoodie required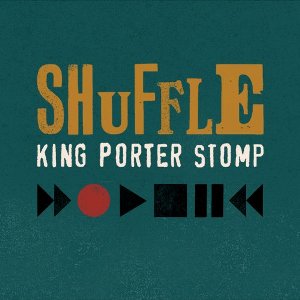 History dictates that when musicians with conflicting musical backgrounds come together, achieving musical harmony is far from easy. Genre overkill is anticipated and usually presents itself on a first play and we reach for the stop button. But Brighton's King Porter Stomp welcomed the overwhelming influx of musical influences and made it out the other side with this LP, no stop button required.
King Porter Stomp's eight members pulled together an exhaustive list of (deep breath) funk, soul, hip-hop, ska, reggae, afro-beat, dub and plenty more. Shuffle is a collective of classic sounds and a celebration of good honest music reworked into a fresh and very current sounding record. The inspiration maybe getting on in years, but King Porter Stomp has stomped all over it, moulding an album that sounds excitingly fresh.
Opening track The Shuffle is a blast; with ska influenced horns and a bed of low funk rhythms. It's an ode to the mundane 9 to 5 life and our first taste of the KPS motto; 'working hard at playing hard'. Like the rest of the album it's heavy with rapped lyrics but there's a catchy sing-a-long chorus in there too, sure to convince any of you hip-hop haters. In fact, stereotypes of rappers could crumble as KPS are the kind of self-professed hip-hop 'juggernaut' you'd introduce your Gran to. Nice chaps. Mileage has their signature brass backing brain burrower, and begins with standard egotistical rapper formalities: a thick layer of boasting ensues… 'this is proper songs, the kind to tell your kids about, hip hop is long gone and there's something different out' and I'm all set to assume all arrogance and no substance, but no, they're right.
With so many musicians and each with an instrument louder than the next, there's every opportunity for KPS to go OTT but it's an edge the band calmly stride. There's an abundance of extraordinarily memorable chanting, choruses and the sort of horn openings original rude boys can skank to. The band is a family of sorts; with a uniform of facial hair, a vast collection of hats and a love of music you can shuffle along to. Shuffle is just that, with a social commentary behind the big beats. Less Fortunate is a blend of old and new; full of two-tone influences contrasting with lyrics about the banking crisis (lordy – ed).
As the intelligent among us are baffled by the Tinie Tempahs, and the Wretch 32s (I don't know either) KPS are the remedy; a genre-hopping, hip hop collective with brains and rich authentic sounds. Shuffle is a sincere collection of modern day moans set to immense rhythms and bigger brass; a musical happy slap to the state of current pop chart hip hop. This album you can appreciate and shuffle to, no hoodie required.