I'm also going to try and resist questioning exactly what the hell Palma Violets, NME wank-band of the week, are doing on this bill: we've seen them before and they're about as psychedelic as tile grout.

I'm also going to try and resist questioning exactly what the hell Palma Violets, NME wank-band of the week, are doing on this bill: we've seen them before and they're about as psychedelic as tile grout.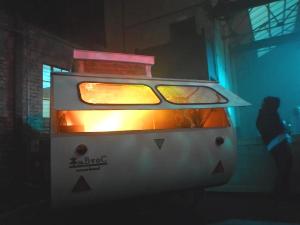 http://liverpoolpsychfest.tumblr.com/
There have been countless claims over the years regarding Liverpool and cosmic forces, although any level of research will tell you they're largely the result of (a) musicians who have done way too many drugs or (b) Bill Drummond, who hasn't (thank god, can you imagine the shit he'd have got up to if he had? Or maybe his mind-expanding trip would have seen him embrace pinstripe suited office work.) Frankly I can think of few things less cosmic and psychedelic than the open top tourist bus shaped like a yellow fucking submarine that trundles past the minute we step out of Lime Street (and I want to point it out to those people back home in Manchester who don't have issues with our own growing nostalgia industry – this is where it leads, folks) but down in the Baltic Triangle something is happening. I shall stop digressing now. Three former industrial buildings known as The Coach Shed, The Furnace and The Blade Factory have been turned into an exhibition space for artists of all flavours: today mostly musical, though there will be plenty of visuals, too. This is the first Liverpool International Festival of Psychedelia: 25 bands across two stages from early afternoon to not-so-early morning. Right, let's pace ourselves…
The main hall, The Furnace, is a big warehouse space with sun-trapping roof windows that probably does feel a bit like a furnace on a hotter day than this. There are trees down one side – yes, real trees (in pots) – and a caravan. This may be part of the indoor vintage caravan park said to inhabit some of the building (if that ever actually happened) but today it's on projectionist duties: meanwhile on the stage are six men from Wigan in black suits.
No, you can't tell they're from Wigan just by looking at them; I just happen to know they are. The wild-wigged and rubber-limbed frontman and one of the guitarists are alumni of the greatest band from Wigan ever, the almighty Moco – the band who did that Detroit rock'n'roll thing way, way better than The Strokes at the start of the century alongside legendary prop- and costume-filled live performances; there's also at least one of The VC's who used to wear lab coats and pretend to be from space. Together (with some other people who were in bands mostly only other people from Wigan would have heard of) they are THE SHOOK-UPS and they still knock out grade-A garage rock'n'roll nuggets that genuinely sound like they've escaped from some excavated 1969 jukebox. We have a dance. Not too much, mind; there's still 13 hours to go… THE WILD EYES, meanwhile, kick off the second stage with somthing that sounds a lot like Spacemen 3's Take Me To The Other Side but isn't, with accompanying geometric visuals. I'm guessing both these things will be recurring themes today – but then that's why we're here…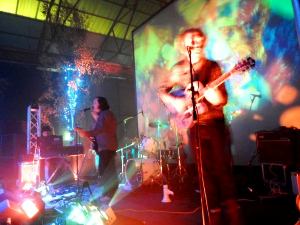 Time and Space Machine and side salad of psyched out visuals
Now despite a Spacemen obsession well into its third decade, the prospect of a solo set from Perfect Prescription era member Sterling "ROSCO" Roswell didn't exactly thrill after a rather ropey performance in Salford a while back. This is loads better: still one-man-one-guitar-one-chair music (as a mate of mine once gloriously dismissed all singer-songwritery stuff) but with shitloads of reverb all over everything and nice little low-key Velvetsy tunes. After a quick hotel run we catch the end of ALTERED HOURS' deep heavy drone-psyche and surmise it's maybe a bit early for that yet; next up are Carlisle's THE LUCID DREAM. Now I'm going to do that thing I normally hate when other people do it and claim bragging rights here, so apologies, but there is a point: when I first caught this band live they were just five gigs old, it was one of those unchecked new bands nights venues do midweek, and half way through their set they basically turned into Sound Of Confusion era Spacemen and blew our heads off. "Definitely ones to watch", I wrote, and in the intervening four years they've released a brace of great singles and EPs on all manner of small labels (in true psych style) – and these days they're outstanding live. Fuzzed up and echoing, heavy on the kosmische vibes and heavier on the drums, each song grows into something immense and shot through with beautiful noise. Also, most exaggerated sideburns of the day award goes to singer Mark. Seriously. We're talking several times as long as they are wide. A bloke sat on the floor near us is sketching the band; writes on his sketch "definitely the worst hair of the day". I sincerely doubt that. Anyway one of the things I like about The Lucid Dream is the way they don't feel the need to have Wooden Shjips hair and all that – after all, the once hilariously unstylish Spacemen didn't, did they?
More from the indie rock end of psychedelia follows courtesy of THE SEE SEE who pitch up somewhere between hits-era Mary Chain (remember the days when actual good bands had hits?) and The Brian Jonestown Massacre, a "between" that isn't actually that big a space if you think about it. Nor indeed is the Blade Factory room AKA the second stage where they're doing it, though as an odd little room entirely in white it's ideal for retro projections. I suppose the downside has to be covered, too: just four toilets per gender? Not just for the small room but for the whole thing? Colossal queue at times. There's a bit of a bar queue at one point, too, but only one point, and the corridor between the two rooms gets very congested between bands, but that's about it; everything else about this whole day is spot on which is no mean feat.
We negotiate said congestion to find ANCIENT RIVER doing a very proggy take on space-rock before heading back for East Kilbride's HELICON. They do largely (though not completely) instrumental driving drawn-out drone rock with a bit of post-rock-ish quiet-loud thing; most tracks a while to get going but it's worth it when they do. Back in the main room (again) WOLF PEOPLE are more your trad-rock end of psychedelia. Guitar solos, and lots of them. Or it might just be one really long one. We get some tea: mushroom stew or Thai veg curry (or a meat stew of some type) ladled into a cardboard carton from a big pot. Does the job and no time wasted. Oh, and a white rabbit appears on a balcony and starts preaching, then he's behind us, then he gets into the caravan…
It's eight ish o'clock and it does actually feel like being at a festival. At which point it's worth noting that no press pass was squandered for the remaining rambles: I paid for my ticket (a whole twelve pounds and fifty pence, at earlybird rate. Think about that. A quid a band if you only see half of them. Amazing, and no, not "amazing" in the word-to-mean-anything-quite-good sense; literally amazing.) and… well, you could attend something called the International Festival of Psychedelia and maintain sobriety through out, but this is Incendiary, that was never going to happen… I'm also going to try and resist questioning exactly what the hell Palma Violets, NME wank-band of the week, are doing on this bill: we've seen them before and they're about as psychedelic as tile grout. And about less interesting.
KOOLAID ELECTRIC COMPANY light up the small stage with some much-needed warm fuzz from the Dreampop department of the good ship Psychedelia. Theirs is a gorgeous classic Ride-ish sound with a big three guitar pile-up that sounds like a sunny day in summer 1991 and making a mixtape for that boy or girl of your dreams… well, if you're a shoegazer of a certain age, and I am. We miss the first 10 mins of the next band due to the desperately understaffed bar, but soon… fuck yeah, MUGSTAR! The local (as in Liverpool, not where I am writing this nor you reading it) force of nature seem to reduce most viewers – myself included, on this and other occasions – to a state of verbal restriction where the only words possible are permutations of "fuck" and "yeah". This they do by cranking up the mother and father of intoxicating space grooves and driving it hard for half an hour. In near darkness.
It gets better. DEAD SKELETONS are on next and probably the most anticipated act of the day. They come with an interesting back story – frontman Jón Sæmundur Audarson has been living with HIV for close on two decades, and the band sort of grew out of an art happening inspired by his illness – oh, and they're mostly from Iceland. As you probably guessed from his name. Both these things are important: The apocalyptic groove that is "Dead Mantra" repeats the band's (or Jón's) philosophy "he who fears death cannot enjoy life" in several languages, whilst there's something about their hypnotic drone that seems close to the wildest side of nature in that way bands from the extreme north sometimes do.
It's a very hard act for HOOKWORMS to follow but they do a mighty fine job of it. Effectively Leeds' answer to Wooden Shjips only with far more wayward vocals I've seen them plenty of times in tiny venues; tonight they show they're more than ready for a bigger stage. PLANK! are up next with their twisty mathematical patterns; unfortunately being up against name-to-drop Lola Colt, and the fact that a few people drifted off after Dead Skeletons (who came off just after 11; had we not had the foresight to book a room we'd have been off train-wards at that point as well) means they're not palying to the biggest crowd. Does mean there's room to dance though. Whoever is DJing follows their set with some very appropriate German sounding vibes, and then one of the most unmistakeable introductions in the history of rock whooshes from the PA and we're running round the dancefloor, arms outstretched like planes, "I…. just took a ride…. in my silver machine…." thank you Mr DJ, or indeed Mr Will Sergeant, as it transpires to be. Cheers Will.
Gets us right in the mood for TIME AND SPACE MACHINE, about whom I know absolutely nothing at the time but later discover the man at the front is Richard Norris, erstwhile Genesis P.Orridge collaborator and once half of The Grid with Soft Cell's Dave Ball. "It's morning now," he informs us – he's not wrong on this point, and starts singing "Good morning" over a wild space jam. The guitarist looks like they time-zapped him in from 1974 – either Open University or Old Grey Whistle Test – like you're half expecting a big voiceover saying "And this is why Punk had to happen" and a jump-cut to some shouty three-chords-and-drainpipes band who decades down the line look very boring in comparison. Shit, did I really say that? I tell you, my 14-year-old self would be truly horrified. Yes, I am watching a band called Time And Space Machine doing a long vibrating groove called Set Phasers To Stun with oil wheel visuals…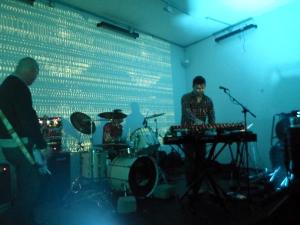 Baltic Fleet with some cold visuals
We end the night very much back in the present day. BALTIC FLEET probably have normal hair, though by the time they come on at five to three amidst an eye-frazzling clash of projected patterns we have no idea. Recognise something off Towers. Dance to it. Wander outside where some people have borrowed a loader and are riding about on it…
OK, the conclusions and reflections bit. I'll keep it brief: a quite incredible day of music. "Two days next year please" seems to be the general consensus and within a couple of days the organisers have confirmed this is indeed going to happen. Don't miss it.
Pics : courtesy of Cath Aubergine