Dedicating a track to Pussy Riot and pushing the audience on, the gig, band and audience eventually dissolved in a sort of ur-Adventist piss up. Mission accomplished.

Dedicating a track to Pussy Riot and pushing the audience on, the gig, band and audience eventually dissolved in a sort of ur-Adventist piss up. Mission accomplished.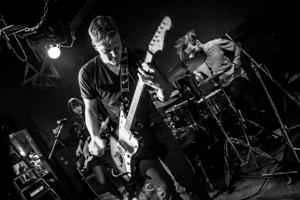 (Joost van Vuure)
Walking round Spuistraat in Amsterdam can still be an uplifting experience, despite the ever encroaching bijou Kultur that threatens to turn the city into an anaesthetised tribute to itself. The street still has the ambience of the squat scene that made it so famous in the 70s and 80s, and peering down the odd side street in the gloaming you half expect to come across the spectre of Dr. Rat, busy spraying his logo on a wall… Incendiary were here to take in Japanther, who were playing at an old and notorious squat hang, Vrankrijk – recently reopened and refurbished, (well, in a manner of speaking).
What drew us to Amsterdam, not really our stamping ground, was the line-up; put together the affable and able bunch that run the INDIE INDIE organisation. What nearly had us wondering why we'd come was the news that Japanther were lost somewhere between Berlin and Amsterdam, and the fact that the strident lass behind the bar wouldn't serve us a beer. Golly, do we look that unhip?
Fears and irritations aside we determined to enjoy ourselves; settling down to enjoy Sweet Release of Death, who get better and better every time we see them. The threepiece are getting close to perfecting their angry and ever-clashing, tremolo-bleached sound and they still show an amount of deflected unfocussed anger; (boy do they get strident, the veins forming visible "henges" on the singer's neck at times). What is more pronounced this time around is the interaction, both with us and between themselves; they seem comfortable with each other onstage now, not so worried about fluffing their parts or the overall vibe. The guitar's crashing and thorny work outs are still the main ingredient but the rumble of the bass and the propulsive quality that the drumming possesses hints at good things to come. Nope, they're becoming a good band to watch: I even forgave them their determination on speaking English to the predominantly Dutch audience, grittily sticking with this policy when it sounded a tad daft to everyone.
A squall and a squeak and a thud and a bump and they were off. To kill time, we repaired to the bar to see a lot of familiar faces and scene heads we sort of knew, some of whom cast sideways glances at our increasingly shambolic and slipshod demeanour. This is Amsterdam after all, and appearances, however bohemian are to be kept up… Soon, Those Foreign Kids – a duo from Haarlem who can make a right racket when inspired -began to growl into action. They have a nice way in creating a sort of rich, but very accessible sort of shock rock, at times the guitar having a warm, choral sound not dissimilar to that of a farfisa or Hammond. That they make these pleasing harmonics whilst constantly indulging in the sort of "up to 11" Nigel Tufnell-isms is only to be admired, of course. So: big on the choruses, sure in the melody lines, and clever with hooks. That's what you've got to remember. And despite looking fairly unprepossessing, (and of course clad in the true indie-ambtenaar uniform of teeshirt and "tight-fit" jeans, topped off with "casual pumps"), they nevertheless had a fair amount of surly presence to offer, certainly making a connection with their audience, who bopped cheerfully along. There was even a half-hearted attempt at moshing, a sort of hors d' oeuvres for Japanther…
Japanther were in the building and willing to make a fist of the situation. A large crowd was present, expectant, almost pleading in their wish to cut loose. Japanther gave them release. Acting out some out of control high school prom and squat-barn hop, the audience went beserk at the growling blackness of Japanther's sound. Waves of people ran to join in, and barged out in order to leave; the increasingly demented moshing and stage diving taking on a weird of faux- ritualistic significance for the partakers. Preppy girls looked on from the side lines, wide eyed and nervously twitching, half wanting to join in, and half dreading being dragged into the hair-messing, lippy-smearing experience that would inevitably ensue. Regardless of these tremulous souls on the side lines, Japanther spilt their dark noise out as a libation, the smooth thick currents of sound congealing on the wild scene in front of them. That they sounded like the Ramones is a given for old gits like me. This was actually like the Ramones at times, albeit without the precision.
This was messier, icky-stickier Ramones, more in tune with a winsome, wannabe- but-not-really-daring –to-be-Dionysian vibe. It still made a lot of sense. Dedicating a track to Pussy Riot and pushing the audience on, the gig, band and audience eventually dissolved in a sort of ur-Adventist piss up. Mission accomplished.
A good night. I may have to come back here.