…the overnight drive with a friend from Hamburg to Frankfurt to connect with a 7am flight and in work in Oldham by mid-morning still ranks fairly high on my personal list of things I actually can't believe I got away with.
…the overnight drive with a friend from Hamburg to Frankfurt to connect with a 7am flight and in work in Oldham by mid-morning still ranks fairly high on my personal list of things I actually can't believe I got away with.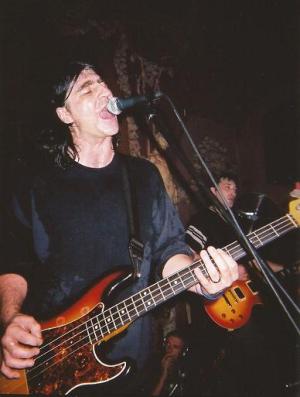 It's not even a real city…
In a generally rather rural part of Nordrhein-Westphalia, maybe 40 miles or so outside the conurbation which incorporates Dortmund, Essen and Bochum, you'll find Arnsberg. Not somewhere you'd have heard of without good reason, Arnsberg was created in 1975 by merging 14 towns and municipalities into a city of sorts; however it does – or did – have a gig venue, Werk II, one of those former industrial space multi-arts venues like Knust in Hamburg, Die Pumpe in Kiel and the excellent Gebäude 9 in Köln, at which Germany excels. I've never been and I don't know if it's even still there – but this former factory in this unsung town has to its name a small piece of alternative rock history: on 23rd November 2002 it was the place where Dave Fielding, Reg Smithies, Mark Burgess and John Lever stood on stage together for the last time.
The last days of The Chameleons were, looking back, a slow and painful death. It would be five months before the tensions between members (particularly Burgess and Fielding) splintered the band on the eve of what was to have been their next gig, in Athens, Greece in April 2003. It was a sad end to what had been a genuinely well-received and triumphant reunion.
At the time of their original split in 1987 they were still very young for a band with a three and a half album history, just 26 or 27. The thing about being 26 or 27, as anyone more than a few years past that will doubtless agree, is that you really think you know it all by then. You've had a good few years of that adulthood malarkey and drinking and voting and (for most of us) having a job and paying the bills, and that magical coming of age is a long time past, but many of us – especially those who have extended their adolescence by a lengthy period of study or by being in a band – are basically only just about reaching psychological maturity.
When they got back together at the turn of the century they were all 40 or as good as, and seemed to have left the baggage behind. "Are we back or what? I think so, I really do" was the entirely justified boast with which Mark Burgess greeted a sold-out Manchester Academy in June 2000. There were old fans from back in the day; those slightly younger who had loved them but not been quite old enough to see them; newer fans who'd caught on in the intervening 14 years in which they were a near permanent fixture on every indie club playlist in Manchester and many further afield. And they were outstanding. So much power! (The gig was recorded and released on VHS as Resurrection later that year; as far as I'm aware there's still no DVD of it, which is ridiculous). They toured the world. They made an album – 2001's Why Call It Anything – which despite not exactly reaching the heights of their original tenure and some old fans pretty much denying its existence, has stood the test of time and can hold its head high in the canon of "new material albums made by bands after a break of more than a decade". They spent most of the rest of 2001 touring. And most of the second half of 2002.
The official Chameleons website ( http://www.thechameleons.com/ ) shows that between 23rd September and 23rd November 2002 they played 36 dates – in the UK, all over the US plus a couple in Canada, and finally Germany. That's 36 dates with some heavy travelling in between – I've seen twentysomething bands close to exhaustive collapse from lesser schedules, and unless you're a top stadium act being ferried about in the lap of luxury that's really not something I'd care to imagine, at much the same age myself now as they were then. By the time they reached Germany for the final stretch they were all done in; some traditional rock'n'roll excesses I'd observed first-hand at the start of the tour had clearly caught up with them and a "tour lurgy" was circulating. There had been hints of friction visible even to fans such as myself outside the inner circle, many of them over the usual something-and-nothing that's stretched so many bands near or to breaking point but that seems like the biggest thing in the world when you've been cooped up in a tour bus together for days or weeks on end.
Why Call It Anything had sold little outside the band's established fanbase – not surprising, really, as there'd been no budget for promotion. And there was this new thing, anyway, where if you wanted to hear an album you thought you might like you could go to these websites called torrents and get the whole album on your computer to listen to without having to cough up a tenner for something you weren't sure if you'd like. And then if you did like it you could burn it onto your own CD. Yeah, the band wouldn't get any money but hey, all bands were dining on peeled grapes and foie gras anyway weren't they… weren't they?
Nowadays few bands expect to make money, and tours (new and reunited bands alike) are meticulously planned by squeezing as many dates as possible into the minimum days of annual leave, not forgetting you may need a few more for the studio. Share a bunch of Travelodge rooms, take turns in the back of the van, flog as may T-shirts as possible and you might break even. But the 20th century was barely over at this point and people still thought being in a band could be a living, as indeed it had been for the past couple of decades even for some who never troubled the top ten. The band probably thought so, too, at least at first – but then the reasonable paydays of the first reunion shows would have been subject to the laws of diminishing returns, inasmuch as a fair portion of the crowd for an old reunited band will just go once or maybe a couple of times for old times' sake.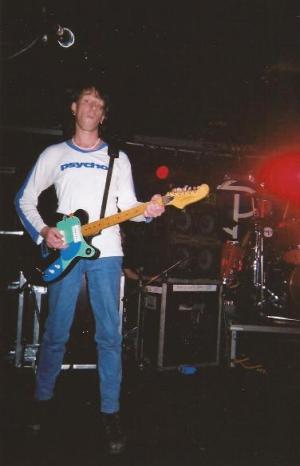 Of course if you happen to be feted by the press as the forerunner of whatever's popular at the time you can snaffle up a load of curious young potential fans off your descendents, as Gang Of Four and Devo both did in the middle of the last decade and as Dinosaur Jnr are about to do as we speak, but The Chameleons' luck was as unkind on this point as it was throughout their first career. Sometime around the start of this tour a young man with asymmetric hair was spotted watching the band in New York City; his name was Carlos Dengler and his band Interpol had released their debut album five weeks earlier with the sound of The Chameleons echoing through its every track. By the time Interpol had made it to Academy level themselves, though, with sufficient critical mass of fans that enough may be willing to look back at influences to prompt a revival, The Chameleons were history again.
All things considered, it's pretty incredible that they made it as far as that final week at all…
The last time I saw my then and longtime favourite band live was on 19th November at the Prinzenbar, a beautiful little place around the back of the considerably bigger and less beautiful Docks venue in Hamburg. They seemed to have aged about a decade in those two months. Burgess's black hair (artificially so) and Fielding's auburn (natural) were both fading to grey, and I swear there were lines on their faces that hadn't been there before; even the eternally youthful Reg Smithies looked tired out. They'd invited a load of fans and friends backstage, and people were bombarding them with questions – what next, will there be another album, another tour, what? There were no answers; everyone just wanted a rest. I had this strange feeling as we said our goodbyes that there was something rather final about this, but I also knew that I, too, was exhausted and maybe not thinking straight. I'd have stayed out for the rest of the tour but I'd completely run out of annual leave at work, and the overnight drive with a friend from Hamburg to Frankfurt to connect with a 7am flight and in work in Oldham by mid-morning still ranks fairly high on my personal list of things I actually can't believe I got away with. Some friends carried on, and with their daily postings on the band's forum it was almost like being there… and I could always go back for the final night in Arnsberg…
I woke up that Saturday morning and knew where I wanted to be; found an early afternoon flight to Dusseldorf which would get me there in good time. It would cost me about £200 doing it at the last minute like that and flying straight back the next day (there were plenty of Chameleons fans around Köln and Bochum so I'd be fine for a sofa to crash on) and it was two days after payday, so the money was there even if using it might have left me short in a couple of weeks' time. But then common sense came and had a word: factor in trains, taxis, food and beer and that's probably over £250 for one night out, to see a band I'd seen 17 times already that year including London, Bochum, Bielefeld, Berlin, Köln and Hamburg over the past week or two. And there was talk of some southern European dates in early 2003, Spain and Greece and maybe Portugal, new places, and destinations slightly more tempting than some small German town so unremarkable my travel book didn't feature it, in a foggy and freezing November. Save the money, they will tour again, I said to myself as I closed the window on the website selling last-chance tickets for a flight departing in about four hours' time. Next year. They'll tour again.
They didn't.
You can go and see some of them playing their songs these days, but for me – whilst I don't have any issue with them doing this, not least because it's none of my business – it is not and never will be the same. At last year's Primavera Sound a band comprising Mark Burgess, John Lever and some other people was billed as The Chameleons: they were good, and there were probably plenty of people there who had no idea they weren't watching the "real thing". Maybe they were. Like most music fans of a certain age I've had the debate a million and one times as to how many and indeed which former members are necessary for a band to "reunite" and few of us are consistent in our "rules": personally I'm happy to accept that Baz Warne is in The Stranglers and Hugh Cornwell isn't and they're still The Stranglers (I could never accept Paul Roberts) but The Chameleons is four or nothing, for as long as all four are alive. There is absolutely no logic to it as far as I can see, given that those have been my two constant teenage-to-present-day favourite bands, and there's almost certainly someone out there who's exactly the other way round. For what it's worth, I really couldn't care less about bands using their old names when half of them aren't there any more, although a sub-heading listing membership is certainly recommended. But many fans disagree, some more than a little strongly, and there are some elements of the Chameleons fanbase whose obsessive nature would certainly trouble me if I were in or close to the band – as such, Burgess is probably sensible to retain the associative name Chameleonsvox for the current band, even if it does look rather clunky.
Either way, on 23rd November 2002 in Arnsberg, Nordrhein-Westphalia, Dave Fielding, Reg Smithies, Mark Burgess and John Lever stood on stage together for the last time.
I've travelled extensively in Germany, but I've still never been to Arnsberg. Oddly I rather feel I should, some time, maybe with a blue plaque to mark its place in post-punk indie rock history.